Sponsored Product Review: French Meadow Bakery Organic Spelt Bagels
| Updated:
A representative for Rich Products Corporation recently contacted me to see if I would be interested in reviewing some of their brands. I was more than happy to oblige! This is the third of three posts in a series.
What an adventure this taste testing has been! Tasked with reviewing a product from French Meadow Bakery, I ended up trying something I had never tasted (or heard of) before: spelt.
Spelt is an ancient grain, very similar to wheat, that was a food staple centuries ago. For whatever reason it became less popular over time, but has experienced a resurgence in recent years as consumers become increasingly health-conscious. Spelt is said to pack more nutrients and protein than the regular wheat we are familiar with.
I found a variety of breads and bagels from French Meadow Bakery at a local health food store (located in the freezer section, which I didn't know until I asked someone). I always love a good bagel, and the Organic Spelt Bagels seemed like they would be interesting to try. Unlike your standard store-bought bagel, these contain just four wholesome ingredients: Organic spelt flour (wheat), filtered water, organic spelt (wheat), and sea salt. Natural leavening processes eliminate the need for yeast or eggs, and they contain no sugar. Who knew bagels could be so healthy?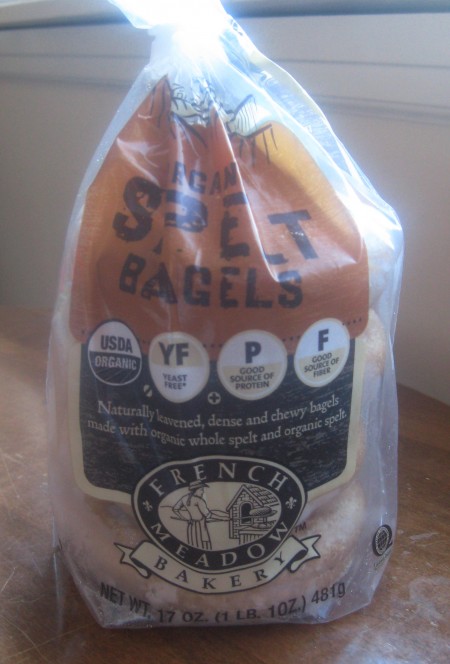 French Meadow Bakery, which has been operating since 1985 is "the longest continuously running certified organic bakery in the US." Their products can be found in many regular grocery stores as well as specialty food stores–use the store finder to search for French Meadow Bakery retailers near you.
I toasted up a bagel for breakfast the next morning, topping with a bit of cream cheese and organic wild blueberry jelly (yum!). Having never tasted spelt before, I wasn't sure whether I would like it. I had read that it was similar to wheat, if a bit more flavorful. I would say that description is fairly accurate. These bagels have a bit more of a sourdough taste than I anticipated, but the sweet jam really balanced out the flavors. I am not generally a sourdough fan, but I really enjoyed these bagels and there was nothing "weird" about the taste.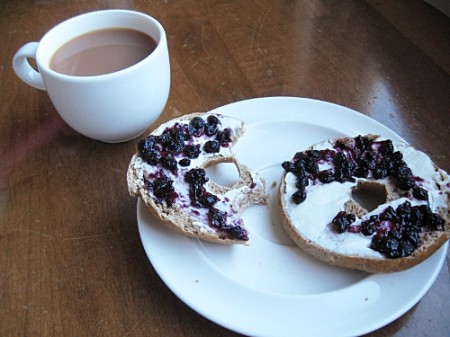 These spelt bagels left me feeling full and satisfied after breakfast and through to lunch, which is not something I can say about my usual breakfast choices. It felt good knowing that I was starting my day off with something healthy that also tasted great.
French Meadow products are on the pricey side, but I think the quality, ingredients, and the baking process warrant a higher price tag. They do offer money-saving coupons on their website. French Meadow Bakery specializes in a variety of organic baked treats using nutritious ingredients. They even make great gluten-free baked goods for those with special dietary needs. If you are looking for a more nutritious alternative to the regular baked goods on grocery store shelves, then check out French Meadow Bakery products.
I would like to thank Rich Products for the opportunity to learn about several quality food brands that I had never tried before!
DISCLOSURE (what's this?): Rich Products provided me a coupon to receive a French Meadow Bakery product free of charge in order to facilitate my review. I was not compensated in any other way, and the opinions expressed in this article are my own. Thank you, Rich Products!
DISCLOSURE: This website is monetized with affiliate links. I earn a small percentage of the sales price when visitors make purchases through affiliate links. Thank you for your support!
Share this post