Sponsored Product Review: Farm Rich Stuffed Jalapeno Peppers
| Updated:
A representative for Rich Products Corporation recently contacted me to see if I would be interested in reviewing some of their brands. I was more than happy to oblige! This is the second of three posts in a series.
Some family friends invited us to their home several months ago, and we were served homemade jalapeno appetizers that have haunted me ever since. The peppers were stuffed with cream cheese, wrapped in bacon and baked. Delicious! I have seen plenty of recipes, but they're just not something I'd ever get around to making myself. Seeding all those peppers, remembering not to touch my eyes, assembling everything…it just seems like too daunting of a task, even if the result is tasty.
When I was given the opportunity to review a Farm Rich appetizer product, it didn't take me long to select the Stuffed Jalapeno Peppers. Sure, there were other enticing offerings, like the always delicious mozzarella sticks, mini pizza slices and mushrooms, but I knew I would love the jalapenos. Besides, we were planning a Halloween party and my husband was going to make pumpkin chili–stuffed jalapenos would be the perfect accompaniment.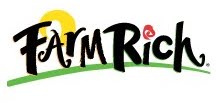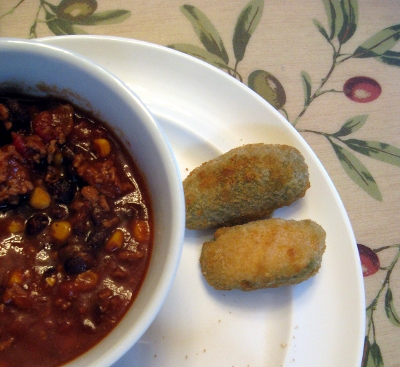 The appetizers come in a resealable freezer bag. At my local Walmart all of the Farm Rich products were $4.50 per bag (rollback price). A bag of jalapenos contains about 26 pieces, or 13 servings. Preparation is extremely easy–just heat up your oven to the required temperature and bake for a few minutes (about 10 minutes for the jalapenos).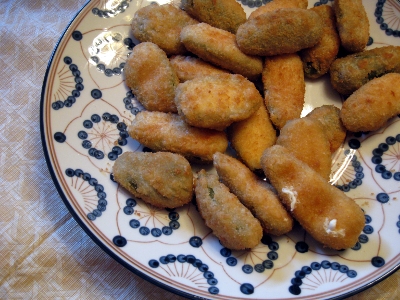 I had never tasted Farm Rich products before, but for some reason I had high expectations. I guess the designer in me expects that if a brand has high quality packaging and advertising, then their product ought to be good, too. These appetizers did not disappoint! The peppers had just enough kick to be tasty, but they were not overly spicy. The breading was nice and crispy, not soggy. But what I really appreciated was the cheese! Cream cheese tends to get a little bit grainy in homemade dishes, but here the 100% real cream cheese was smooth and creamy. I have to confess that I ate more than the serving size, and so did the five other adults at our party.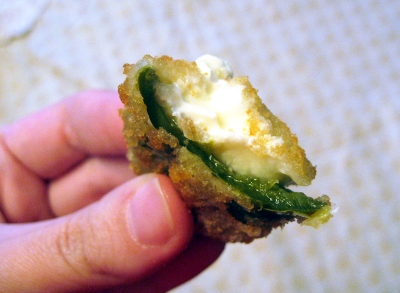 I was very impressed with the quality of the ingredients, the textures, and the flavors in these generously sized stuffed jalapenos. Appetizers can be time consuming to prepare, but these were super easy to just throw in the oven and then serve to guests in a few minutes time. I will definitely buy Farm Rich products the next time I need a quick and easy snack to serve at a party, or maybe just for a treat.
You can find Farm Rich products in the freezer section of most major grocery retailers, and be sure to check their website for coupons!
DISCLOSURE (what's this?): Rich Products provided me a coupon to receive a Farm Rich product free of charge in order to facilitate my review. I was not compensated in any other way, and the opinions expressed in this article are my own. Thank you, Rich Products!
DISCLOSURE: This website is monetized with affiliate links. I earn a small percentage of the sales price when visitors make purchases through affiliate links. Thank you for your support!
Share this post