Sink Positive is green and great for small bathrooms
| Updated:
The following is an unsponsored SinkPositive review. I purchased the product myself and have not been in contact with the company.
I love it when green technology is convenient, easy to use, and satisfies an immediate need. Such is the case with the SinkPositive toilet tank sink that I recently purchased.
Our house has one full bathroom upstairs, and downstairs we have a closet with just a toilet underneath the stairway. It's certainly an added convenience having a toilet on the first floor, a luxury we didn't have in our first home, but it was a little gross not being able to wash hands in the same room. We could choose between using hand sanitizer, or opening two doors to use the kitchen sink. It drove me crazy.
While there are a few small bathroom sinks on the market that might have fit in our space, I found that they cost hundreds of dollars, without even factoring in the cost of running new plumbing.
I can't remember how I first learned about the SinkPositive toilet top sink, but it seemed like a brilliant solution to our problem. And, as an added bonus, it conserves water.
The toilet top sink is not new technology. I've heard that similar fixtures have been used in Japan, where space is at a premium, for decades. But in the United States, where bathrooms generally have adequate space for at least a toilet and a sink, toilet top sinks are not widely used.
I found tutorials online showing how to make a toilet lid sink, and seriously considered doing so. I ultimately decided against building my own, however, because I couldn't come up with an easy solution for the sink base (also serving as the toilet tank cover) that would be both waterproof and aesthetically pleasing.
I decided to invest in the SinkPositive because I knew it would work right out of the box with minimal effort on my part, and I trusted that it would last for years.
About the company
SinkPositive is manufactured by Grey2Green, based in Hillsboro, North Carolina. The sinks are made in Tennessee.
I was very impressed to learn that Grey2Green is run by a young woman entrepreneur — she loved the product so much that she bought the rights (with the help of investors and her parents) and started her company in order to get the SinkPositive into more homes.
What's in the box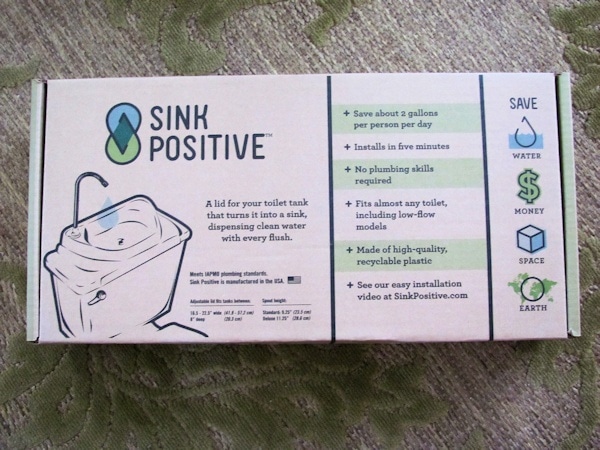 The Sink Positive is made from molded plastic (recyclable, by the way) that is polished to look like porcelain. It's very lightweight, but in my opinion really does look for all the world like real porcelain. Molded into the sink is a small soap tray, which accommodates a bottle of liquid hand soap well.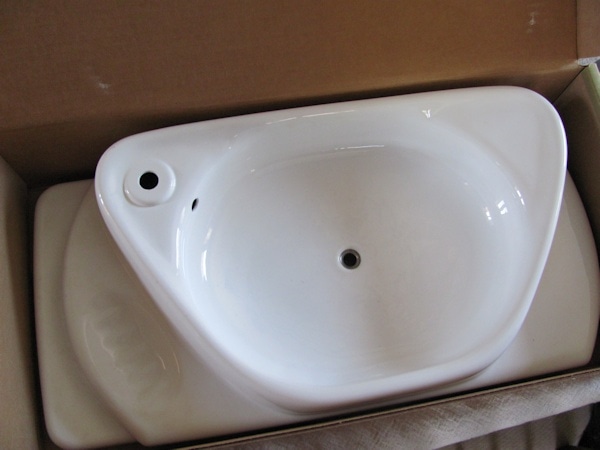 Because toilet tanks come in different widths, a filler panel is provided that slides underneath the main portion and can expand to cover a wider tank. It fits our AquaSource toilet well, and although the white color doesn't match exactly, it still looks attractive.
Also in the box is clear supply tubing, a chrome faucet, and a black drain pipe. There are fittings to connect the faucet, tubing and drain pipe.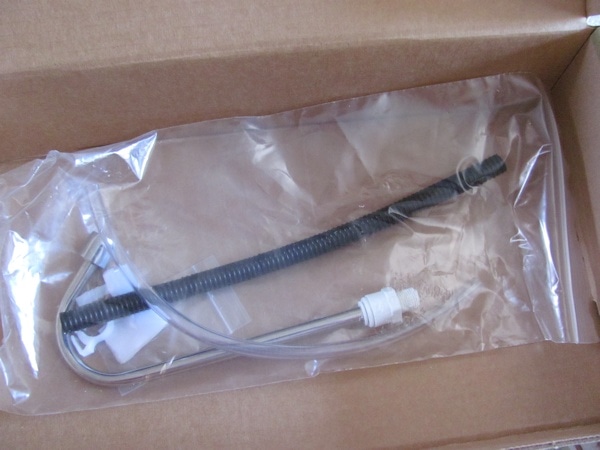 I chose the Deluxe version because it includes an aerator on the faucet, which softens the water flow and is said to reduce splashing. I've had no problem with water splashing while the sink is running on its own, but it might of course happen when washing hands.
Installation
The SinkPositive is said to install in 5 minutes, and I found that to be true. The most difficult part of the whole process was removing the existing refill tube from my toilet.
The instructions were clear and the installation process was simple. Even if you don't know very much about plumbing, you should be able to install Sink Positive yourself.
Here's a helpful video from SinkPositive showing just how quick and easy the installation is.
How it Works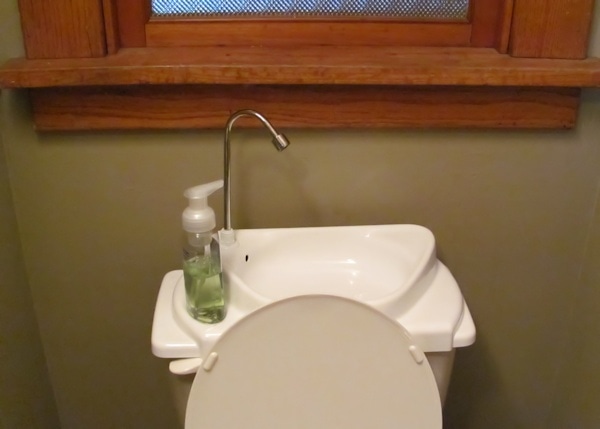 A lot of people recoil at the idea of using "toilet water" to wash hands. In fact, the first question out of my smart 4-year-old nephew's mouth, once he was over the initial excitement of the sink magically turning itself on, was "Does that water come from the potty?"
Once you realize how a toilet works, however, there's no reason to be disgusted.
The SinkPositive faucet connects directly to the toilet's water supply. Fresh water flowing through the water supply pipes (the same pipes that supply sinks and dishwashers) bypasses the toilet tank and flows directly through the tap. It's as clean as the water you'd use from a regular bathroom sink.
Flushing the toilet automatically turns on the SinkPositive faucet, and it runs until the toilet bowl is full. Our toilet is a water-saving model that seemed to fill very quickly, so I was concerned that the sink might not run long enough for washing hands. I was surprised to see that it actually runs for quite a while — there is plenty of time to thoroughly wash hands, with a few seconds left over.
Because the toilet water supply is cold water, the water from the SinkPositive faucet will be cold, too. It's a little shocking at first, but I quickly became used to it, and it's not so bad. I may have a different opinion in the dead of winter, but even then it will certainly be better than nothing.
The "grey" water that washes from your hands flows through the sink drain, directly into the toilet's overflow and into the toilet bowl — the used water does not sit in the toilet tank. The toilet bowl will cloud up as the sudsy water makes its way down, but will clear up again after a little while.
The SinkPositive does not recycle water per se, but it conserves water by doubling its use; first it washes hands, and then fills the toilet bowl for the next flush. Without SinkPositive, the toilet's water would do one job, and additional water would be used at a sink to wash hands.
Price
The cost of the SinkPositive is a stumbling block for many people. After all, it's just a molded piece of plastic with a faucet and some tubing attached. In fact, I've read that stores like Home Depot and Lowes won't stock it because they think the price should be lower. However, the owner of the company will not compromise on manufacturing the product in the USA (as it is currently) in order to lower the cost, which I applaud.
The SinkPositive normally sells for $139 plus shipping, and the SinkPositive Deluxe, which I chose, retails for $149. I paid a lot less, however. I discovered that Real Goods sells the SinkPositive, and signed up for their emails in case they offered a sale or coupon code. I was delighted when I received a 15% coupon to celebrate Earth Day, and I purchased my SinkPositive Deluxe for about $126, with free shipping. The SinkPositive manufacturer also sells the product directly, and they occasionally discount the price.
Even if I had paid full price, however, the SinkPositive is much less expensive than installing a real sink in a bathroom that didn't have one before.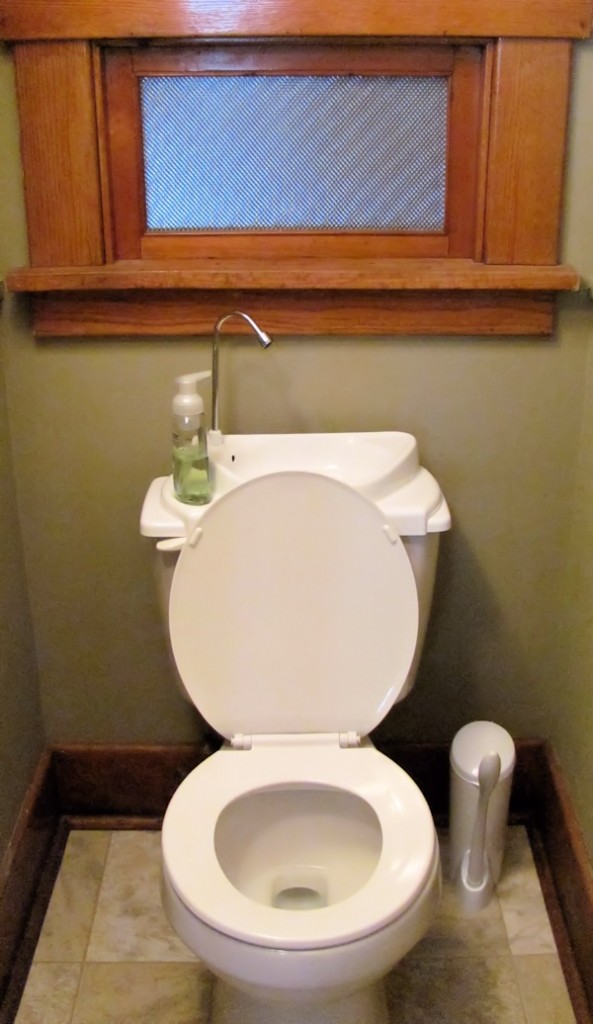 Our whole family has been using the sink for about a week, and we all love it. It's so much more convenient being able to wash our hands in the bathroom. It's great for kids, too, because it reminds them that they need to wash their hands.
If you have a tiny bathroom like ours, or just care about conserving water, I think SinkPositive is a great solution. It's simple to use, and made in the USA with high quality craftsmanship. While it was a lot of money to spend, I am happy with the purchase.
I've made a quick video to share how the Sink Positive works in our bathroom:
To Buy
You can order SinkPositive online from:
DISCLOSURE: This website is monetized with affiliate links. I earn a small percentage of the sales price when visitors make purchases through affiliate links. Thank you for your support!
Share this post