Shopping clearance for Spring and Summer
| Updated:
The Children's Place had an excellent sale recently, so I took advantage of the opportunity to outfit Mr. Boy for the warmer months. The Children's Place is one of my favorite sources for inexpensive, but high quality clothing–they consistently give me the biggest bang for my buck. Although their regular prices can be steep, they offer frequent sales and there are usually promo codes to be found to save you even more money. I shop almost exclusively from the clearance section of their website, usually waiting until they have a sale that reduces those prices even further. This time I was very lucky to find a wide variety of clothing in the right sizes that will be suitable for cooler spring weather and the summer heat.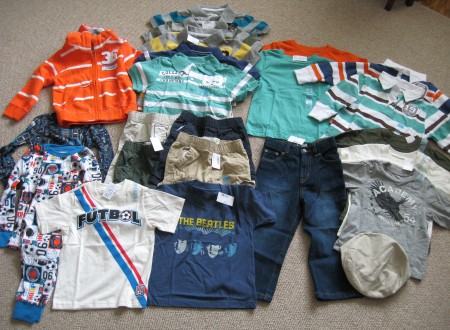 Here's a rundown of what I purchased:
1 pr Bootcut Jeans – $11.90
1 Newsboy Cap – $4.43
2 prs Long Sleeve Pajamas – $8.50 ea.
1 pr Black Dress Shoes – $10.51
1 pr Sneakers – $6.62
1 pr Moccasin Shoes – $10.19
4 prs Cargo Shorts – $7.65 ea.
1 Zip-Up Hoodie – $8.66
2 Long Sleeve Rugy Shirts – $6.62 ea.
2 Striped Polo Shirts – $5.09 ea.
3 Short Sleeve Rugby Shirts – $5.60 ea.
3 Long Sleeve T-Shirts – $3.56 ea.
2 Pocket T-Shirts – $2.54 ea.
1 Futbol T-Shirt – $5.95
1 Beatles T-Shirt – $6.80
Shipping is a flat rate of $5 for any order, which is a great deal no matter what, but especially if you buy a lot.
I have to admit that I was uneasy spending so much all in one go, but we are definitely all set until fall (barring any unforeseen growth spurts). I averaged about $7.00 per item (including tax and shipping), so not too shabby!
If you're like me and you don't get hand-me-downs or live near great consignment shops, clearance shopping is the way to go! Thrift stores in my area are not much cheaper, and the clothing is often heavily used. I have been able to outfit Mr. Boy in good quality, fashionable clothing that will last for future children we may have, and it hasn't been a huge expense. Now that his growth has slowed down a bit, I usually make big purchases like this twice per year.
DISCLOSURE (what's this?): I'm not affiliated with The Children's Place. Just wanted to share my purchases!
DISCLOSURE: This website is monetized with affiliate links. I earn a small percentage of the sales price when visitors make purchases through affiliate links. Thank you for your support!
Share this post