Birthday week is here! As I prepare for my little boy to turn 3, I thought it would be fun to reminisce about his first birthday party. Like all moms, I wanted to make it really special and fun for him by creating a big statement with the decorations. I didn't have a lot to spend on themed decorations, though, so I had to be a little creative. The colorful muppets from Sesame Street provided the perfect inspiration for a fun toddler-friendly party theme, and some animal-themed balloon decorating kits that I saw at a craft store gave me the idea for this centerpiece: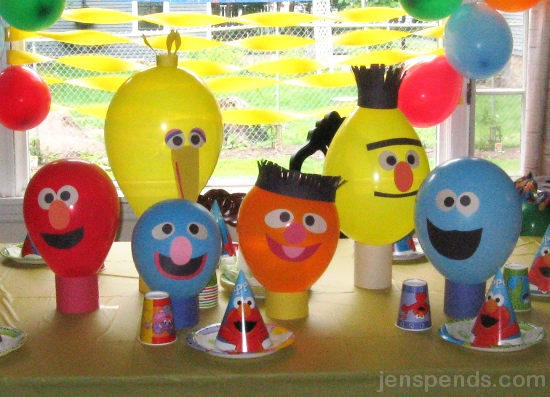 I purchased a bag of assorted color balloons, a pad of construction paper, and used cans of food to anchor the balloons to the table. I searched for images of the characters online, then drew the various parts of their faces on the construction paper. Bert and Ernie's hair was created by making a ring of black construction paper and cutting it into a fringe. I used a similar technique to make the feathers on top of Big Bird's head. I used the top of a spice jar and a coin to trace the circular pieces for the eyes. It took a bit of trial and error getting just the right shapes, proportions and positions, but it was so exciting seeing my idea come together the way I envisioned it! All of the pieces were taped onto the balloons. Once the faces were complete, I created bases with rings of construction paper. Since the balloons were prone to tipping over, I slipped cans of food inside the bases to keep them in place and taped the balloons to the bases. What a great presentation these cute balloon characters made, and it was very inexpensive!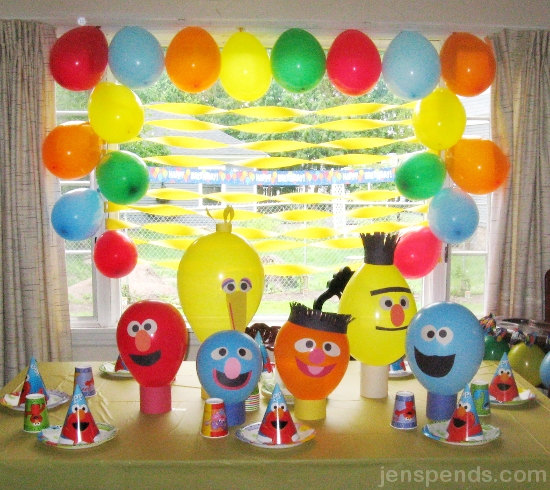 I kept the rest of the decorations simple and cheap. The rest of the colorful balloons were placed around the window. I used a plain yellow table cloth, and was very lucky to find some Sesame Street themed disposable plates and cups (complete with lid and straws) at very low prices in the regular disposable dinnerware section in Walmart. The pointy Elmo-themed party hats were the only item purchased at a party store–I decided they were a must-have for cute photos.
Balloons are an inexpensive way to fill a lot of space, and you don't have to stick with Sesame Street. Try animal faces, monsters, or funny people. You could even turn it into a fun activity, letting party guests decorate their own balloons with pre-cut parts.
Don't feel as though you must spend a lot of money to make a kid's birthday party fun and special. If you skip the party store and think outside the box a little bit, you can create something magical without spending a small fortune.
Have fun!