How We Spend $200 per Year for Two Cell Phones
| Updated: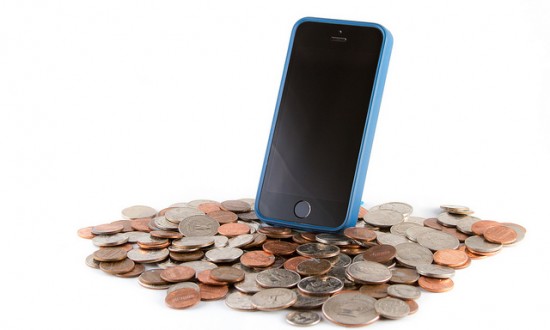 One of the last big splurges before I left my career behind was the purchase of fancy new cell phones for my husband and myself. I wanted a smart phone and he wanted one that was also an mp3 player. I could get a great deal on the phones we wanted if I signed on for another 2-year contract.
I couldn't imagine not having a cell phone, and all my calculations indicated that we could afford the monthly cost, even if I wasn't working. But of course unexpected things came up, and money was a little more scarce than I had thought it would be. Since I was at home most of the time, my cell phone sat unused.
I regretted signing up for that 2-year contract every time I saw the monthly bill.
I counted down the days until the contract finally expired in December, and was excited when I could finally make a change: I switched our contract phones to prepaid, and will save over $600 per year! Our AT&T family plan was costing over $70 per month, and we were using only 15 minutes on average.
We were clearly wasting our money, but I still wanted a phone in case I became stranded or had some other emergency away from home. I found out that I could switch our existing phones and phone numbers to prepaid–I wouldn't need to purchase pricey new prepaid phones.
AT&T offers a variety of prepaid options, and determining the most cost-effective plan of action can be confusing. I knew I wanted pay-per-minute rather than another monthly plan, but couldn't decide between the more expensive per-minute rate with no access fee, or the cheaper rates with daily fees. Finally I determined that the break-even point was about seven minutes of use daily.
With the access fee, seven minutes would cost $1.70 (10 cents per minute plus a $1.00 access fee for using the phone that day). With the "Simple Plan" I would pay 25 cents per minute with no access fee, so seven minutes would cost $1.75. Our daily use is typically less than seven minutes, so the Simple Plan was a better deal for us.
I headed over to my local AT&T store to make the change and it was very simple. The sales rep merely punched a few things into the computer and both our phones were good to go–we didn't even need to change the SIM card.
I paid for two $100 prepaid cards up front. Unlike the lower value cards, which expire after 30 or 90 days, the $100 cards are valid for a full year. I don't expect that we will go over that amount, so we will pay just $200 for two cell phones that had been costing over $840 per year!  We still may not use the full amount we have paid for, but in the end it is cheaper than maintaining constant service with lower value cards that will expire quickly.
There were a couple caveats. Apparently phone numbers that have been changed from contract to prepaid can never be transferred back to a contract. I would have no data service on my smart phone, but that did not bother me since I had purposely chosen a phone with WiFi and had never used data before. The switch went off without a hitch, and our service has been as reliable as ever. I am very pleased with the change.
It's hard for most people to believe how little we use our cell phones. For us, they are a luxury we just can't afford, and there are other ways for us to keep in touch with family and friends.  As much as I love the latest tech gadgets and internet at my fingertips (oh, what I would give for an iPhone), I would rather put that monthly expense toward something that we really need.  I'm home most of the time, so I just use our home phone (we pay about $20 per month for Vonage) instead of my cell for lengthy calls.
I know prepaid plans aren't a viable option for everyone, but if you are an occasional user like us and have a tight budget, you should definitely look into prepaid as a cost-saving option.
DISCLOSURE: This website is monetized with affiliate links. I earn a small percentage of the sales price when visitors make purchases through affiliate links. Thank you for your support!
Share this post