Plan your grocery lists with this weekly circular tool from All You
| Updated:
All You magazine recently rolled out a new grocery circular tool on their website, and I am loving it! Similar tools that I have seen in the past didn't include the stores in my area, so they were useless to me. But on this website, I can input my own zip code and see a listing of all the grocery stores in my area (and slightly beyond). I was surprised by how comprehensive it is, considering that I don't live in a highly populated area.
The tool is intended to list the sale prices of all items featured in a store's circular. If you study the paper circulars every week like I do, you know that the actual prices are often not shown at all, so it's tough to know exactly what kind of deal you're getting until you check the store shelf. This website makes it so easy to match up my coupons with sale items and know exactly how much I'm going to spend.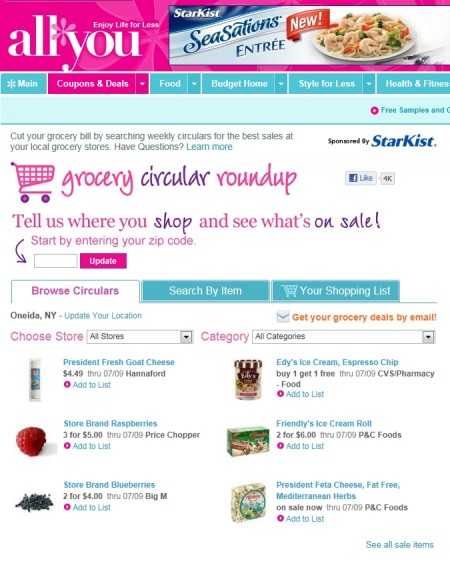 The category drop-down menu is great if you're looking through your coupon binder one section at a time. There is a search tool to help you find specific items quickly, and a grocery list feature to add and print the items you want to buy.  Once in a while there are items advertised in the circular that don't make it onto the website, but for the most part it seems to be very thorough.
I don't think this site replaces the many deal bloggers who very thoroughly match up coupons with sales and explain Catalina deals or reward programs, but it is a great companion tool to your favorite deal blog.
With so many stores amending their policies recently to make couponing more difficult, it's nice to see a positive development like this one. Visit the All You website to the Grocery Circular Roundup yourself.
DISCLOSURE: This website is monetized with affiliate links. I earn a small percentage of the sales price when visitors make purchases through affiliate links. Thank you for your support!
Share this post