Price Chopper refuses certain printable coupons
| Updated: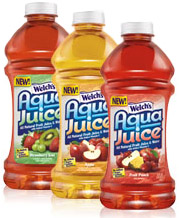 I'm not sure if this is unique to my local Price Chopper or not, but I just wanted to make you aware that your store may not allow you to use BOGO printable coupons. On my last grocery shopping trip I tried to use the AquaJuice BOGO Free coupons currently available on Coupons.com, but the cashier would not accept them. She told me that Price Chopper will not accept printable coupons for free items. I've been using other printable coupons for months with no problem, so I was quite disappointed when I ran into this roadblock. We drink juice instead of soda in our household, and I only buy on sale and/or with a coupon.
I told the cashier she could keep the juice, but it wasn't until I was out to my car that I realized she had kept my coupons too! It looks like I haven't hit the print limit yet though, so I can print more coupons and try them out at a different store. I have no idea why Price Chopper has this policy, since there are plenty of security measures in place to ensure that printable coupons can't be duplicated.
DISCLOSURE: This website is monetized with affiliate links. I earn a small percentage of the sales price when visitors make purchases through affiliate links. Thank you for your support!
Share this post