(Updated) Price Chopper falsely advertising paper coupon deal
| Updated:
UPDATE: It turns out that my local Price Chopper was incorrect in refusing my coupons. Thank you to Heidi for responding to my concern. You can see her comment below, and also in a separate post here.
—
I just returned from my Monday night shopping trip and I am hopping mad. I was excited when I found three coupons in my weekly Price Chopper circular that could be used to double "any paper coupon", up to $3.00 total. Additionally, they have boxes of Pampers diapers on sale this week for $17.99. Naturally, I wanted to stock up on diapers, and I had some Pampers coupons that I could use. One coupon was for $1.50 and one was for $1.00. I stood to save an extra $5.00 off two boxes of diapers. The Price Chopper coupons in the circular explicitly state that diaper coupons are included in the deal.
As it turns out, if you want to buy Pampers this deal is too good to be true. I'm not sure about Huggies. I tried to purchase two boxes of diapers with my coupons, but the cashier and bagger both said they were told they can't double Pampers coupons. This was after I had to listen to remarks such as "I can't friggin' wait to get out of work tonight", etc. as soon as I started loading the numerous contents of my cart onto the conveyor belt (They're never very fond of people who can only do their big shopping trips late at night). I asked why on earth the coupons wouldn't double, when the circular states that diaper coupons are accepted, but they couldn't give me an answer…other than "Well, because technically they're not paper products." and "They told us the other day that we can't do Pampers." Um. OK. Apparently the computer wouldn't allow her to give me the discount manually either.
I don't like making a scene or picking on innocent cashiers, who are more often than not at the mercy of the computer, so I told them I would take up my case with customer service. But alas, the counter was closed for the night, and I didn't see the night manager around anywhere. Sure, this is only about two dollars and fifty cents, but it's the principle of the thing. The circular gives the distinct impression that customers can save "even more" on diapers (including the Pampers that are pictured) by using the special coupons. The coupon itself mentions just one caveat, the "Coupon Policy". If their official policy is to bait customers with promises and then turn them down at the register, then I will be very happy to purchase all my baby items elsewhere from now on, thank you.
Judge for yourself with the scanned images below: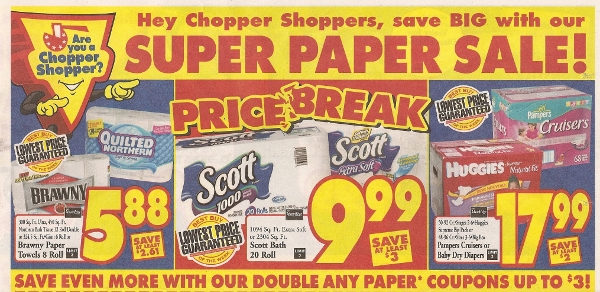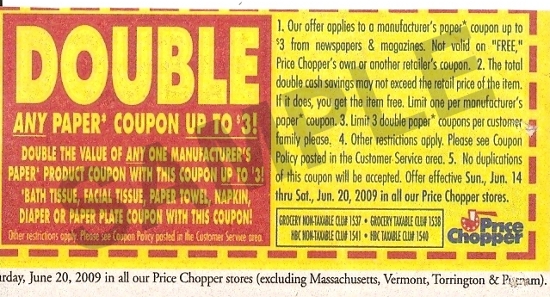 DISCLOSURE: This website is monetized with affiliate links. I earn a small percentage of the sales price when visitors make purchases through affiliate links. Thank you for your support!
Share this post