The Playroom Revisited
| Updated:
Last month I showed you the messy playroom that was the bane of my existence, and my oldest son's magnum opus. Although the disorganization drove me crazy, I explained why I ended up deciding not to make my son pick up his toys.
Still, I knew that we could arrive at a happy medium by installing better storage solutions that would promote organization. I had a feeling that my son would have even more fun playing if the room looked less chaotic, and I was right.
Before, we had odd-and-end shelves that didn't function well, and some of them were too high for my five-year-old to reach.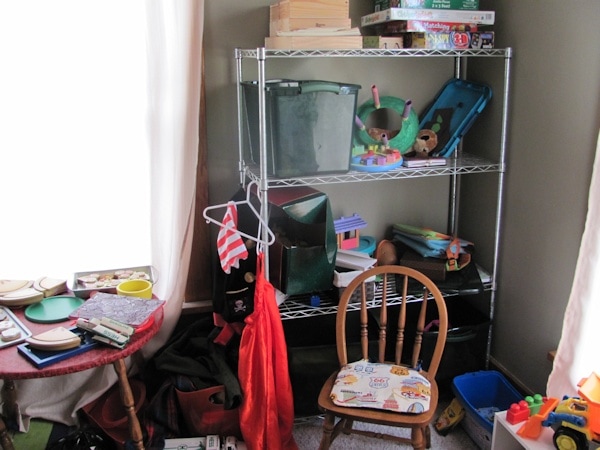 I ordered new closet shelving to surround one window and provide ample storage that my son could reach himself. (Disclaimer: I am not a photographer and the bright sun was nearly my undoing. Sorry.)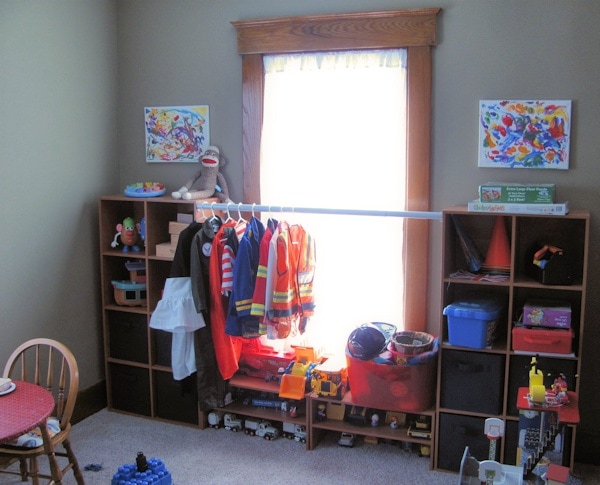 We have 8-cube shelves on either side, and two low shelves (intended for shoes) fit perfectly beneath the window. I would have liked white shelving, but the "Alder" color was cheaper for some reason, and it happened to match our old mission oak wood very closely. The shelves come with wall brackets to prevent tipping (a must in any kid's room).
Four fabric drawers on each side hold smaller collections, like Mega Blocks, Lincoln Logs, Little People, miniature animals and cars. As you can see, my son has quite a construction operation going, and needed both of the lower shelves to hold all of his equipment.
I hung an adjustable closet rod between the taller shelves to hold our costume collection; a big bin holds the hats and accessories. Most of these are Melissa & Doug costumes, which I highly recommend–my son has been playing with them for years, and he still uses them every day. The wall art above the shelves are paintings my son made when he was two.
The play kitchen is one of my son's favorite toys (a Christmas gift when he was 1 1/2), but it was lost among the mess before. An old TV stand that we found by the road for free served as a makeshift refrigerator and pantry, but it took up too much space, and I didn't like the way it looked.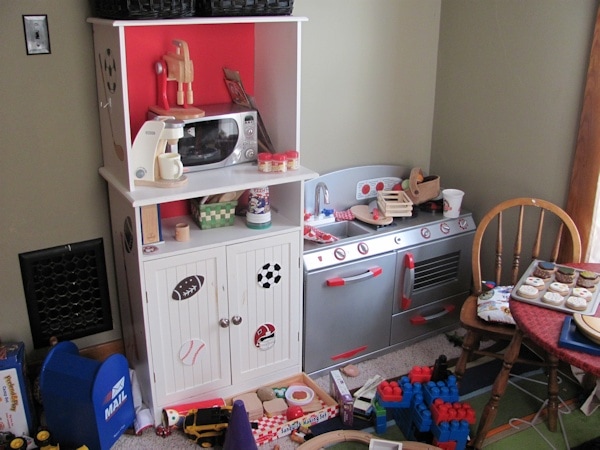 I streamlined the kitchen area by getting rid of the TV cabinet and replacing it with a small cabinet that I found on clearance for just $10 at Lowes. My son is thrilled to have a "real" refrigerator, and I like that it's more to scale, and takes up so much less space. I also installed a shelf above the kitchen to hold his various kitchen gadgets. Now everything is well within reach.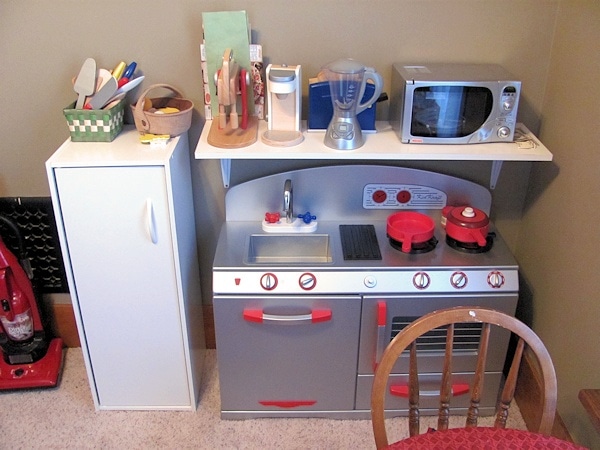 With all the mess put away, his little table is much more accessible. He likes to sit by the window and color, or serve pretend meals. The table and chairs were my very first Craigslist purchase, a few years ago. The fitted tablecloth I made back then is still going strong. I love the natural light in this room, when I'm not trying to photograph windows.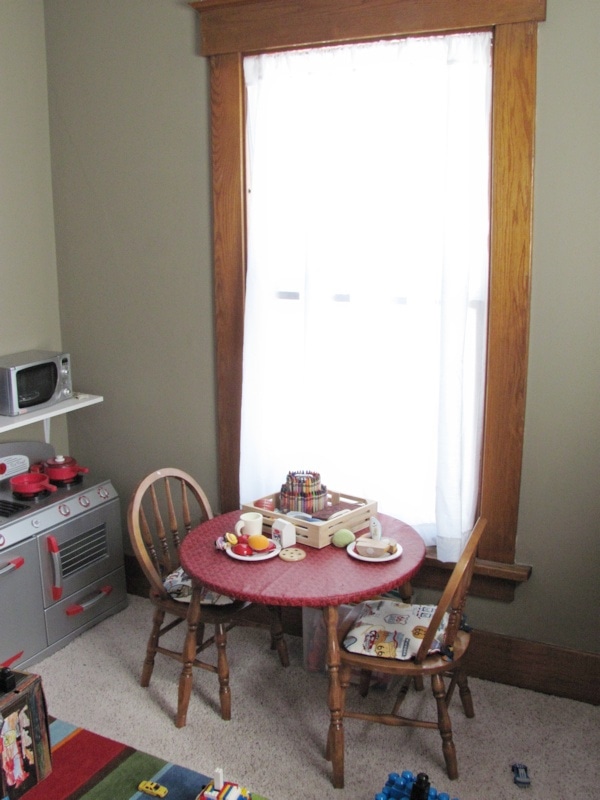 On the remaining wall I hung an awesome piece of art my son made at school, inspired by Where the Wild Things Are. Below that is a large map (my son is a map fanatic) that came with velcro labels and animals. It's very basic, but it looks fun on the wall and my son enjoys it. In front of that is space for our KidKraft fire station, and every fire-related vehicle he owns.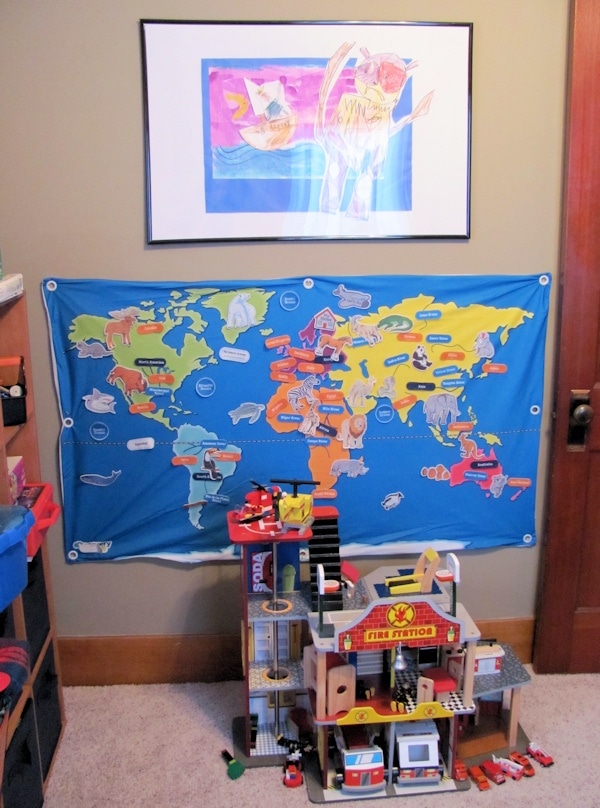 In the last post I mentioned that I wanted an area rug to provide "city limits" for the cities my son loves to build. I saved money by re-using one we already owned. It's a bit smaller than I had in mind, but so far it's working well.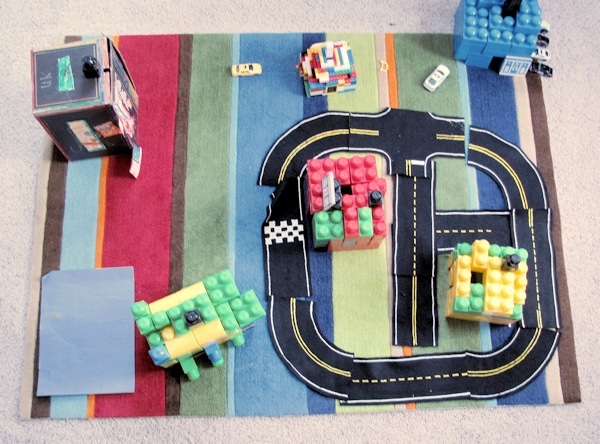 "Washington D.C. City" is a thing of the past, and now we have "Britain City".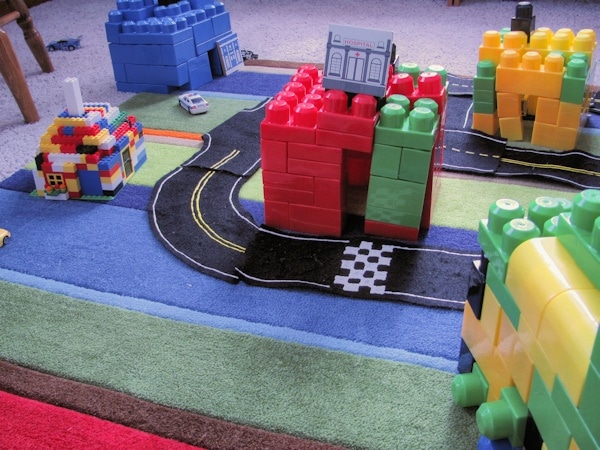 My favorite feature is the Olympic arena featuring international flags, fictitious flags, historical flags, and for some reason, the West Virginia state flag. This is the kind of stuff he does when I'm occupied with Baby Brother.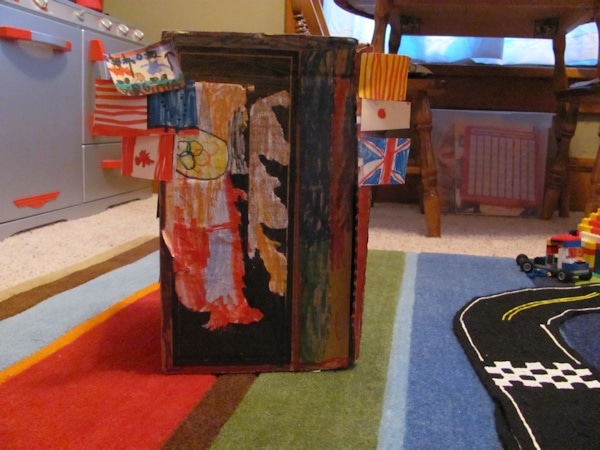 Inside is a skating rink. The hospital is conveniently located right across the street "in case anyone gets injured".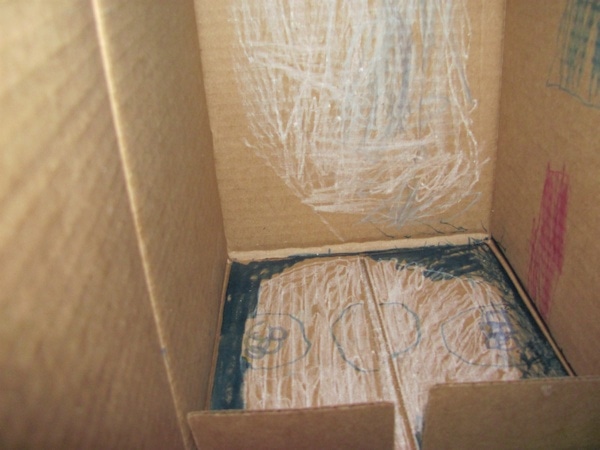 The city's lone inhabitant so far is "Mr. Delvin". He seems to be having a spot of car trouble.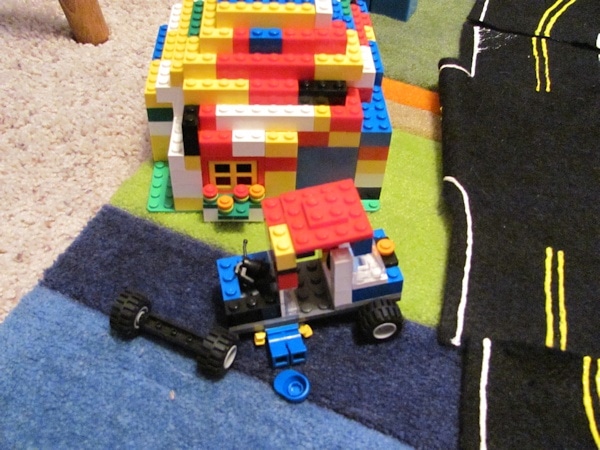 The playroom looks so much nicer now. Sure, it's not the Pottery Barn Kids catalog look that I would really love, but it does what we need it to do. Now, instead of breathing a sigh of resignation, I breathe a sigh of satisfaction whenever I walk by.
My son has enjoyed being able to easily access all of his toys, and he has kept the room tidy completely on his own — I didn't neaten anything up before taking these photos. We're both happy, just like I had hoped.
Products
8-cube shelving in "Alder" by ClosetMaid, purchased from Target.com (but it looks like it's no longer available)
24-inch shoe shelves in "Alder" by ClosetMaid, purchased from Target.com
Fabric drawers (in Navy Blue) by ClosetMaid
Adjustable closet rod from Lowes
36-inch Wall shelf and brackets from Lowes
1-door cabinet by ClosetMaid, purchased at Lowes (clearance item)
Discovery Kids Activity Map, purchased at Big Lots
Note: I would recommend, if at all possible, purchasing large shelving from a physical store location rather than online. Due to the bulky nature, the boxes can become quite bashed. One of my large shelves was fine, but the second box had a large hole, conveniently located right where the shelf hardware would have been (but was no longer). ClosetMaid customer service sent replacement hardware free of charge, but it took over a week — quite a disappointment when I was anxious to get this project done!
DISCLOSURE: This website is monetized with affiliate links. I earn a small percentage of the sales price when visitors make purchases through affiliate links. Thank you for your support!
Share this post