Orange Crunch Cake Recipe from scratch
| Updated:
Two years ago I was browsing Pinterest and found an amazing looking cake called Orange Crunch Cake. I pinned the recipe to my expansive "Treats" board and then tried to find a good excuse, and the opportunity, to make it.
As my husband's birthday approached this year, I remembered the recipe and thought it would be the perfect occasion for Orange Crunch Cake. But, alas, when I clicked through to the blog (called Gingerbread Bagels) where it had been hosted, I discovered that it and all of the recipes had been deleted! That's one of the few drawbacks of Pinterest — great links aren't always forever. Fortunately I was able to scrounge up the recipe courtesy of the Wayback Machine.
My cake came out so great that I wanted to share the recipe here and preserve it for future reference (I've tweaked it just a little bit). It's a classic, and I'm sure I'll find an excuse to make it again.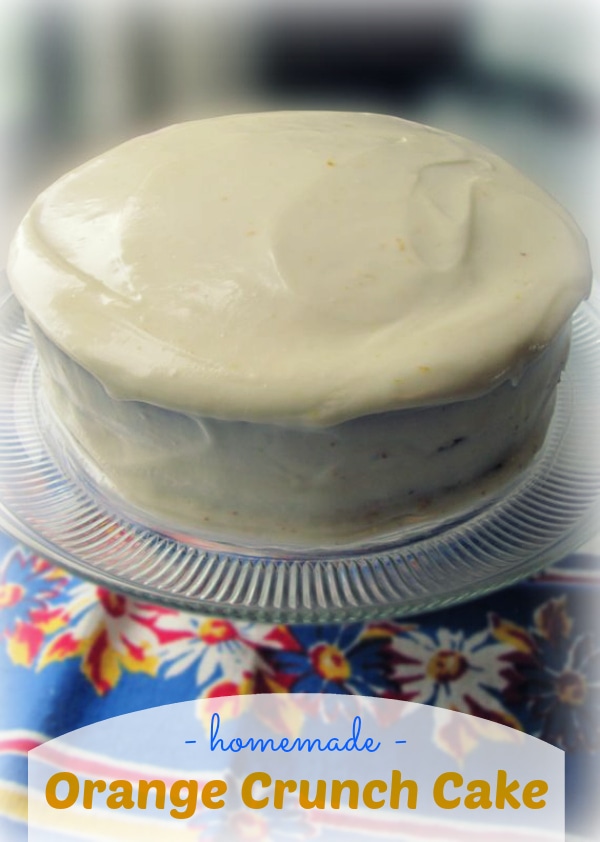 I'm not sure who originally invented Orange Crunch Cake, but I know this recipe was inspired by a restaurant on Captiva Island in Florida called The Bubble Room. Their towering Orange Crunch Cake with orange tinted frosting has become a cult hit, from what I've read. It looks like a fabulously kitschy place that I would love to visit someday, and I will definitely try the cake!
I looked around for other Bubble Room Orange Crunch Cake recipes and there were a few out there, but most involved boxed cake mix, whipped topping, orange juice in a carton, etc., which wasn't what I was going for. This one is mostly from scratch (if you don't count the ready-made graham cracker crumbs), and doesn't involve any artificial coloring, unless you'd like to tint the frosting for decorating purposes. The freshly squeezed orange juice and orange zest lend a wonderful, delicate orange flavor.
Except for my family's tried and true Chocolate Dump Cake recipe, I rarely attempt cakes from scratch. Working with a looming birthday party deadline isn't the best time for experimentation. But this time I felt up to the challenge, and I'm so glad I tried it. While it was a little bit time consuming due to the various steps, it wasn't at all difficult.
I was delighted to find that the end result was a moist, dense cake with just the right hint of orange flavor. And if you're a huge streusel fan like I am, you will love the graham cracker crumb crust in the center! The cake received rave reviews from my family, and I bet you'll be looking for an excuse to try it, too.
Enjoy!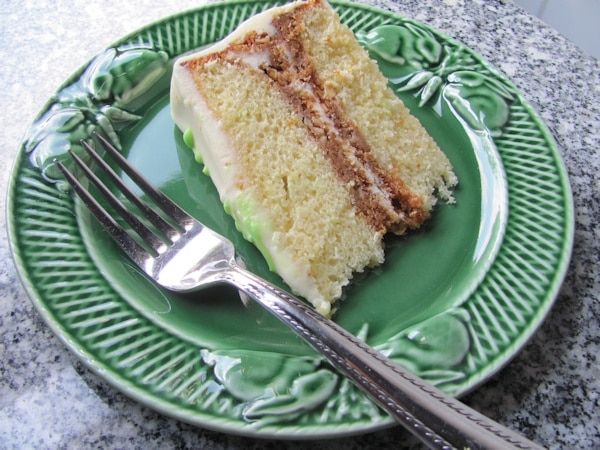 Orange Crunch Cake Recipe
A moist, dense layered cake with a hint of orange flavor featuring a surprise graham cracker crust on each layer. Top with orange flavored cream cheese icing (included in this recipe). Yields a two-layer 9 inch round cake.
Author:
Adapted from Gingerbread Bagels blog (no longer online)
Ingredients
1 cup Graham Cracker Crumbs
½ cup packed Light Brown Sugar
½ cup Sliced Almonds
½ cup Unsalted Butter, melted
2 cups Flour
2½ teaspoons Baking Powder
1 teaspoon Salt
1½ cups White Sugar
½ cup Whole Milk
⅓ cup Vegetable Oil
2 teaspoons Vanilla Extract
3 large Eggs, room temperature
3 large Oranges
8 ounces Cream Cheese, softened
½ cup Unsalted Butter, softened
3 cups Powdered Sugar
Instructions
Preheat oven to 350F. Grease and flour two 9-inch round cake pans (or spray with baking spray).
Combine graham cracker crumbs, brown sugar, sliced almonds and melted butter in a mixing bowl. Use your fingers to crumble the ingredients together.
Divide the crumb mixture evenly between the two pans and press into the bottoms with your fingers or a spoon. Set aside.
Sift together the flour, baking powder and salt into a bowl. Set aside.
Grate 2 Tablespoons of orange zest for the cake, plus an extra teaspoon of orange zest for the icing. Squeeze ½ cup fresh orange juice for the cake, plus 2 more teaspoons of fresh orange juice for the icing.
Using a stand mixer or a hand mixer, mix together the white sugar, milk, ½ cup orange juice, vegetable oil, 1 teaspoon vanilla extract, 2 Tablespoons of orange zest and the eggs, until smooth.
Slowly add in the flour mixture and mix until smooth.
Divide the cake batter evenly between the two pans, pouring over the crumb layer.
Bake the cakes at 350 degrees for 25 to 30 minutes until a toothpick inserted in the center comes out clean.
Allow the cakes to cool in the pans for 10 minutes, then remove onto a cooling rack. If some of the crumb layer sticks in the pan, simply remove from the pan and press back into place on the cake.
For the frosting, mix together the cream cheese, butter, 1 teaspoon orange zest, 1 teaspoon vanilla extract and 2 teaspoons freshly squeezed orange juice until smooth. Refrigerate the frosting while the cakes cool completely.
To assemble the cake, place the bottom layer with the crumb layer on the top side onto a cake plate or cake stand. Carefully spread frosting over the crumb layer until covered (approximately ¼ inch thick).
Place the second layer on the cake with the crumb layer on the bottom. Use the remaining frosting to cover the top and the sides of the cake.
Refrigerate until ready to serve.
DISCLOSURE: This website is monetized with affiliate links. I earn a small percentage of the sales price when visitors make purchases through affiliate links. Thank you for your support!
Share this post