Easier painting with Olympic ONE
| Updated:
Whenever I need to update a space, I start with a fresh coat of paint. I think painting is the quickest, easiest and least expensive way to create a huge impact in a room. Paint has the power to make a room seem more spacious or cozier. It can blend with furnishings and decor for a soothing, cohesive look, or contrast for a look that pops. Whichever look you go for, a fresh coat of paint on the walls and trim can make even the most tired room look brand new. The right products can make that "new" feeling last.
I was very interested when I was offered the opportunity to learn about and share with you a new paint product from Olympic called Olympic ONE. I have to admit that I have never been particularly choosy about the paint brands I use–they all seemed to be be rather similar. When I read about Olympic ONE paint, however, I realized that it was a product that could make my painting jobs quicker, easier, healthier, more durable and less expensive.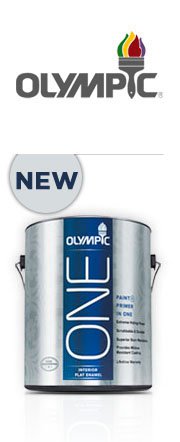 According to Olympic:
Olympic ONE Interior Paint is engineered to offer the best in quality, durability, color and price.  It costs significantly less than the leading paint and primer products, but doesn't compromise on performance or durability.
Here's what I like about it:
1. Skip the primer
In the past I have started just about every painting job with a coat of primer. Primer helps conceal stains and gives the paint staying power. It's also a pain in the neck. I can be a rather impatient person, and if I decide to paint a room, it's a real downer having to coat every surface in a layer of white, and let that dry before I can finally see the room transform with color. Primer is often stinkier than standard paint and tougher to clean up. Olympic ONE paint can eliminate that step entirely–it is primer and paint all in one. Not only can I finish my painting jobs more quickly, but I won't have the added cost of buying primer separately.
2. Breathe easier
I am very sensitive to fumes of any kind, and it can be tough working in a freshly painted room. I also worry about the fumes with a young child and pet birds in the house. Olympic ONE paint is Low VOC, meaning it emits fewer harmful fumes than standard paint. That is definitely an immense selling point for me. I'm very happy that Low VOC paints are becoming more widely available.
3. No need for specialty paints
Many homeowners purchase paint specifically formulated for use in bathrooms or kitchens where moisture, cleanability and stains are of special concern. Olympic ONE is great for such spaces because it is mold and mildew resistant, stain repellent and scrubbable.
I am planning to use Olympic ONE paint in my dining room, which we hastily painted after moving into our home almost five years ago. As one of our most frequently used rooms, it's really showing some wear and tear. We have food stains from a baby learning to self-feed, stray crayon marks, scuffs, the works. Olympic ONE sounds like the perfect solution for that room. I'm happy that I won't have to deal with disruptive paint fumes, and the job will go quicker without the extra work of priming. I can't wait to have a weekend free to give the walls and trim the fresh coat of paint they desperately need!
Here's a recent picture of the dining room (decorated for hubby's birthday). I think I will stick with a similar paint color because I love it, but perhaps playing around with Olympic's ColorClix tool will convince me otherwise.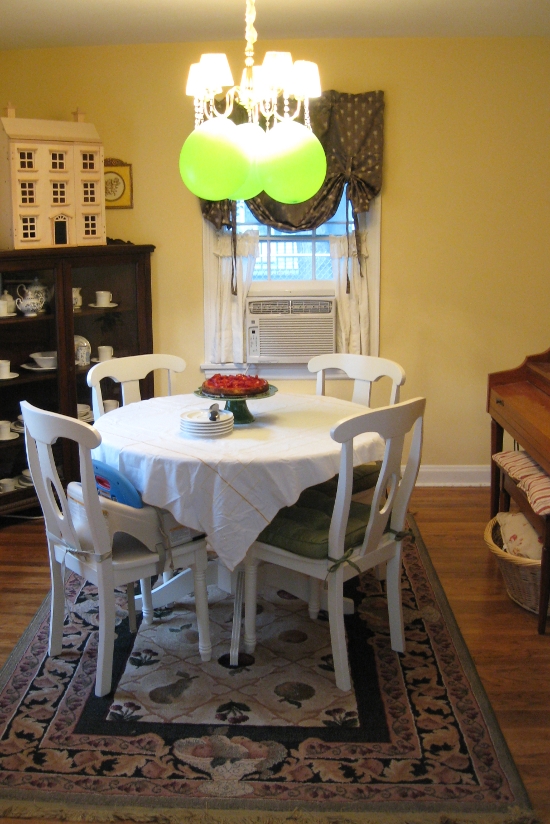 Paint Chat
If you would like to learn more about Olympic ONE or just painting in general, TheMotherhood will be sponsoring a live video chat with home improvement guru Eric Stromer on August 10th at 1:00 p.m. ET. I will be there asking questions and chatting with other moms, and I hope you will join us too!
Olympic ONE Sweepstakes
Olympic ONE is currently hosting a fun contest through their Facebook application called Simply Done.  To enter, you can share a photo of your Olympic ONE paint project, which must include a can of Olympic ONE paint. Displaying the paint can(s) in creative or humorous ways can earn you some bonus points.
Contest entries will be accepted between now and August 26th. Eric Stromer will review all submissions from August 27th to September 4th, and the grand prize winner of $10,000 will be announced the week of September 5th.
Win free paint from Jen Spends!
This giveaway has ended and the winner has been notified by email. You can check the Winners List to see who won. Thank you!
I have a coupon valid for $60 worth of Olympic ONE Interior Paint (redeemable at Lowe's) for one lucky reader!
To Enter
Leave a comment below telling me what room you would like to paint.
Extra Entries
You may leave one comment for each additional entry type that you complete below (or that you have already completed in the past):
– Like Olympic Paint on Facebook
– Follow Olympic Paint on Twitter
– Like Jen Spends on Facebook
– Follow Jen Spends on Twitter
Rules
Open to U.S. residents age 18 and older.
One entry of each type per person, limit two entrants per household.
Contest ends at 9:00 p.m. ET on Wednesday, August 24, 2011.
One winner will be chosen randomly from all eligible entrants and notified by email. If winner does not respond within 48 hours, a new winner will be chosen.
If this is your first time commenting on Jen Spends, your comment will be held for moderation until I have a chance to approve it. It should appear soon!
DISCLOSURE: This website is monetized with affiliate links. I earn a small percentage of the sales price when visitors make purchases through affiliate links. Thank you for your support!
Share this post