I set out to make the chocolate peanut butter no-bake cookies that my mom and grandma have been making for years, but realized I didn't have any cocoa. No worries, I think this chocolate-free version tastes just as great, and I don't have to worry about the chocolate keeping me up at night.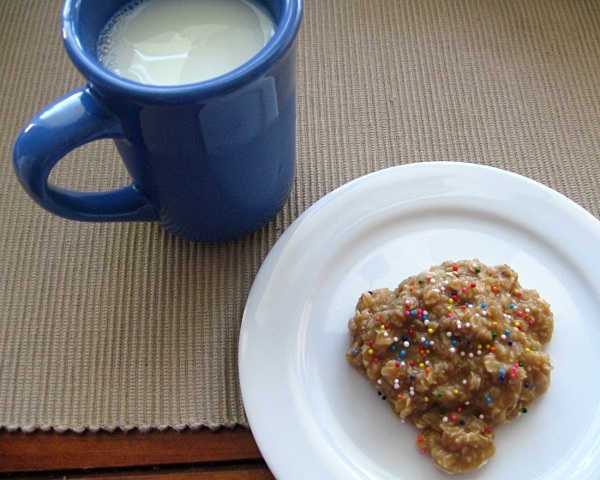 Though no baking is involved, you will need to cook the ingredients before dropping the mixture onto waxed paper to cool. Make sure you let the pot boil for a full minute before adding the rest of the ingredients. Wait until it reaches a full boil (the entire pot is bubbling) before you start your timer. If you don't boil long enough, the cookies will never solidify. Other than that, it's a very quick and easy recipe.
No-Bake Peanut Butter Fudge Cookies

1/2 cup Butter or Margarine
2 cups Sugar
1/2 cup Milk
pinch of salt
3 cups Oatmeal
1/2 cup Peanut Butter
1 teaspoon Vanilla Extract

Place butter, sugar, milk and salt in a saucepan. Measure out remaining ingredients and set aside. Stir ingredients in saucepan over high heat until mixture comes to a full boil. Boil for one minute, then remove from heat. Stir in oatmeal, peanut butter and vanilla until combined. Drop spoonfuls onto waxed paper to cool and solidify. Sprinkle with nonpareils before cooled, if desired.

*If you want to make the traditional chocolate version, add 4 Tablespoons Cocoa to the butter, sugar and milk mixture prior to boiling.
These cookies are very rich–a nice glass of milk is a must-have. Enjoy!