Is this Parent's Choice diaper design too feminine?
| Updated:
UPDATE: Since I wrote this post, Walmart has changed their diaper design to something more gender-neutral (I'm sorry, I don't have a picture). I'm happy that Walmart listened to their customers and changed their product to be more pleasing for everyone.
Mr. Boy has been potty trained since 23 months, but we still rely on diapers during naptime and overnight until he gains more control over his bladder. I had wasted money on a couple boxes of training pants before I realized that it doesn't matter whether or not he can pull them off by himself if he's asleep. So, not only did I switch back to diapers, but I also switched to store brand diapers. I loved Pampers while Mr. Boy was still in diapers, and there are notable differences between store brand diapers and the brand names, but at this point in time the generic diapers work just fine. They are much cheaper, so I save a lot of money.
Today it was time to restock our diaper supply, so I headed to Walmart to get another box of Parent's Choice diapers. They have worked well for us. I noticed the box design had changed, but didn't think much of it. Packaging changes all the time. But when I opened up the box and saw the diapers through the plastic packaging, I thought I had made a mistake. I saw what looked like pink…and lots of hearts.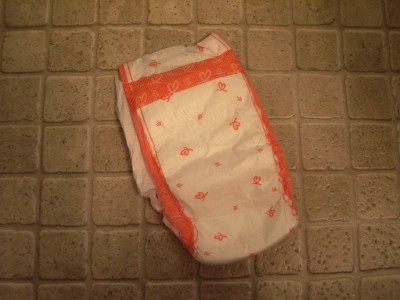 Well, the diapers aren't exactly pink. More like a peachy coral color. But combined with the new graphic design consisting of tiny hearts sprinkled all over the diaper, they are decidedly girly.  I assumed I had accidentally picked up a "girl" box, although I wasn't aware that they made gender specific diapers. Parenting fail, I thought.  Here I was stuck with 70 girly diapers that my son would have to wear for over a month.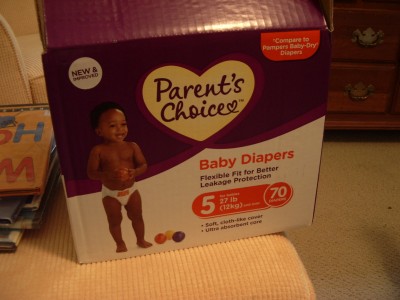 However, I checked the box and there is no indication that these diapers are intended for a girl. I can't tell if the baby on the box is a boy or a girl. So, I can only assume that this new design is supposed to be gender neutral.
Fail.
Yes, I know that diapers are just something for my baby to poop and pee on and then they get thrown out.  These "new and improved" diapers are crafted much better than the older Parent's Choice diapers–the exterior is softer, the stretchy parts stretchier, and the velcro seems to be better. But I have a huge problem with outfitting my little boy, who is rapidly developing his own opinions and sense of style, in little pinkish love hearts.  I am astounded that this diaper design made it through the approval process and onto store shelves.
Why don't diaper manufacturers save us all some money by sacking the graphic designers, skipping the character licenses and just giving us plain white diapers for our babies' bums?
DISCLOSURE: This website is monetized with affiliate links. I earn a small percentage of the sales price when visitors make purchases through affiliate links. Thank you for your support!
Share this post