My son's loud-mouth girlfriend
| Updated: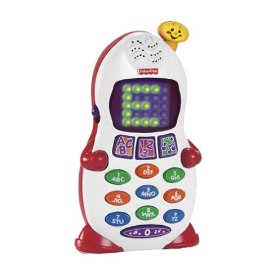 My son has been fascinated with buttons and electronics from an early age. When he catches a glimpse of the TV remote, he has no other cares in the world–I have to hide it from him! For his first Christmas, I wanted to get him his own toy remote, or something similar that had buttons but would be safe for him to play with. I found the Fisher Price Laugh & Learn Learning Phone

and it seemed like the perfect solution.
I liked the colorful buttons, and the fact that a large LED display lit up with letters, numbers and shapes. The phone has three modes: "Number Time", "ABC Time", and "Music Time". A perky woman's voice speaks the numbers and letters when a button is pressed, or music (similar to a cell phone ring tone) plays when in music mode. The phone will also ring independently, and the voice will say "Hello?", "Goodbye", or "I love you!" on its own. "Is that girl calling you again?" I'll jokingly ask my baby.
My son wasn't very impressed with his phone when he received it on Christmas (he was about 5-1/2 months old), but now at 8 months it has become one of his favorite toys. He isn't fooled into thinking it's a remote (and I still have to hide it), but it keeps him adequately entertained. He particularly likes the music mode, and enjoys listening to the different tunes. He presses the buttons by himself, and the phone will keep him busy for several minutes at a time. If the phone is held to his ear, he looks very serious as he listens for a voice on the other end–so cute!
I am always impressed with the quality of Fisher-Price products, but there are a couple reasons why I wish I had been able to find something better this time. First, considering this is a toy phone, the sound is very loud. Kids will eventually want to hold this toy up to their ears like a real phone, and the volume is loud enough to hurt. Since hearing loss runs in my family, I'm very cautious about preserving hearing as much as possible, and loud noise can do damage (especially to tiny baby ears). The sound (and lights) can be turned off with a switch, but I think a silent phone would take away much of the thrill for a child. Volume control or a quieter speaker would be a better option.
My other quibble is relatively minor compared to the volume problem, but it still matters to me. Part of the reason I liked this phone was that I thought I would eventually use it to teach my son his letters and numbers. In number mode, the voice speaks each number, with the notable exception of…zero! Our home phone number just happens to contain a zero, and I'm disappointed that this toy won't speak each digit so that I can teach my son. I know that young kids don't usually learn about zero in relation to counting, but it can be important for them to learn certain phone numbers in case of emergency. What better way to teach them the phone numbers than with a toy phone?
Overall, this toy is okay, but I wouldn't recommend it. The volume is too loud, and its educational value is slightly dubious. It probably won't distract baby from your own tech gadgets either.
DISCLOSURE: This website is monetized with affiliate links. I earn a small percentage of the sales price when visitors make purchases through affiliate links. Thank you for your support!
Share this post