My experience with Baby Wuv Inc.
| Updated: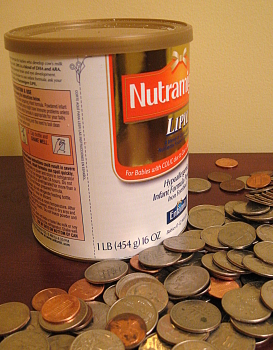 My son's hypoallergenic formula really put a burden on us financially, and after the formula checks and coupons ran out I looked for any way I could to save a little extra money. Buying in bulk is often the best way to save, and I found that a company called Baby Wuv Inc. had the best deal on Nutramigen.
Baby Wuv Inc. has a simple and easy to navigate website. You will receive email updates regarding the status of your order, and you can track it online. Baby Wuv carries a vast selection of baby products, some personal care items and more. Shipping is free (via FedEx) for orders over $100, which is easily achieved when ordering formula in bulk. Formula can be ordered by the single can, or by the case. The Nutramigen I was looking for was available in cases of 6, 12 or 18. When ordering by the case, make sure you do the math to find the best deal. A case of 12 is slightly cheaper per can than a case of 6, but I have seen a case of 18 with a higher per-can cost than a case of 12 (although I just checked, and that's not currently true). The prices fluctuate for some reason, so get out your calculator before you buy. When I first ordered, I saved an amazing $5.00 per can (compared to the price I would have paid at my grocery store), but the current savings is about $3.00 per can, and at times you may not save anything at all.
I had a difficult time finding any reviews or information about Baby Wuv Inc., but I decided to go out on a limb and give them a try. The first time I ordered from the company, I decided to purchase a case of 12 to get the best discount. The formula shipped out and arrived quickly. Upon opening the box, I discovered a problem; the package had been mishandled in shipment, and one of the cans had been dented so badly that it had burst open, spilling powder everywhere. An additional 3 cans were also dented, though not as badly. Since a dented can may potentially expose the formula to contaminants, I decided to play it safe and not use any of the damaged formula cans to feed my baby. Baby Wuv Inc. states on their website that they are dedicated to customer satisfaction, and would offer a full refund for defective products. I decided to take pictures of the damaged cans and email them to customer service. I was contacted promptly by the owner of the company who apologized and assured me that I would receive a full refund for the four damaged cans. The money was indeed credited to my account in due course. I was very happy with the customer service, and that is the sole reason I decided to order from the company again.
Although the box was clearly mishandled during shipment (I could tell that something heavy had collided with it), I felt that Baby Wuv Inc. could have done a better job of packaging my order. The box had space to spare and styrofoam peanuts provided the only cushion. For my next order I decided to purchase a case of 6 instead, believing that fewer cans would be more securely packaged. This proved to be true, and there was no damage in shipment. Two of my cans, however, had very small dents which existed prior to shipment (they were located toward the middle of the box). I think Baby Wuv Inc. should do a better job of inspecting their merchandise before shipping, since parents are advised by formula manufacturers not to use damaged cans.
The cans of formula are all factory sealed and have not expired. I do wonder how Baby Wuv acquires them, however. A "case" is simply a number of cans that Baby Wuv ships together. The "case" itself is not factory sealed, as I had hoped. The cans are not all from the same lot, and sometimes have differing expiration dates. I also wonder about the fluctuating prices. When it comes to something as important as baby formula, I want to know that I'm purchasing from a trusted source who stores and handles it properly. It would be nice to see more information about the company, including photos and perhaps some testimonials.
Overall I had a good experience with Baby Wuv Inc., and would recommend them to anyone looking to save money on baby formula. Their customer service is wonderful, which made me feel comfortable as a repeat customer. Although I prefer to buy my formula locally to avoid the shipping process, Baby Wuv provided savings that I desperately needed, and the ordering process was straightforward. Ordering by the case is also a great convenience when it's difficult finding the time to leave the house to shop.
If you have ordered from BabyWuvInc.com, I'd love to hear about your experiences! Please leave a comment below to help other moms make an informed decision.
DISCLOSURE: This website is monetized with affiliate links. I earn a small percentage of the sales price when visitors make purchases through affiliate links. Thank you for your support!
Share this post