Meet Architect Barbie
| Updated:
My first foray into professional blogging was a website devoted to "young women in architecture" that I created as a college student. Throughout high school I had been the only girl in the various drafting and design courses that I took, and in college there were only a handful of us. It can be a bit daunting for women entering into a male-dominated career field, and I wanted to encourage as many of them as I could. The site was fairly successful, but I was surprised by some rather vocal detractors (I guess some people can't let go of the critique once they leave college). I was crushed when one woman in particular authored an entire blog post about my website entitled "Like, Gag Me With a Condescending Spoon" in which she decried my "pandering" with the pop art style graphics and girly color scheme that I had created myself. How I managed to condescend and pander to a community that I myself was a part of is beyond me.
In any case, I came across this while flipping through the pages of Elle Decor, and couldn't help but laugh as I imagined what my bitter critic would have to say about this latest development. May I present I Can Be an Architect Barbie: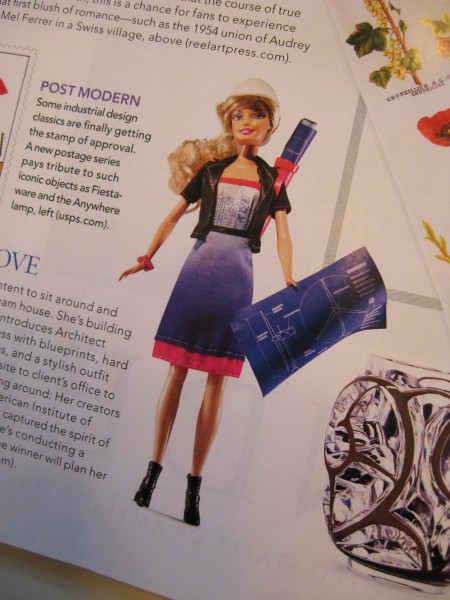 She will be introduced to the buying public in August along with a contest in which American Institute of Architects members can compete to create her real-life dreamhouse (did I just hear someone vomit?). I love how they threw in a pair of serious "architecty" looking glasses, a crucial wardrobe item among my professors when they needed to look particularly threatening for a critique.
Though I know that any woman architect who showed up on a site visit looking like that would elicit all manner of catcalls and commentary, it's fun to see the architectural profession presented by Barbie as a career option for women. I may need to get one of these to keep for the little girl I hope to have someday.
And to my old critic, wherever you are: girly girls who like to wear pink and play with Barbies shouldn't be discouraged by people like you–great ideas come from all types of minds.
DISCLOSURE (what's this?): I am not affiliated with Mattel, and this post does not contain affiliate links.
DISCLOSURE: This website is monetized with affiliate links. I earn a small percentage of the sales price when visitors make purchases through affiliate links. Thank you for your support!
Share this post