When it comes to baby and childrens' products, I don't like to compromise. I seek out the best products that I can afford–items that will last through several children so I don't waste money purchasing the same things again. In addition to quality materials and craftsmanship, I love products that are rather unique and tastefully designed.
That desire for top quality products has placed me in a bit of a conundrum from time to time, since the retail options I have in my immediate vicinity are the likes of Walmart, Big Lots and (if I really want to splurge) Fashion Bug. Sigh. I have therefore often turned to the internet to order higher end children's products sight unseen, based largely on reviews and hearsay.
That's why I was delighted when I finally decided to make the short trip to the New Hartford Shopping Center and explore Whims-n-Doodles this past summer. I had Mr. Boy in tow that day, and he tried to dart out the front door while I was taking a look at some diaper bags. So, I didn't spend nearly as much time as I would have liked, but was impressed by the selection of quality brands available right in my area, many of which I had never before seen in person.
This past Thursday I took another opportunity to visit the store when the ladies at Whims-n-Doodles hosted a trunk show to introduce new products from several great brands such as Petunia Pickle Bottom, Skip Hop, Ergo and more. I shipped Mr. Boy off to Grandma's so that I could enjoy the store unencumbered. I was so glad I went!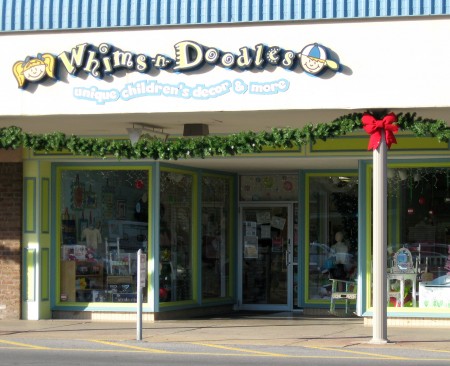 I nibbled on (ok, devoured) some yummy snacks such as petite scones and tarts while sipping a sample of Earth Mama Angel Baby tea (available in store). I chose the Heartburn Tea on a whim, which turned out to be a delicate and soothing mint. Fabulous!
Since I have become an avid fan of Petunia Pickle Bottom diaper bags in recent months (I currently own three), I was very happy to see how much Whims-n-Doodles has expanded their in-store selection since the last time I visited. The shelf full of colorful bags was a sight to behold.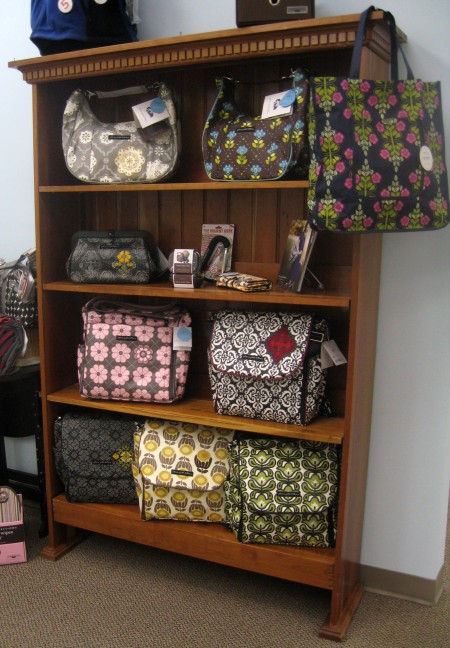 Petunia Pickle Bottom sent a variety of items just for the trunk show, including one of their newest bag styles, the organic cotton Sashay Satchel. At $89, the price point is lower than their typical fare, but the craftsmanship and functionality are everything you would expect. It was stunning in person.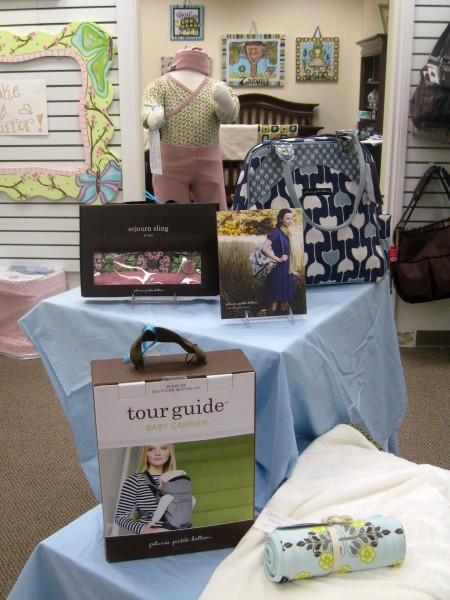 Whims-n-Doodles also carries a generous selection of diaper bags from other brands I love, such as Skip Hop and JJ Cole (what can I say, I have always been a little bit obsessed with handbags).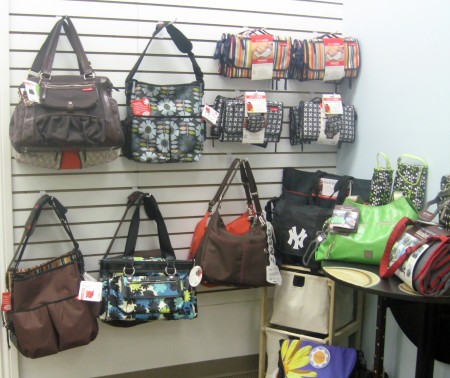 Whims-n-Doodles carries all manner of exquisite gift-worthy outfits for infants and children. They even have a shoe department with popular brands like Bobux, See Kai Run and Stride Rite.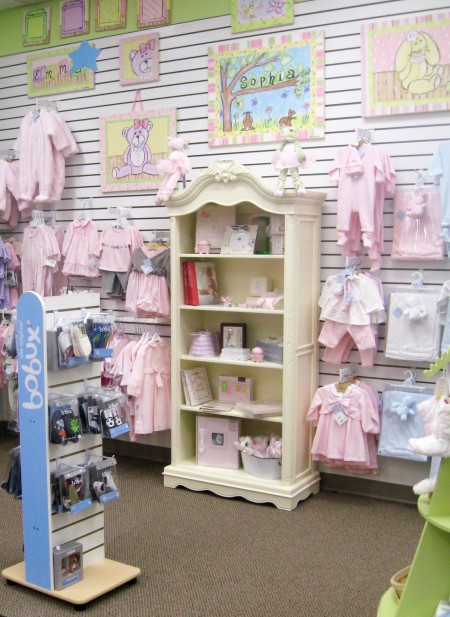 The store has very recently expanded to about double the previous size, providing plenty of room to display beautiful nursery furniture from brands like Munire and Little Castle. The beautiful upholstered gliders caught my eye as soon as I set foot in the store–the fabric selections are gorgeous!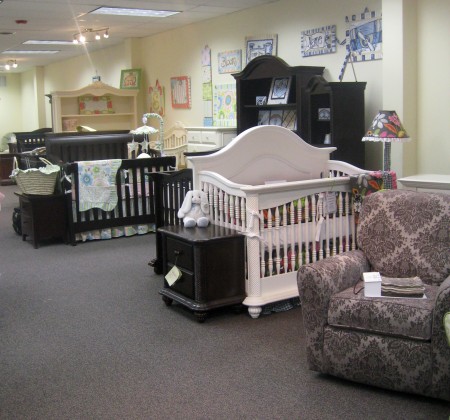 What really sets Whims-n-Doodles apart from other children's stores I have visited is the vibrant hand-painted and customizable artwork (done right on the premises). From hanging wall art, to piggy banks, jewelry boxes and pint-sized vanity sets, these products help add a custom touch to any nursery or children's room. The child's name or initials can be added to most items.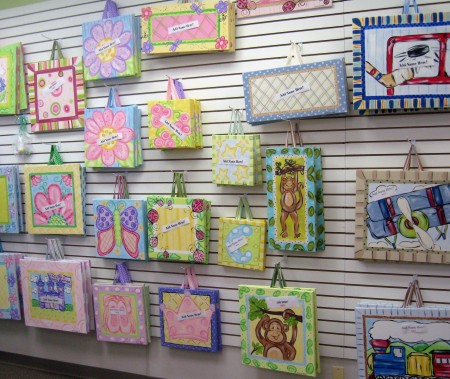 Even more impressive than the product selection is the warm, friendly and attentive staff. You can't get that from a website. I spent over an hour in the shop mainly chatting with the staff, including the owner Jennifer Rust. I occasionally heard the staff shout out friendly greetings to familiar customers who walked through the door. These ladies take the time to get to know their customers and are very knowledgable about the brands they sell. When I mentioned that I was interested in an Ergo carrier for my next baby, the floor sample came off the mannequin in short order, and I was shown how to put it on myself and insert the "baby" (a ten pound baby doll). I left convinced that I do in fact want an Ergo carrier (once I have a need for one), and was grateful for the opportunity to try one out in person.
I had a nice time at the trunk show event, and look forward to shopping at Whims-n-Doodles again. The expansion has made the store easier to browse, and they will soon be carrying exciting new products like strollers and car seats. Don't be afraid to bring your little ones in–there is a cute picket fenced play area where you can corral your kiddos while you shop! For more information, please visit the Whim-n-Doodles website.
Thank you to the ladies at Whims-n-Doodles for the wonderful experience! We are so fortunate to have a purveyor of top quality children's brands right here in central New York.
DISCLOSURE (what's this?): As of this writing I am not affiliated with Whims-n-Doodles or any of the brands mentioned in this post. I volunteered to write about the trunk show event and the store because I had such a nice time and want to support this wonderful local business.
DISCLOSURE: This website is monetized with affiliate links. I earn a small percentage of the sales price when visitors make purchases through affiliate links. Thank you for your support!
Share this post