Several weeks ago I talked about the importance of proper oral care and introduced products from Listerine and Reach that my husband and I were going to test. We have been using the toothbrushes, mouthwash and floss over the past few weeks, and I can honestly say that I notice a difference! I promised to share my personal experience with some of the products after I had used them for a while, and I'm happy to say that they are all items I would recommend to you.
Mouthwash
Prior to participating in this Oral Care Challenge, mouthwash just wasn't part of our routine. Both my husband and I had used it in the past, but it was never a must-have for us. I think that's changed. Even though I have always brushed twice per day, my mouth feels so much cleaner and fresher after rinsing. My husband opted for the traditional Listerine, while I decided to try the alcohol-free Listerine Total Care Zero.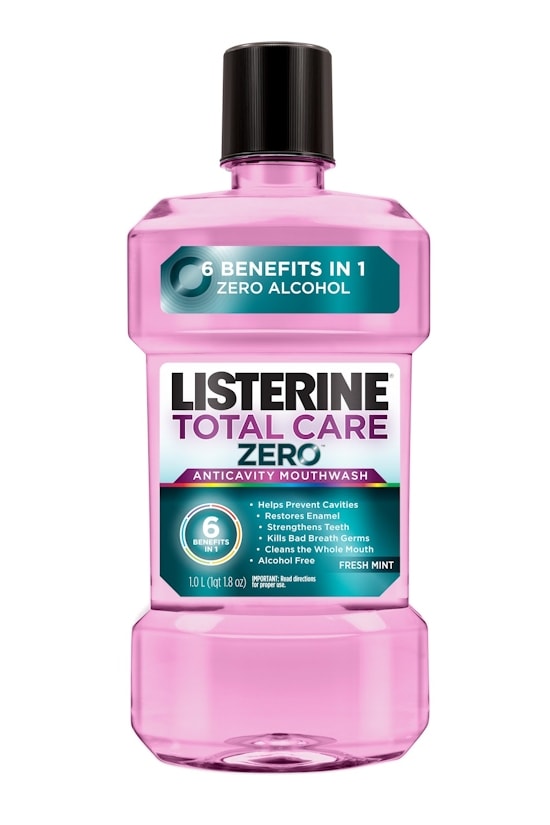 The intense stinging from alcohol-containing mouthwashes had always deterred me from using them regularly. I found that there was still a little bit of a stinging feeling with the Total Care Zero rinse, but it was not too bothersome, and the taste was much milder than others I have tried in the past. It left my mouth with a bit of a "fuzzy" sensation that I needed to get used to, but other than that I really liked the product. Not to venture into "too much information" territory, but it is so much nicer kissing my husband when both of us have nice fresh breath.
Toothbrushes
I was excited to try the fancy-looking toothbrushes, and out of the two I received for testing, I chose based strictly on the colors. I probably should have been a bit more discerning. I found that the head of my Reach Total Care Multi-Action toothbrush was huge for my small mouth. It felt a bit awkward brushing my teeth at first. Although my husband's toothbrush was a bit smaller, he said that it felt big to him, too. However, having already discarded my old toothbrush, I had no choice but to soldier on, and I'm glad I did. I feel like the shape and unique variety of bristles has cleaned my teeth like nothing else I have tried. My teeth feel smooth and polished, with less buildup.

One of my readers expressed concern about the Reach children's toothbrushes, which she found to be cheap and flimsy and fell apart shortly after she purchased. While we didn't experience our toothbrushes falling apart, I should note that a bristle on my toothbrush fell out the first time I used it. I have never had that happen before with any toothbrush, so I was a bit surprised. It was only one bristle, though, and I haven't had a problem since. I didn't care for the craftsmanship of the kids toothbrushes (especially the printed plastic wrap that decorates the handles), but I would definitely consider replacing my own Total Care Multi-Action when the time comes–I feel like it really makes the most of my brushing efforts, which is important as a mom who is often in a hurry.
Floss
I won't lie, I haven't yet gotten into the habit of flossing daily, but I have flossed much more since starting this challenge. Since the Reach Total Care floss does not shred like a traditional floss, I can't use my old fears as an excuse. Now it's just a time thing (and apparently I'm not the only one). I don't find a lot of time for myself in the morning, and at night I can't wait to curl up in bed and sleep! I need to work on my routine a bit more.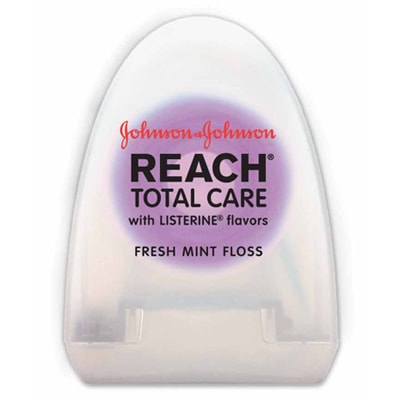 The Total Care floss really does work well for me, though. I have been able to use it without getting it stuck in my teeth, so I don't dread flossing the way I used to. I definitely want to make flossing a part of my regular routine, and this floss is the only type I will use. This is a great product if you have struggled with flossing like I have!
The verdict
I'm not sure that I was expecting to feel different after doing this challenge, but my mouth really does feel fabulous. My teeth feel stronger and less sensitive, I feel like they're a bit whiter, and I really like that extra clean feeling after I've used the mouthwash. Although I was fortunate not to have experience with any serious dental problems heading into this challenge, I learned that I could improve my oral care practices and feel even better than before. I know it probably sounds a bit cheesy, but I feel more confident and more inclined to smile with a cleaner, healthier mouth!
DISCLOSURE: This website is monetized with affiliate links. I earn a small percentage of the sales price when visitors make purchases through affiliate links. Thank you for your support!
Share this post