I received a Keurig Office Pro free of charge from Staples for the purpose of this review. All opinions are entirely my own.
It's hard to believe now, since I can't imagine skipping my morning cup of coffee, but I only recently became a coffee drinker.
Yes, somehow I willed my way through architecture school and its all-nighters, a demanding job, and the first few years of motherhood without relying on caffeine.
But one day, tired and sitting on my couch puzzling over what separated me from other moms who actually accomplished a lot during the day, I concluded "coffee!" I'm not quite certain that was the correct answer, but it didn't take long to learn to love my morning cup.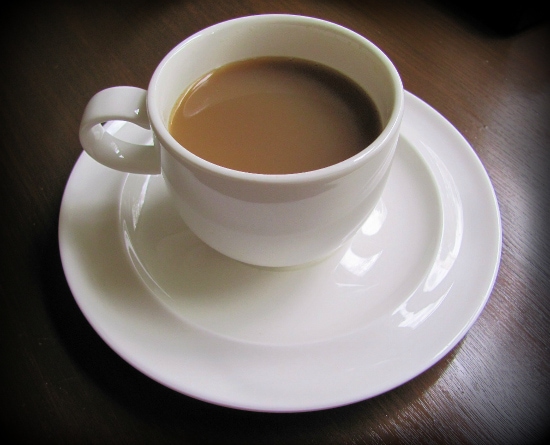 I bought an adorable little coffee maker that lasted a whole week before the decanter shattered while I was washing it. Turned out it was a known design flaw, but there were no replacement decanters available, and I would need to replace the whole unit.
My sister, hearing of my plight, gifted me her unused french press. It was fun to use, but I had a remarkable ability to produce The Worst Coffee Ever. Even after I figured out how to make a decent cup, the fuss of cleaning the various parts every day was not very convenient.
Finally, I found my "just right". Or almost. A relative gave me a used Keurig Mini, and I soon grew accustomed to super simple, delicious coffee with hardly any effort. Yes, the k-cups were more expensive than the canisters I used to buy, but they were pretty much my sole indulgence in life, and I was willing to spend the money. I really loved my Keurig Mini, but it was old and beginning to behave erratically. I was also limited as to which mugs I could use–the bigger cups I favored wouldn't fit beneath the dispenser. I had been thinking about an upgrade for a while when I was contacted to review a better Keurig machine.
The Keurig Office Pro
Until I was asked to review the Keurig Office Pro, I had no idea that there were so many different Keurig brewers available. I was very intrigued by the idea of a commercial-grade machine that didn't look too industrial, and would fit just fine in my kitchen. I like commercial-grade products for their staying power–I use heavy duty white restaurant dishes for all our meals at home, for example.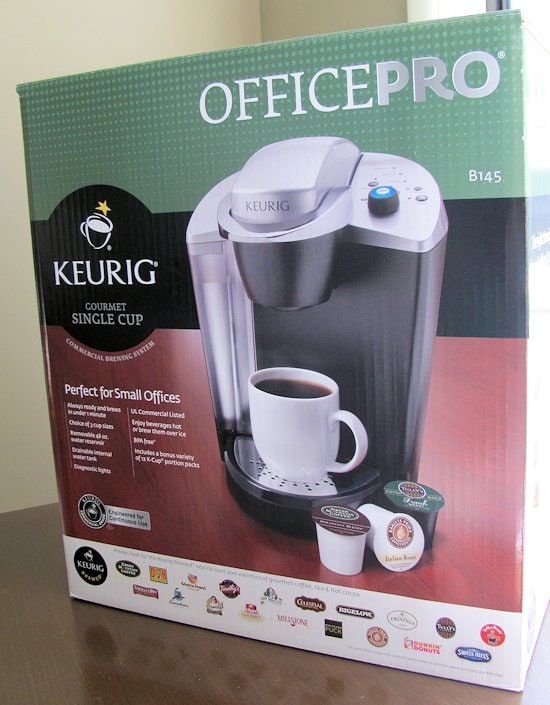 The Keurig arrived very nicely packaged along with a manual, registration forms, and a sampler box of k-cups. I also received a package of decaf coffee k-cups (which I have been using during pregnancy), and some green tea k-cups.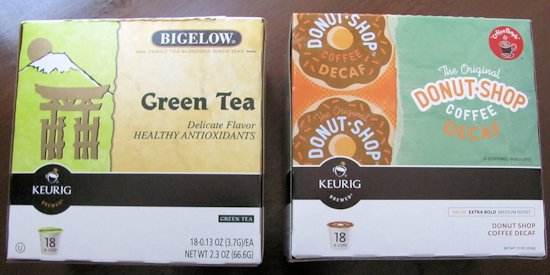 I was anxious to rev up my new machine, but I assumed there would be a lengthy "priming" process before I could use it. Wrong! It came with a quick start guide with easy instructions that had me up and running in minutes.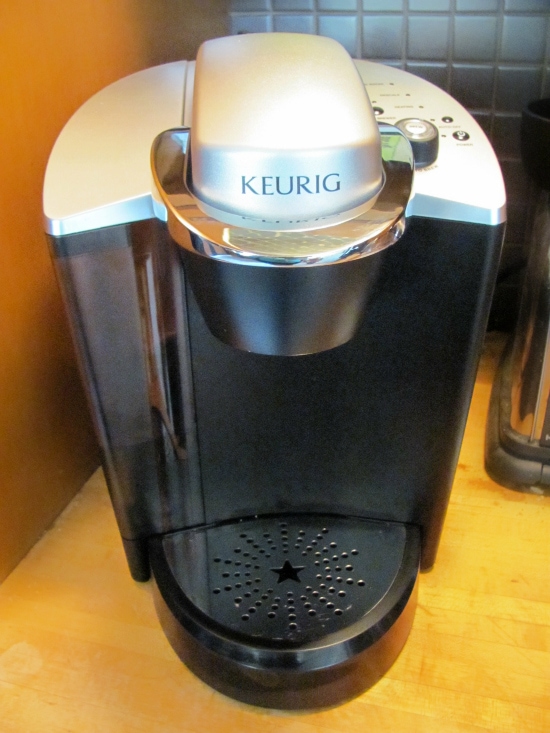 For the past few weeks I have been enjoying my decaf coffee and cups of tea without experiencing any problems. While the Keurig Office Pro is larger than my Keurig Mini was, it serves more than one purpose, so I was able to put away the electric kettle that took up counter space, and now just use my Keurig (without a k-cup) if I need hot water to brew a tea bag. The coffee has been consistently great, and the tea k-cups, which I had never used before, brew perfectly as well. My husband, who drinks tea but won't touch coffee, has been using the Keurig quite a bit.
Features
The Keurig Office Pro is a definite upgrade from my Keurig Mini. It has a 48-ounce water reservoir, meaning I don't need to pour water in every time I want to make a cup. Its height accommodates my largest coffee mugs just fine. I also like the fact that the handle and the overflow grate are both made of real metal, not painted plastic.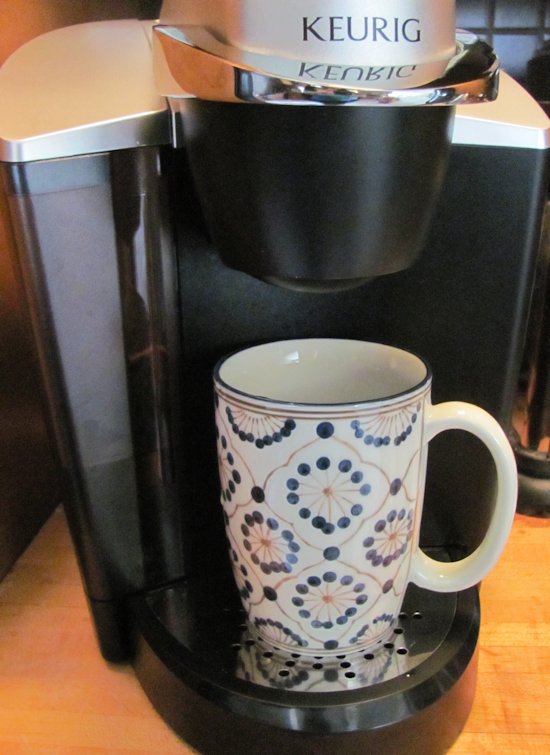 The Office Pro version lacks the digital screen that other large Keurig machines have, and instead uses a dial to select the cup size. It looks a little different, but I like the functionality just fine. I imagine the dial might last better than a digital screen, anyway.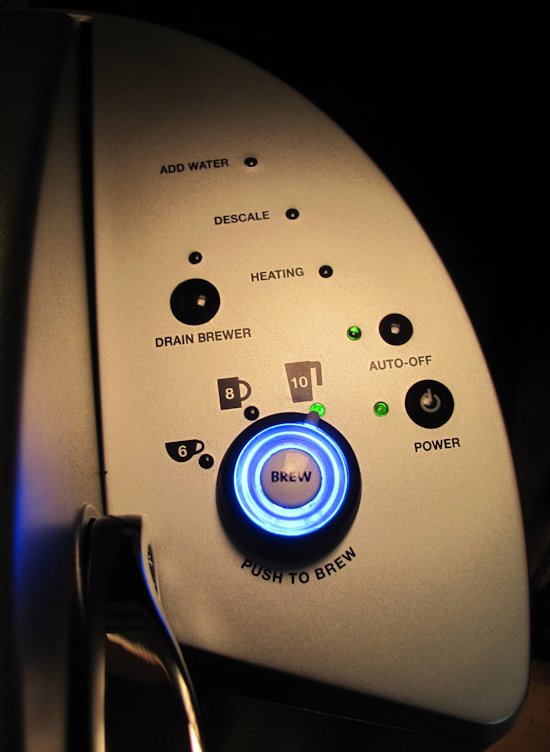 Various lights indicate the machine's status–whether it needs more water, if it's heating, and if it's ready to brew. The dial blinks its blue light when it's time to press the button and brew a cup.
The Office Pro can be kept on all day, meaning the water is always heated and ready to brew (within 1 minute). Or, if you prefer, there is an auto-off function, meaning the unit switches off after inactivity. Since I typically only drink one cup in the morning, I keep my unit turned off.
Minor Quibbles
Overall the Keurig Office Pro is a very nice machine, and I am perfectly happy with it. There are a couple minor drawbacks that may cause some people to opt for a fancier Keurig, but they don't bother me:
– The water pump is a bit noisy. It's not extremely loud, but it is noticeable. You'll hear a buzzing sound when the Keurig is pumping water to heat up. I'm used to it, now.
– It takes a while to heat up. If you keep the machine turned off, it will take a minute or two for the heater to reach brew temperature. I've gotten in the habit of turning the brewer on as soon as I go to the kitchen, let it heat while I make breakfast, and then it's ready to go by the time I want to make my coffee. Of course this is due to my preference–you can leave the Keurig on and avoid the extra wait.
– 48 ounces is not a lot, really. A larger reservoir would be nice. It's definitely more convenient than filling up the unit every time, like I had to with the Mini, but if you drink a lot of coffee or have more than one person using the Keurig, that reservoir empties quickly. Of course, that could be a good thing–at least the water will always be fresh.
So, there are some compromises to be made if you opt for the Office Pro instead of a more elite Keurig, but for the price, I am more than happy to deal with those minor quibbles. I was very surprised that the Office Pro retails for only $129.99 at Staples (by comparison, the very basic Keurig Mini is $99.99). It packs a lot of features and convenience for the price, and I think it's an excellent option if you're in the market for a Keurig machine.
I'm optimistic that my commercial-grade Keurig Office Pro will have me enjoying perfect coffee for a long time to come.
DISCLOSURE: This website is monetized with affiliate links. I earn a small percentage of the sales price when visitors make purchases through affiliate links. Thank you for your support!
Share this post