Keeping warm with Marie Callender's Pot Pies
| Updated:
I don't like to rely too often on convenience foods, but every mom needs a little help from time to time to get a warm meal on the table. Comfort foods, which we all crave during these cold winter months, can be a lot of work and the end result isn't always better than something you can just go out and buy. My husband and I frequently enjoyed Marie Callender's pot pies when we were both working. As an Englishman, he loves meat pies, and as someone who doesn't enjoy rolling out pie crusts or spending the time on the various other steps involved, I didn't feel like making them from scratch. When I was offered the chance to review Marie Callender's pot pies recently, I gladly accepted…and they were every bit as delicious as I remembered.
Marie Callender's frozen pot pies come in seven different flavors including beef, turkey and several different chicken varieties. The 16.5 ounce pies serve two, and the regular chicken flavor is also available in a smaller 10 oz. size. At my grocery store the larger pies sell for a regular price of $3.69 each, and I often see them on sale. I chose to serve my family the Turkey Pot Pie and Chicken Pot Pie.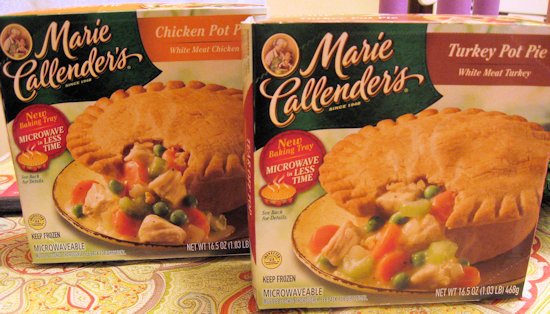 Though they can be baked in the oven if you prefer to be a bit more authentic or simply have a number of pies to bake at once, the microwave is of course much more convenient. They cook for about ten minutes in the microwave compared to more than an hour in a conventional oven. I microwaved one pie at a time, allowing the first pie to cool slightly while the other cooked.
My husband snuck an awful picture of me "cooking".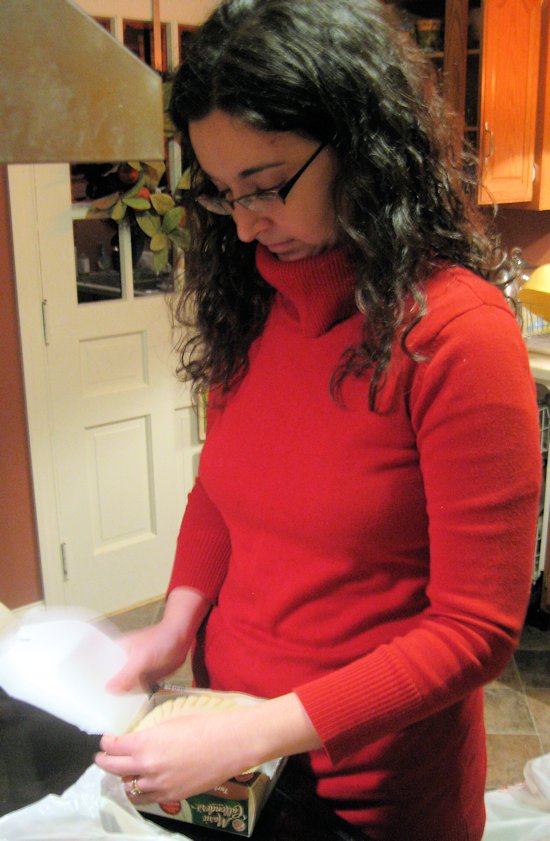 The top of the box tears away to reveal the top pie crust, while a specially designed microwave-safe pie pan ensures that the bottom crust is crisp, not soggy.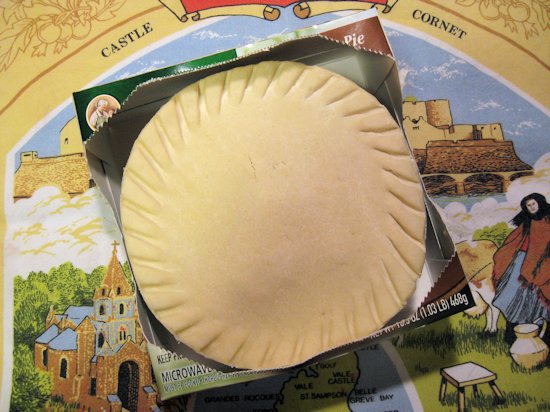 The pot pies emerged from the microwave looking wonderful with perfectly golden crust. Inside I found generous amounts of fresh-looking veggies and meat in a creamy gravy.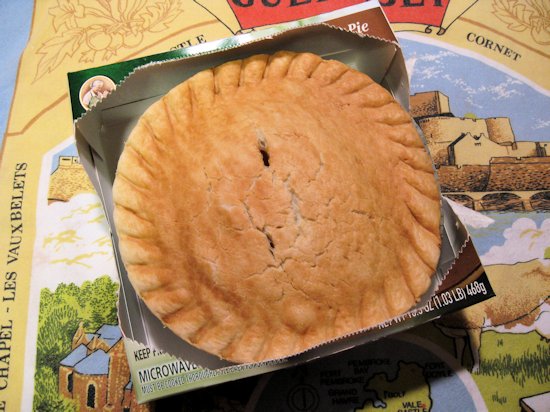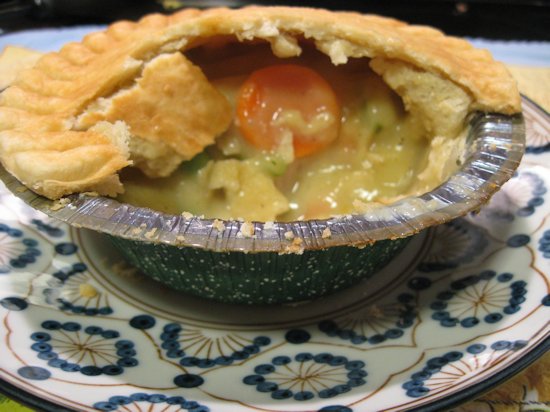 To complete the meal and provide a little freshness to balance the heavier fare, I like to serve a nice salad on the side (I figured that since I'm already cheating I might as well go all the way by using one of those kits that comes in a bag with toppings and dressing). My husband also insisted on making roasted potatoes.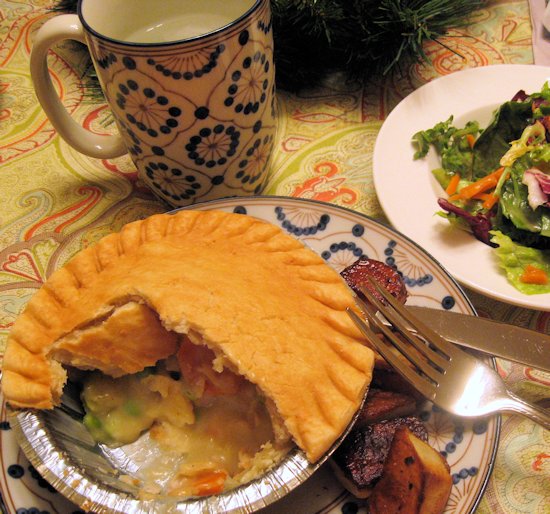 It had been a while since I had eaten a Marie Callender's pot pie, so I was pleasantly surprised by the nice flavor and the freshness of the ingredients. They didn't skimp on the meat, which was moist and tender. The veggies, which included carrots, peas and celery, were colorful and retained a nice crunch. The gravy was flavorful and the crust was crisp and flaky. I love that these pies contain no preservatives.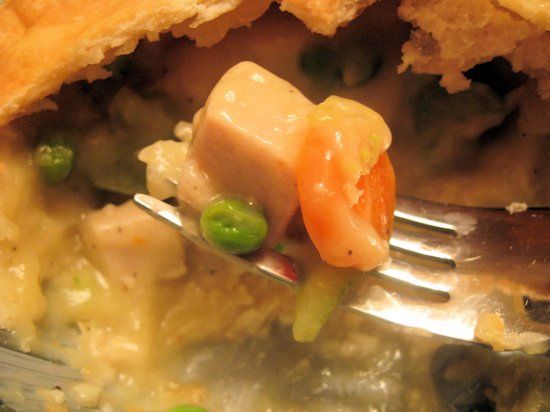 In short, these pot pies tasted better than anything my slaving in the kitchen could have produced, and based on the ingredients I would choose, they were cheaper, too. My whole family (and especially my husband) enjoyed dinner.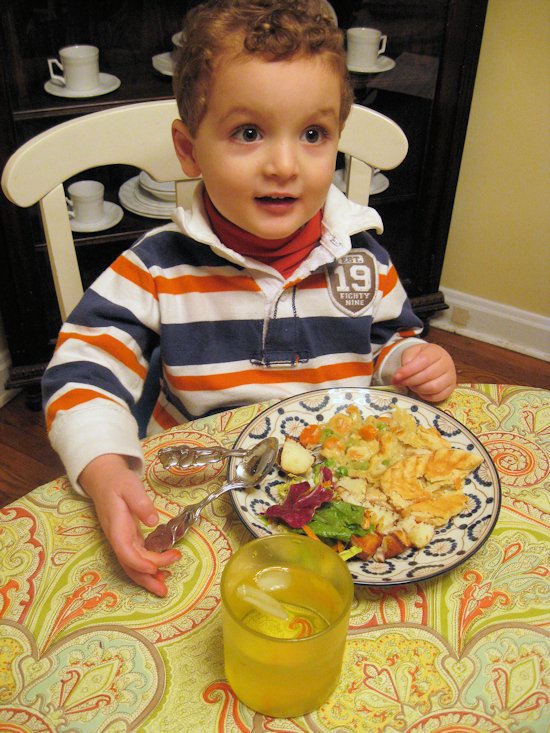 You can find Marie Callender's pot pies in the frozen section of your local grocery store. For more information, visit www.mariecallendersmeals.com
Comfort food is one yummy way to keep warm during the winter, and here are some other ways that I (a seasoned central New Yorker) bide my time until warmer spring weather arrives:
1. A good old hot water bottle. It sounds old-fashioned, but it's an inexpensive solution that does the trick. My husband fills ours up with the hottest water from our tap, then puts it underneath the covers at the foot of our bed. It stays warm for a while and keeps my feet toasty until I've drifted off to sleep.
2. A down jacket. I've had lots of different kinds of coats over the years and have concluded that nothing beats a good down jacket. I prefer a longer jacket that covers part of my legs but doesn't restrict movement. The lightweight insulation means I never feel overheated, but the coldest temperatures don't bother me.
3. Hot drinks. Hot cocoa is a nice treat, but a nice steaming cup of tea is healthier, and just what I need to warm up when I start to feel chilled. The ceramic mug keeps my hands cozy, too.
4. A space heater. Our little old house isn't zoned, so we heat all or nothing. I don't like to be wasteful and I especially don't like to see a huge utility bill, so I save energy and money by using a space heater instead. With a space heater I can turn down the furnace while keeping my son and myself toasty in the living room. Of course safety is a major concern for me, so I chose a ceramic heater that automatically shuts off if it's tipped over (and now that my son is old enough to get out of bed and tinker with things, he no longer has one in his room).
5. Put a lid on it. I remember years ago thinking some old hunters' wisdom sounded funny: "If your feet are cold, put on a hat." But it's true! Fend off that awful tingling feeling in your toes by wearing a warm hat or a hood when you're out in the cold. I often wear one inside, too.
How do you get through the winter without freezing?
DISCLOSURE: This website is monetized with affiliate links. I earn a small percentage of the sales price when visitors make purchases through affiliate links. Thank you for your support!
Share this post