I love Real Simple magazine
| Updated: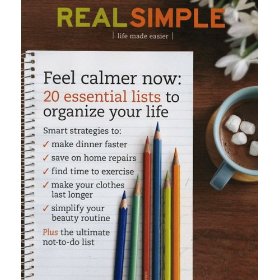 Real Simple has been my favorite lifestyle magazine for years. There are so many little touches that make it stand out from the rest. The cover is always minimally designed with a simple, yet eye-catching photograph. On the spine of each issue is an inspirational quote. There are no screaming headlines or logos in neon colors crowding the cover. And you will never see an airbrushed celebrity on or in this magazine, which I love! One feature that always fascinates me are the creative bas-relief images (crafted entirely from paper) that are used for the different feature sections.
Open the magazine and you'll notice that even the pages are different. They're less glossy than the usual magazines, and have a slight texture. They're easier to flip through and just give you a sense that you're reading a unique publication. The pages are uncluttered, relaxing and pleasing to the eye. The fonts are relatively large and untaxing to read. Regular features include "The Simple List", a page at the front filled with interesting facts and helpful hints. There is a monthly bookmark for you to tear out that includes space for notes, and the month's calendar. "Your Words" asks a question of the readers and includes some of the best answers, instead of the usual letters to the editor. "Life Lessons" features an inspirational true story by a different author each month. There are numerous product reviews, and although many of the products are way outside my pricerange (a trend I hate in other magazines as well), they aren't portrayed as "must-haves". Usually there are more affordable options included in the same section, and the included information can be used to independently choose items which share similar traits. I love the "New Uses for Old Things" feature, which repurposes common household items for clever uses you probably never thought of.
Each issue also includes a variety of recipes. Some are for entertaining, some are simple meals that can be prepared quickly, and there is usually a collection of recipes that follow a theme. I always find a recipe I like. At the end of the magazine is a cardboard sheet called "Real Simple to Go". Tear along the perforations and you have cards that summarize some of the items you have just read, including recipes, helpful information and an inspirational quote.
Real Simple is one of the few magazines that I take the time to read instead of just flipping through. I've found helpful and interesting information in each issue. Unfortunately I don't have the space to keep my magazines long-term, so if I find a great article I cut out the page or pages and file them in a folder for later reference. If you're tired of magazines full of celebrities, gossip, impractical fashion and pointless articles, then give Real Simple a try on your next shopping trip. Or save a lot of money on a subscription by ordering through Amazon.com
where 1 year is currently only $23.68 (or $1.97 per issue). I hope Real Simple sticks with their refreshing formula for years to come!
DISCLOSURE: This website is monetized with affiliate links. I earn a small percentage of the sales price when visitors make purchases through affiliate links. Thank you for your support!
Share this post