Huggies Snug and Dry review
| Updated:
I've spent the past few days babysitting my adorable nephew (and sometimes blogging sidekick), and while he was here he helped me review the newest Snug & Dry diaper from Huggies. Aedan is a very particular little guy and he hates being uncomfortable. He also has a tendency for "super soaks" overnight, so finding just the right diaper for him has been a bit of a challenge. It's been a while since we have needed diapers in our house, so I was interested to learn about how diapers have progressed and to see if these new Huggies would work better for my nephew.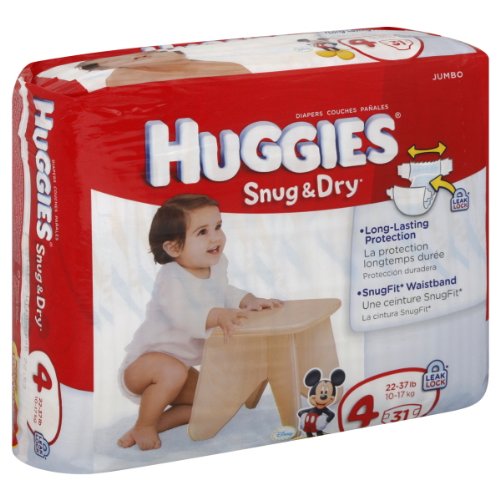 The diaper design features a circular pattern in pastel blue, green and orange, with a Disney character or two on the front. I found the outer material to be not quite as soft as Pampers, but better than the store brands I have used. Not a big deal, since the outside doesn't touch the baby anyway. The lining is just as soft and comfortable as other brands. The padding in the rear area seemed a little bit more substantial (and probably more comfortable) than others I have seen. I really liked the stretchy elastic waistband at the back and the very flexible velcro tabs. The tummy band seemed more ample than other diapers I have used, which, in my experience, is particularly important for little boys. I won't post a picture of my nephew in his diaper, but I can tell you that they fit him great–right over his tubby little tummy and snug at the back. He was able to run around as usual and didn't seem in the least bit uncomfortable.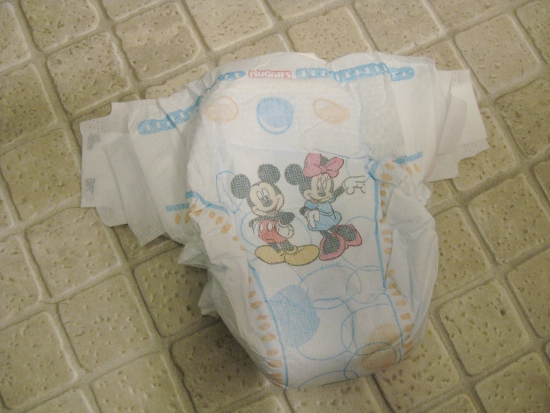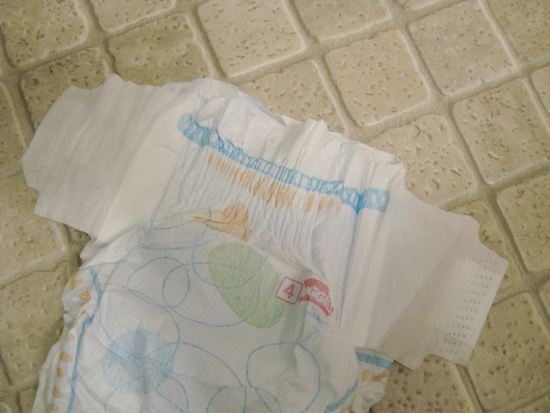 Of course looks aren't everything when it comes to diapers–the real test is moisture absorbence and leak protection. These new Huggies feature new and improved Leak Lock protection and promise to be "even more absorbent". I definitely noticed a big difference between the Huggies Snug & Dry diapers and the usual brand he wears. Normally his wet diapers get very soggy and uncomfortable for him, and just don't seem to hold much moisture. The Huggies did an excellent job wicking away the moisture and keeping him comfortable for a longer period of time–anyone who has tried to hold down a cranky Aedan to change his soaked diaper can appreciate that!
My sister also spent some time testing these diapers out with Aedan and she was similarly impressed. She said they seemed "much more comfortable" and even noted that the stretchy waistband helped keep his clothing in place rather than twisting or drooping like usual. She noticed that they don't get as "squishy" when wet, and that he didn't leak through during his naps, which often happened before. She said she will probably switch to these diapers since they work so much better and the cost is comparable to the other brand she was using. I have to admit that I never really used Huggies with Mr. Boy, but when the time comes again I will definitely consider Huggies Snug & Dry.
Free Sample
You can try out the new Snug & Dry diaper for yourself by requesting a free sample (while supplies last) at the Walmart website.
Win it!
Huggies has a free package of the new Snug & Dry diapers (up to $24 in value) for one lucky reader!
To Enter
Leave a comment below telling me something you love about your baby.
Extra Entries
You may leave one comment for each additional entry type that you complete below (or that you have already completed in the past):
– Like Jen Spends on Facebook
– Follow Jen Spends on Twitter
Rules
Open to U.S. residents age 18 and older.
One entry of each type per person, limit two entrants per household.
Contest ends at 9:00 p.m. ET on Monday, September 5th, 2011.
One winner will be chosen randomly from all eligible entrants and notified by email. If winner does not respond within 48 hours, a new winner will be chosen.
If this is your first time commenting on Jen Spends, your comment will be held for moderation until I have a chance to approve it. It should appear soon!
DISCLOSURE: This website is monetized with affiliate links. I earn a small percentage of the sales price when visitors make purchases through affiliate links. Thank you for your support!
Share this post