Owning an electric kettle makes it easy to enjoy a hot cup of tea quickly, but after a while you might notice buildup inside the kettle. Wondering how to clean an electric kettle that you can't just throw in the dishwasher? Fortunately cleaning an electric kettle is fairly simple and easy to do.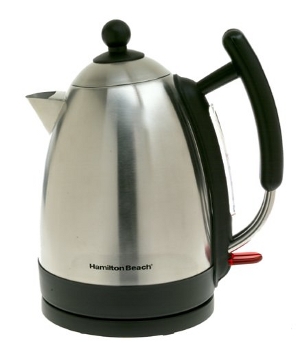 I was revolted when one day I peered into the electric kettle we had received as a wedding gift and discovered green buildup on the bottom — I had been using it for years to boil tea water and had no idea the kettle was dirty inside.
In reality, the green hard water buildup was most likely harmless, but I wasn't going to drink another cup of tea knowing what the kettle looked like inside. I assumed I couldn't clean it because it was an electrical appliance, so I started shopping for a new electric kettle.
But when I discovered how expensive electric kettles can be, I decided to refocus my search on cleaning an electric kettle instead. I didn't have the money to waste on replacing an appliance that worked just fine, only because it was a little dirty.
How to Clean an Electric Kettle
It is very simple to clean an electric kettle using just one simple ingredient you probably have in your pantry: vinegar!
Step One: Mix one part what vinegar and one part water (I used half a cup of each) in a large measuring cup or a pitcher
Step Two: Pour the vinegar and water mixture into your electric kettle and swish it around a bit
Step Three: Allow the vinegar and water mixture to sit in the kettle until the deposits have dissolved away. I allowed mine to soak overnight.
Step Four: Pour out the solution, then rinse the electric kettle with clean water as many times as needed to rid the kettle of the vinegar smell.
After following this process, my kettle was absolutely spotless, and my first cup of tea from my clean kettle did not taste of vinegar at all!
I learned later that yucky buildup can be prevented by emptying the electric kettle of water after each use, which I would have known had I read the directions thoroughly. Live and learn.
In addition to cleaning your electric kettle, this is also a great way to clean and descale stove top kettles or tea pots that have stubborn deposits or are otherwise difficult to wash thoroughly.
DISCLOSURE: This website is monetized with affiliate links. I earn a small percentage of the sales price when visitors make purchases through affiliate links. Thank you for your support!
Share this post