How to clean an electric kettle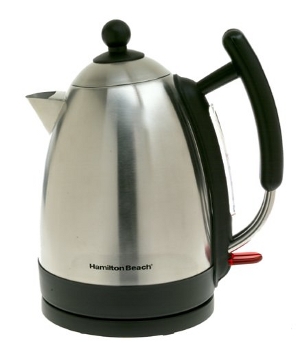 A good cup of tea is a staple in our partly British household, and our electric kettle gets a lot of use. It's so convenient being able to boil water in seconds without relying on the stove. Our kettle has been going strong since we received it as a wedding gift more than three years ago, but after recently peering inside I was so revolted that I wanted to toss it for a new one! Water deposits had built up, creating an unsightly greenish ring around the base. Of course it's probably perfectly safe, but I wasn't going to ingest another drop of tea with that stuff in there! I set about shopping for a new kettle immediately. I couldn't find one locally, and after seeing the prices online, decided I couldn't spring for a new one right now. Besides, it works just fine…it just had green gunk on the bottom.
What to do?
Luckily, I found that it's simple to clean an electric kettle, using one simple ingredient you probably have in your pantry. Just mix one part white vinegar and one part water (I used half a cup of each), pour into your kettle, swish around a bit, and then let sit until the offending deposits have dissolved away! I let mine soak overnight, and now the kettle is spotless! DO NOT boil the water/vinegar solution, as that could damage the kettle. Once you're satisfied with the result, pour the solution out, and rinse the kettle as many times as necessary to rid it of the vinegar smell. I had a wonderful cup of tea after cleaning my kettle, and the taste wasn't off at all. Incidentally, you should always empty your kettle of water after each use to avoid buildup. I would have known this sooner, had I read the directions.
Share this post