How I Save at Rite Aid
| Updated:
This post was last updated on May 25, 2011 with changes to Rite Aid's coupon policy.
Drugstore shopping is a mainstay for most serious couponers. There is an array of rebate programs, reward programs, store coupons and great sales that attract shoppers looking to save a lot, or sometimes even get "paid to shop". As an added bonus, must large drugstore chains accept the same manufacturer's coupons that you can use at regular grocery stores.
I have only one drugstore chain in my immediate area, Rite Aid, and I never really thought their deals were as great as some of their competitors. Then, I started to read about the new programs they have introduced over the past few years, and realized that there is a real potential for savings. The only problem was that it seemed way too complicated!
When I ran out of makeup recently and discovered that Rite Aid had my favorite brand Buy One Get One 50% off, I knew it was time to take the bull by the horns and learn how to get the most for my money at Rite Aid! I was really nervous at first because I didn't understand all of the intricate details about the deals I hoped to utilize, and I was worried I would end up spending much more than I wanted to. I was so stressed that I forgot to use a $2.00 off coupon for one of my items!
I've made three different transactions now, and I think I finally have a handle on things. And I have to say, both of the cashiers I dealt with in two different stores were absolutely wonderful–they knew the ins and outs of their store policies, they were happy to answer my questions, and they didn't mind ringing up items in separate transactions. A grumpy cashier can really torpedo one's confidence when trying to learn the ropes.
Though I know plenty of expert shoppers, I'm sure I'm not the only one who was confused about how Rite Aid's various programs work, so I thought I would outline everything I have learned over the past few days.
Wellness+ Rewards
You will want to start by registering for a Wellness+ card. For some reason I had thought that it was a paid program, but it's absolutely free! You can usually find applications right inside the entrance (or you can register online). The Wellness+ card is like your grocery store's loyalty card. You can't take advantage of sale prices or some other programs without it. It's a must-have.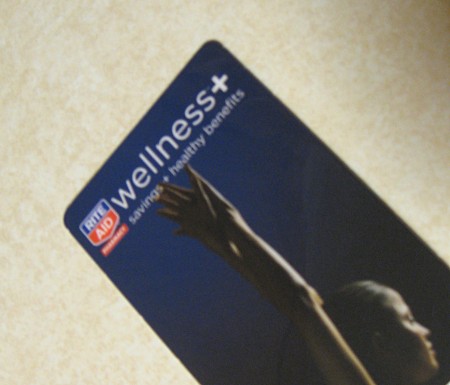 In addition to netting you sale prices, your Wellness+ card has a rewards program attached to it. You will receive 10% off any Rite Aid brand products, and for every $1 you spend on non-prescription purchases, you will receive one Wellness point. Those Wellness points are automatically redeemed for various benefits when you have accrued enough points to reach specified thresholds. You can earn percent off shopping passes or further discounts on non-prescription purchases. All the details can be found on the Rite Aid website.
Coupon Policy
You can find a copy of Rite Aid's current coupon policy online, and it's a good idea to print it out to take with you in case you have a new cashier who gives you a hard time. Back when I first started couponing, they would not accept internet printables, but that has changed. You can use any manufacturer's coupons, whether they come from a newspaper insert or the internet (though internet coupons are limited to a value of $5 or less). Unfortunately Rite Aid dramatically changed their coupon policy in May 2011, which will severely limit deal scenarios.
Rite Aid will allow you to use one manufacturer's coupon per item purchased, however as of May 2011 you may use only one manufacturer's coupon per pair of items purchased as a Buy One Get One Free deal. You may no longer use Buy One Get One Free coupons in combination with a Buy One Get One Free sale. Rite Aid has also begun limiting the number of identical manufacturer's coupons (for the same product and same discount) to four per transaction.
Manufacturer's coupons can be combined with Rite Aid coupons. This confused me at first, because all of the Rite Aid coupons I have seen say "Manufacturer's Coupon" on them. You can treat anything with a Rite Aid logo on it as a store coupon, which you can combine with a manufacturer's coupon unless the Rite Aid coupon states otherwise (and some do). You can find Rite Aid coupons in the store flyer and online.
Video Rewards
Video Rewards is a means of obtaining printable Rite Aid coupons online. You will see a selection of short advertisements for various products. You can pick and choose which coupons you would like and watch only those videos, or you can view an entire collection of videos in order to qualify for a total transaction coupon. You will be able to print and redeem each coupon one time only. Individual product coupons may be combined with manufacturer's coupons as explained earlier, but the total transaction coupons cannot. The total transaction coupons may be helpful if you can't find any coupons for specific products.
Single Check Rebates
Generally rebate programs are a little too fussy and time-consuming for me, but this Single Check Rebates program (or SCR) couldn't be easier! Rite Aid will advertise items that have rebates available, and if you purchase the item, you simply input a code from your receipt into the Single Check Rebate website. To make it even easier, Rite Aid issues a separate flyer (found just inside the store entrance) that lists all of the rebate items for the month. You can let your rebates add up until you request a check (which can be done once per month). The check will come on a postcard in the mail.
As an example, this week's flyer shows AMO Complete Multi-Purpose contact lens solution on sale for $7.99. There is also a $7.99 SCR advertised, so this item would be free!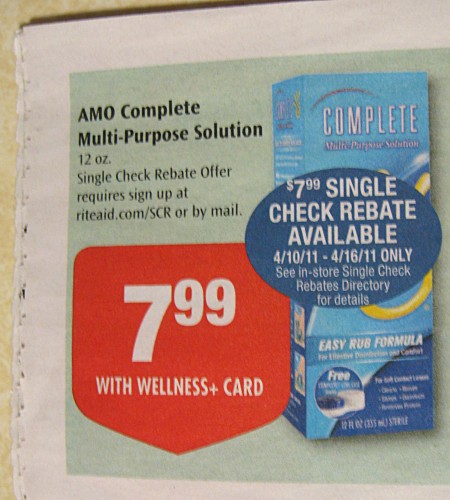 Once you've received your check, you can cash it at a bank or redeem it at a Rite Aid store. If you redeem it at a Rite Aid store, you will not receive change for a purchase that costs less than the rebate amount (you're probably better off at the bank).
+UP Rewards
This is the program that confused me the most, but it is the best way to save at Rite Aid! +UP Rewards are high value discounts that you can use toward your next transaction. You earn +UP Rewards by purchasing a specified dollar amount of advertised items. Each flyer will have different groups of items that will qualify for +UP Rewards. Over the past two days I have earned $5 for buying $15 worth of L'Oreal makeup products, $5 for spending $15 worth of Garnier hair products, and $10 for purchasing $30 worth of household cleaning products.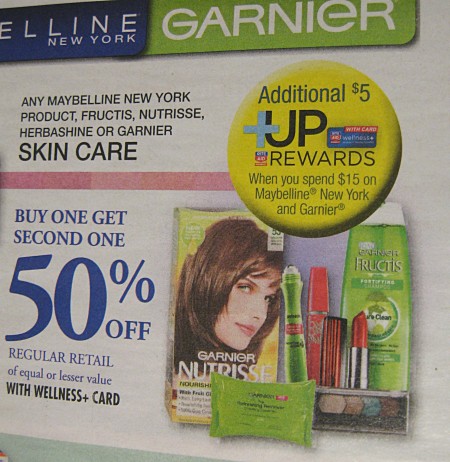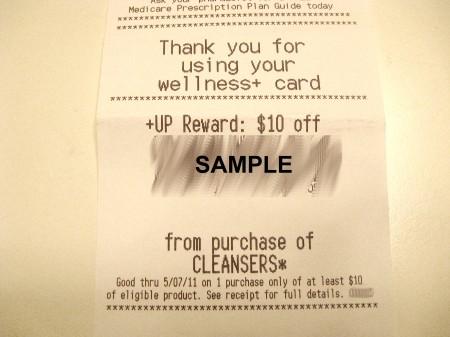 Here are a few points that I didn't understand initially:
The total purchase value that qualifies for the +UP reward is based on the sale price of the items purchased, not the regular price
The total purchase value is calculated before any coupons or other discounts are factored in. That means that even though you may need to "spend" $15 to get an +UP Reward, your out-of-pocket cost could be much less if you use coupons or even previous +UP Rewards to bring the cost down
You can divide your shopping into multiple transactions to create an +UP Reward "chain". If your first transaction qualifies for a +UP Reward, you can immediately use that +UP Reward on the next transaction, and so on and so on. If you use one +UP Reward to purchase products that qualify for another +UP Reward, that first +UP Reward will not count against your total value required to qualify for the new +UP Reward.
+UP Rewards are printed on the receipt with a bar code, to be used like a coupon (think of them like money). They have an expiration date (usually a couple weeks or so).
There is usually a limit to how many +UP rewards you can obtain from a particular type of purchase. Usually it will be stated in the store flyer, but individual stores are also able to determine limits.
You do not need to make all of the qualifying purchases in one transaction. Your receipt will show a running total of how much you have spent toward particular +UP rewards.
Each +UP Reward is valid only on a single transaction, and you will not get any change back if the reward amount is greater than your purchase amount.
Store Survey Coupons
You might notice on your receipt that you can complete a store survey to receive $3 off a $15 purchase. Take advantage! Just visit the site specified, enter the code shown on your receipt, and answer a few questions. At the end of the survey you will be given a $3 printable coupon. You can redeem this coupon along with +UP Rewards and any other coupons you may have for your transaction. It's pretty good pay for just a few minutes of your time.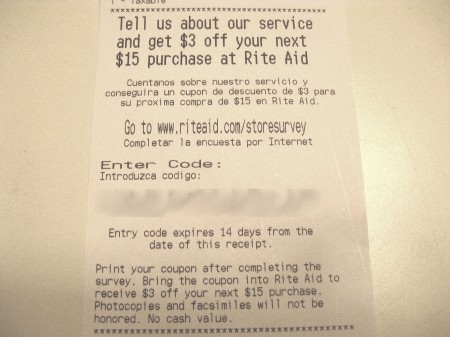 Rain Checks
I was rather surprised to discover that many people in my area must be expert Rite Aid shoppers, because the best deals in both of our two stores were completely gone on Monday! I had to drive to a different town to find the items I needed today. If you really want specific items but don't want to drive around looking for them, you can get a raincheck to lock in the sales price when you purchase at a later date. If the items would have qualified for an +UP Reward, the total value of that +UP Reward will also be deducted from the item prices.
Sample Transaction
Here's a picture of my most recent Rite Aid transaction, which qualified me for a $10 +UP Reward.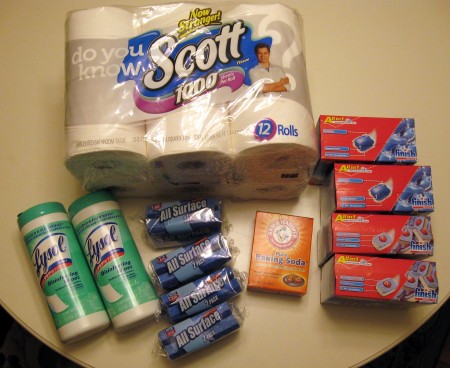 Here's how I did it:
I purchased $30 worth of select home cleaning products as advertised.
1 Scott bath tissue 12 pack on sale for $7.99
– Video Rewards coupon for $1.00 off
=$6.99
1 Arm & Hammer baking soda 16 oz. box on sale for $0.59
2 Lysol 35-count disinfecting wipes on sale 2/$5.00
-$1.00 off manufacturer's coupon
-$1.00 off manufacturer's coupon
-$1.00 off Rite Aid coupon
= $2.00 for two
2 Electrasol Finish Powerball tabs 20-count box on sale buy one at $6.49 get one free
– $0.50 off manufacturer's coupon
– $0.50 off manufacturer's coupon
= $5.49 for two
2 Electrasol Finish Gel Pacs 20-count box on sale buy one at $6.49 get one free
– $0.75 off manufacturer's coupon
= $5.74 for two
4 Rite Aid multi-purpose scrubber sponge two-packs on sale buy one at $1.99 get one free
= $3.98 for four two-packs
Other discounts:
– $3 off $15 purchase coupon for completing a store survey
-$5 +UP Rewards from a previous purchase
Without considering the $10 +UP Reward I earned, my total out of pocket cost including tax was $18.95. At regular price the total would have been $55.58, so I saved a total of 66%. I averaged 90 cents per product purchased, and now I have $10 to spend at Rite Aid!
Summary
To get the most for your money at Rite Aid:
1. Don't forget your Wellness+ card
2. Check your store flyer for items that will qualify for +UP Rewards or Single Check Rebates
3. Look for in-ad Rite Aid coupons, printable Rite Aid coupons and manufacturer's coupons (from the Sunday paper or the internet) that match the items you want to buy. Remember that you can combine Rite Aid and manufacturer's coupons in most cases!
4. If you earn +UP Rewards, use them on purchases that will get you even more +UP rewards–you're getting money back, but you're not spending as much out of pocket.
If you have any questions beyond what I have covered here, please feel free to ask in the comments. I will try my best to answer! If you're a seasoned Rite Aid shopper who notices any errors, please let me know that, too!
Additional Resources:
Visit the Rite Aid website for official information and updates
DISCLOSURE: This website is monetized with affiliate links. I earn a small percentage of the sales price when visitors make purchases through affiliate links. Thank you for your support!
Share this post