Healthy apple cinnamon oatmeal
| Updated:
This is one of those posts that I expect to elicit a "well, duh" from many of my clever readers, but since I didn't think of it myself until I was a mom, I thought I'd share.
Oatmeal. I hate it. Or at least I did. To me it was always a bland bowl of glop, not aided much by the brown sugar or maple syrup that I added in. Eventually I discovered the instant pouches in an array of flavors like apple cinnamon, banana nut or cinnamon roll. They were tastier to be sure, but also gummy, artificial and over-sweet.
When my little boy started solids, it was my desire to feed him healthy, no-sugar whole foods, and my propensity for mixing up concoctions of whatever he could eat at the time, that led me to a yummy breakfast idea for me, too!
We like to call it "apple pie oatmeal" (mainly as a gimmick to enthuse Mr. Boy into eating it all). Make plain oatmeal however you like (I usually use the microwave), add a quarter cup or so of natural unsweetened applesauce, sprinkle with cinnamon or apple pie spice, then mix together and enjoy! Bonus: the cool applesauce instantly brings the hot oatmeal down to a temperature that can be enjoyed immediately. To me it tastes just like apple crisp, but with none of the guilt.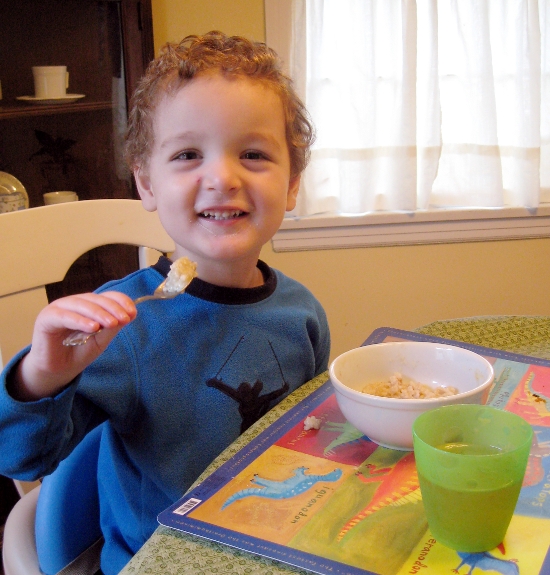 Need the portability that those instant packets provide? Measure your uncooked oats into a microwave-safe storage container, then sprinkle in the spice. Take along a single-serve natural apple sauce. Add the water and microwave at work or wherever. Add the applesauce to the cooked oatmeal, then mix it all together. I've seen single-serve unsweetened apple sauces in a variety of flavors like peach, blueberry and even mango, so it doesn't always need to taste the same.
This is a quick and easy zero-sugar, zero-fat idea that warms the belly and tastes great during the cooler months.
Do you have any yummy oatmeal "recipes" or mix-ins? Please share!
DISCLOSURE: This website is monetized with affiliate links. I earn a small percentage of the sales price when visitors make purchases through affiliate links. Thank you for your support!
Share this post