Happy Mother's Day!
| Updated: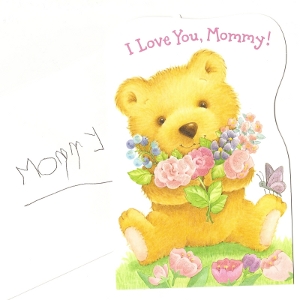 I just wanted to wish all my mommy readers a very happy Mother's Day!
I was so excited about my first Mother's Day, even though we don't have the money to celebrate with a nice brunch or luxurious gifts. I'm so proud to be my son's Mommy. I'm proud of the sacrifices I've made and all the hard work I've put in to help him be a happy, smiley, giggly and healthy little boy! I don't always feel like I know what I'm doing, but I'm giving it my best shot. I feel so blessed to have such a beautiful little family, and my own special day to reflect on the things I have done right so far.
My baby gave me an adorable card (Daddy had to help him just a little bit), with scribbly letters that he "helped" Daddy write. I also received a restaurant gift card so we can go meet up with Daddy for lunch sometime soon (I LOVE eating out, and that was one of the first luxuries to go when I left my job).
I hope you all have a wonderful Mother's Day, and enjoy spending time with your munchkins!
DISCLOSURE: This website is monetized with affiliate links. I earn a small percentage of the sales price when visitors make purchases through affiliate links. Thank you for your support!
Share this post