What happens if you order from Signatures Catalog
| Updated:
I was recently on the hunt for some placemats to help prevent my table cloths from getting dirty after just one meal. I wanted something that didn't look tacky, and they had to be wipeable so I wouldn't have yet another thing to wash all the time. I love English-style corked back placemats, but the large ones are prohibitively expensive. So, I narrowed my choices down to inoffensive plastic placemats instead.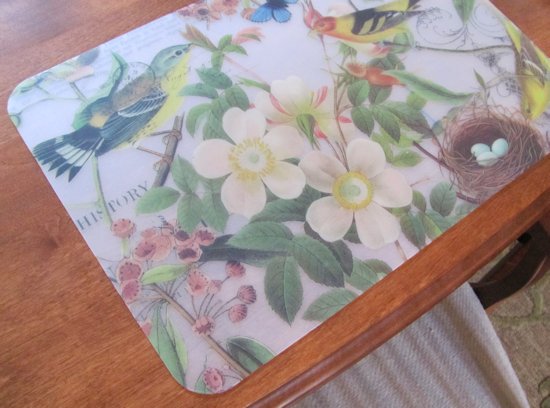 I was excited to find exactly what I wanted on SignaturesCatalog.com, and the price beat everywhere else I had looked. As an added bonus, the shipping was free! It seemed like a no-brainer.
I clicked through the ordering process, after browsing through their other offerings, chuckling to myself because I was buying from the type of company that advertises cheesy products in coupon inserts–the things that always make me wonder who on earth orders them. Me, that's who. True, I wasn't ordering a pair of elastic-waisted "slacks" in mauve or taupe, but what did it say about my taste in placemats?
But the price! And free shipping!!
Well, it turned out the free shipping was very slow. They were slow to process the order, and then it had to ship from California. But there was something they were super quick about: adding me to their mailing list. And the mailing lists of every single sister company they have. The mailing list of doom.
It wasn't long before I was receiving scads and scads of tacky envelopes full of catalog pages advertising things I would never, ever buy. And when I say pages, I mean pages–they're not fastened together in any way, meaning it's easy to drop them all over the place.
It's been less than two months since I placed the order, and these are just some of the packets I have received in that time.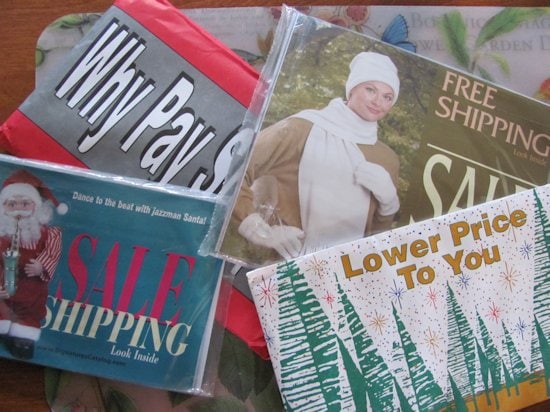 To be fair, they haven't sent me any email promotions, which I appreciate (they say they won't do so without express consent), and they do disclose in their help section that "Customarily, we share your personal information with companies affiliated with Signatures for customer service or marketing purposes." Who knew you should read first?
And maybe I'm being too hard on Signatures. After all, they have a vast selection of great products to choose from. Like stylish apparel: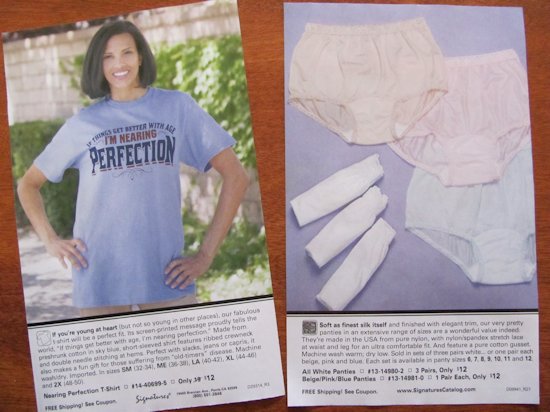 And their friend Gavilan's will help accessorize with this Ethnic Inspired Chunky Jewelry…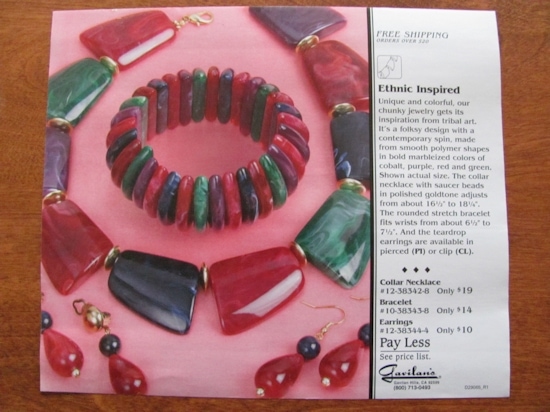 Sure, Lawrence Welk is on every Saturday on PBS (don't ask how I know that), but I prefer to binge-watch the DVDs from beneath my cozy Million Dollar Bill Blanket!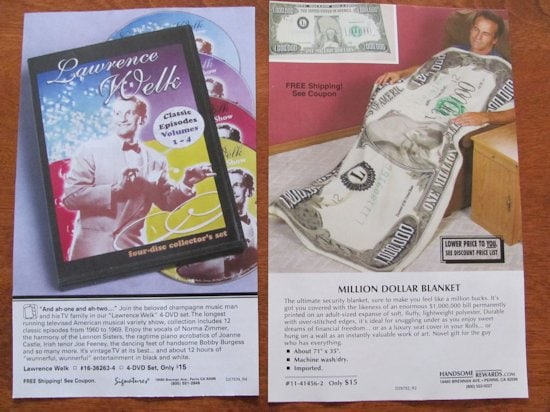 No time for real pets? No worries–Handsome Rewards let's you choose an electronic parakeet, or a Solar Garden Wolf instead!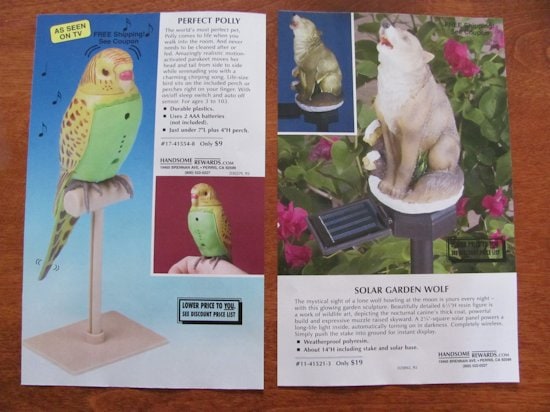 And don't miss their great toys…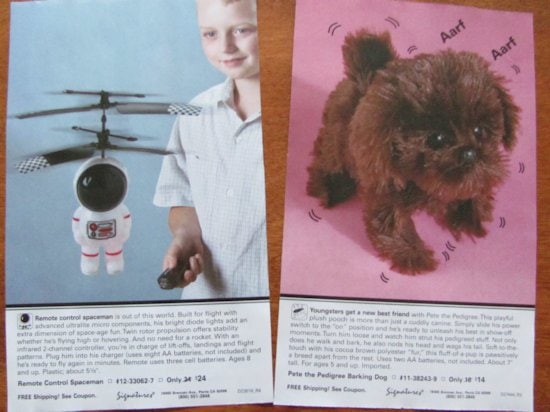 My favorite thing, though, would be the silly advertising gimmicks. Don't worry, I didn't open the envelope!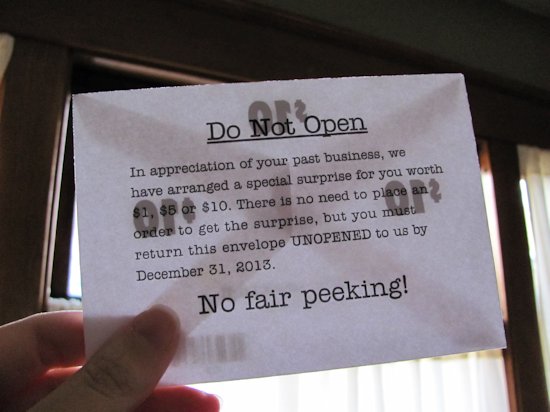 I will say that I am happy with my placemats (which are made in the USA), and the discount price. While sifting through the tacky junk, I did come across some quality products from brands I know, like Melissa and Doug toys. But trust me, don't let yourself be drawn in by the siren call of low prices and free shipping–the junk mail isn't worth it.
If you are an unfortunate soul like me, wondering how to get off the Signatures mailing list, their help section has this to say:
Mailing Preferences

When you request a catalog or place an order, your name and address is added to our mailing list. You can request to be removed from our mailing list at any time. No reason is required, but we would appreciate one. To stop receiving mailings, send your written request with your name and address exactly as it appears on your catalog to the address below. We will make every effort to implement any choice you make as soon as possible, but please note that it can take 6-8 weeks for any mailing changes to be completely effective. If you continue to receive mailings after requesting that we remove you from our list, it may be due to a slight variation in the address we processed. Just send in your request with the version on the mailing you received, and we will process accordingly.

Signatures
19465 Brennan Ave.
Perris, CA 92599-3000

We often make customer names and addresses from our mailing list available to firms whose products and services may be of interest to you. If you would prefer not to receive these mailings, just let us know. You can always send us a written request that we not share your name and address with any other companies.
I shudder to think how many more envelopes of little papers I'll receive during that 6 to 8 week timeframe.
I know how much you really want that singing, dancing Mariachi Chihuahua for "only" $39, but it's not worth it. Trust me.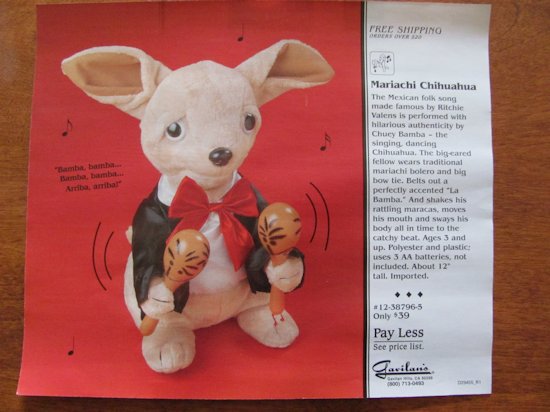 DISCLOSURE: This website is monetized with affiliate links. I earn a small percentage of the sales price when visitors make purchases through affiliate links. Thank you for your support!
Share this post