Grandpa's Goulash
| Updated:
My grandpa on my mom's side passed away when I was 14, and I miss him to this day. Especially now that I have my own little boy, I remember him and think about how much fun he would have had with his great-grandson.  Grandpa instilled in me a love for nature. From a very young age he taught me not to fear anything–I would hold Daddy Long Legs and a variety of other insects in my hands, and I used to spend hours patiently watching and trying to sneak up on birds, believing that I would eventually be able to catch one.  Grandpa always ensured that I was thoroughly spoiled, with fresh art supplies like crayons and coloring books and paper, and candy. He always paid attention to the little treats that people close to him enjoyed, and he made sure they were in constant supply. He would call me on the phone every time a "special" was on TV, like Charlie Brown or How the Grinch Stole Christmas, and he would also serenade me with the Happy Birthday song on my birthdays.
But if there's one thing that I think all of my relatives and I associate with Grandpa, it was the Sunday dinners he always had at his house.  Grandpa lived alone, but every Sunday he cooked up a big meal for any of his children and their children who cared to come. It wasn't anything fancy–he had a few different menus that he would cycle through, including roasts with vegetables, ziti with tomato sauce and Italian bread, and baked chicken with stuffing.  He patiently worked in the kitchen while various grandkids ran through the room (we could usually expect a taste of whatever was being made).
"Grandpa's Goulash" is a favorite family recipe, first because it is good, and second because it is somewhat unusual. I'm not sure where the recipe originated as Grandpa would always make it from memory, as have all of my relatives since. It is a very delicately flavored pasta dish that always seems perfectly suited for the summer when heavier fare can seem to be too much. It is cheap, quick and super easy. I just had to cook some up for dinner the other night!
Grandpa's Goulash
Ingredients:
1 pound Ground Beef (ground turkey works great too)
1/2 pound Spaghetti, or similar pasta of your choice
3 stalks of Celery, chopped
1 Onion, chopped
1 can Tomato Soup + 1/2 can Water
Celery Salt to taste
Ground Pepper to taste
1 Tablespoon Olive Oil
1 Tablespoon Butter
Start off by sauteeing the onion and celery in the olive oil and butter. Cook until the onion is slightly brown.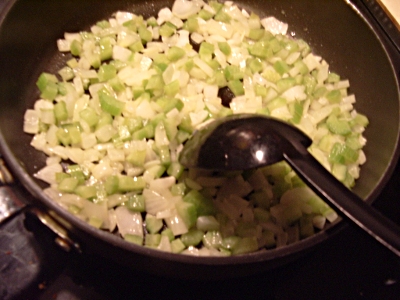 At the same time, boil the pasta. You can use spaghetti, angel hair, or whatever similar pasta you prefer. This time I used "Perciatelli", which is like a very thick spaghetti with a hollow middle (think of a straw). It was fabulous!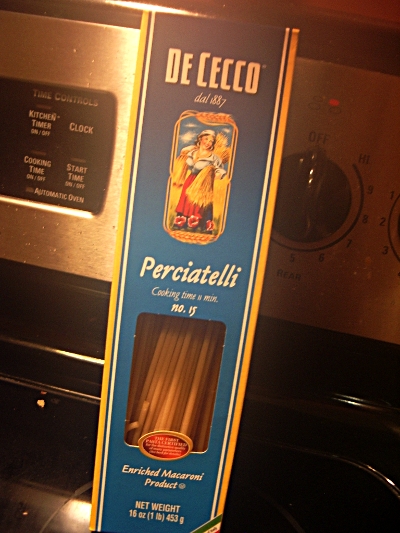 When the celery and onions are cooked, remove them from the pan and set aside. In the same pan, brown the meat. Add celery salt (I think I used about a teaspoon) and pepper toward the end of cooking.  Once meat is browned, add in the celery and onion mixture, then stir in tomato soup and 1/2 a can of water.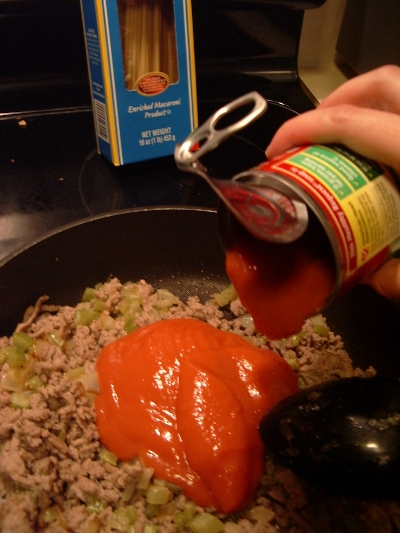 Simmer for 5 minutes, or until the pasta is ready.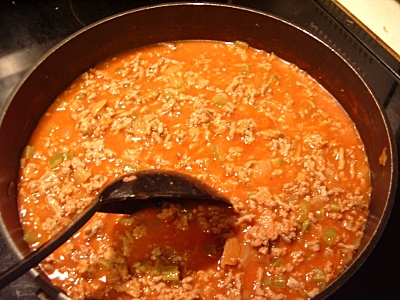 Once the pasta is ready ("al dente"), drain it, but for goodness sake do not rinse it! Rinsing pasta eliminates the ability for the sauce to stick to it. As a side note, do not add oil to the pasta water for the same reason. You should never have a problem with pasta sticking together if you have used enough water. Sorry for my little tangent there–it's a pet peeve of mine when people mishandle pasta.
Return the pasta to the pot, then pour in the sauce mixture. Use a pasta spoon to combine it all together until the pasta is evenly coated, and serve immediately.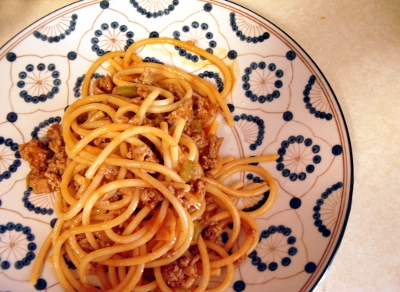 Enjoy!
DISCLOSURE: This website is monetized with affiliate links. I earn a small percentage of the sales price when visitors make purchases through affiliate links. Thank you for your support!
Share this post