A Goodnight Moon Birthday Party
| Updated:
In the great green room, there was a birthday boy and some red balloons…
It's hard to believe that my baby is 1! I love to put together imaginative themed parties for my family, and I was excited to make my youngest boy's first birthday a special experience. It's my little way of saying "You're special, and I notice the little things that interest you."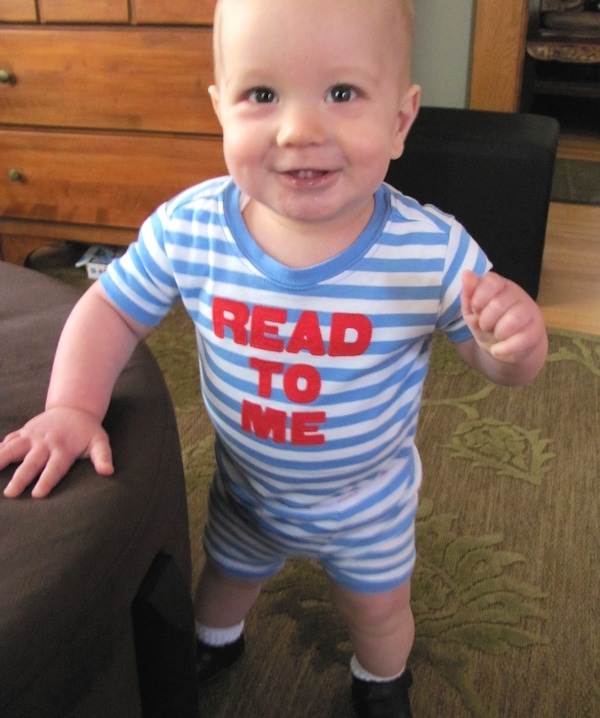 Of course, when you're dealing with a 1-year-old, it can be tricky thinking of an idea at first — mine couldn't care less about TV, so he isn't familiar with Sesame Street or cartoon characters, and he's not into cars or trucks yet.
Finally, as I sat down to read him a story at naptime one day, I was reminded how he squeals with delight every time I pick up Goodnight Moon and begin reading the familiar words. It was the perfect idea for a party theme, and I knew I could do it on a budget.
By today's standards neither the prose nor the pictures in the classic children's book are outstanding, but it endures anyway. I loved the book when I was young, and the vivid illustrations with their daring use of basic colors (seriously, who would design a room like that today?) left a particular impression on me.
I borrowed some of the most iconic elements from the pages to turn our dining room into a Great Green Room of our own.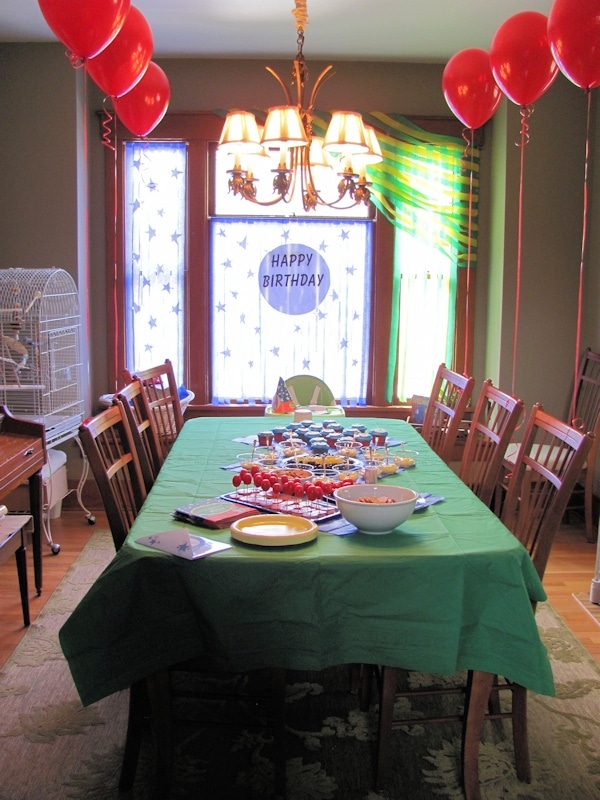 Goodnight Moon Birthday Party Decorations
Streamers are very inexpensive (you can find them at most dollar stores), but they provide a lot of decorating bang for the buck. I removed the curtains from our window and used the rods to hang blue streamers for the night sky. I cut stars from white paper and stapled them on. On the right I alternated yellow and green streamers to create the flowing striped curtains. The moon, cut from a piece of foam core, doubled as a Happy Birthday sign.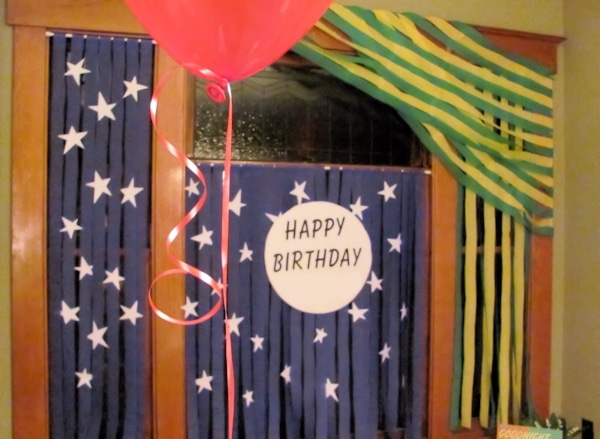 I decided to purchase helium-filled latex balloons for the first time. They were red, of course, and added a great ambience to the room after I tied them to the chairs. Plus, they doubled as party favors for the kids. Who doesn't love to pull along a balloon floating in the air? I think I still do.
I scanned one of the monochrome illustrations from the book on to my computer, then used my photoediting software to colorize the image. Next, I used picslice.com to cut the image into smaller pieces that I could print on letter sized paper, then stuck them to a piece of foam core. I mimicked the picture frame in the book with a piece of yellow poster board. Voila! I had a picture of The Cow Jumping Over the Moon — indispensable in the Great Green Room. This was probably the most "Type A" aspect of the whole party project, but I just loved how it came out. I did nix the Three Bears picture I was going to do because I figured I should probably sleep at some point, and I didn't really have a place to put it anyway.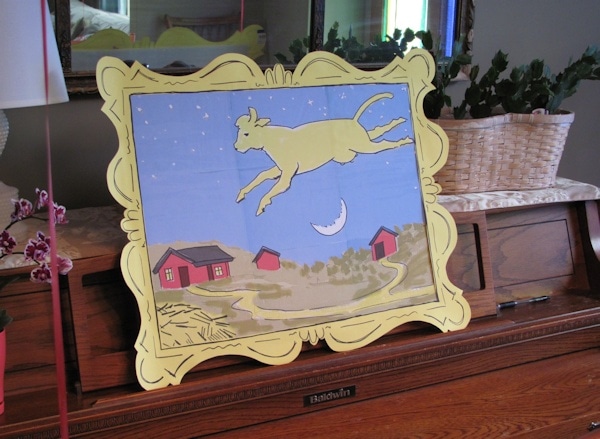 I also took advantage of two built-in cabinets we have in the room and decorated the doors with pictures painted on craft paper. One side was the fireplace, the other was the little pedestal table where the comb and the brush and the bowl full of mush rest below the happy blue lamp. I wanted to add as many elements from the book as I could easily do, so at the last minute I also added a pair of socks and a pair of mittens.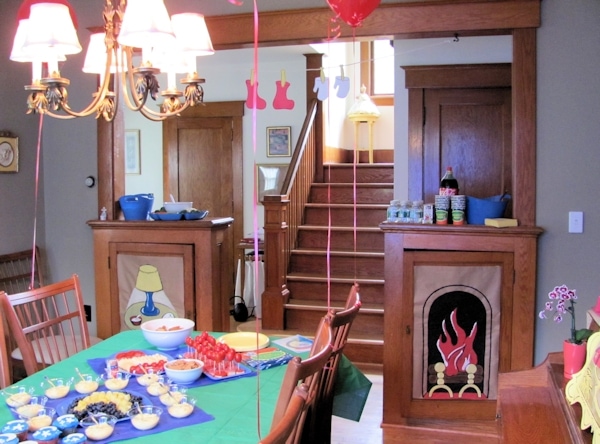 Of course the table is the most dominant feature in a dining room. I used a plain green table cloth and then set down some sparkly blue tissue paper (from the dollar store) as a background for the food spread. Generally I stay away from licensed party supplies because they're a waste of money. Primary colors are inexpensive and would have worked great for this theme, but I just happened to find Goodnight Moon themed party supplies on clearance at a deep, deep discount. So, we had Goodnight Moon cups, napkins and party hats.
Goodnight Moon Birthday Party Food
I had a lot of fun brainstorming ideas for party foods that fit the theme. Some of my favorites were the Red Balloons made from cherry tomatoes on toothpicks stuck into cheese sandwiched between salami and pepperoni and served with crackers.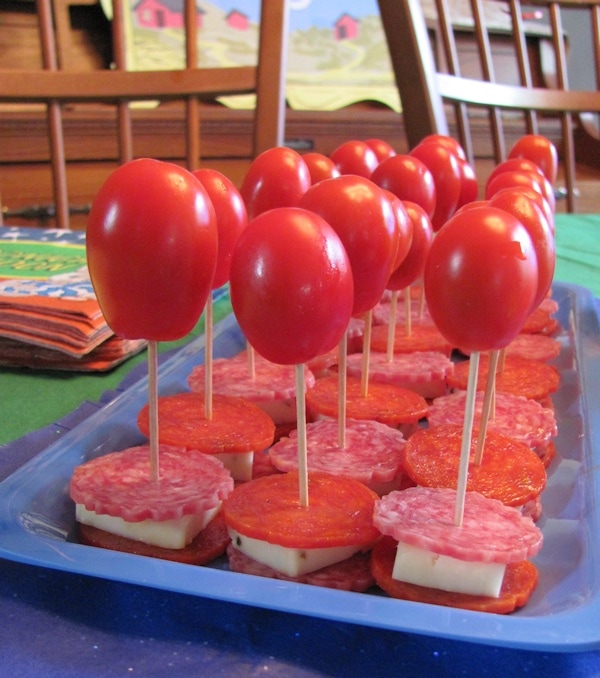 I also made a Bowl Full of Mush Bar. The tiny bowls and spoons came from Dollar Tree. I made up some coconut cream instant pudding for the mush. I made a tray with a pineapple moon and blueberry sky to garnish the pudding. I also found some little jumping cow graham crackers by Horizon Organic.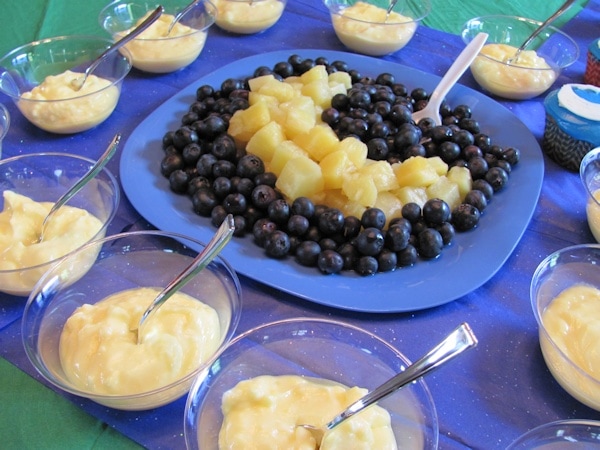 I kept the cupcakes relatively simple. I used storebought white cake mix, then frosted with homemade icing (a vanilla version of this family recipe). I melted white chocolate chips in a sandwich bag and then snipped off the corner so I could pipe the moon and star shapes onto waxed paper. Once cool, the shapes were easy to remove and stick onto the cupcakes.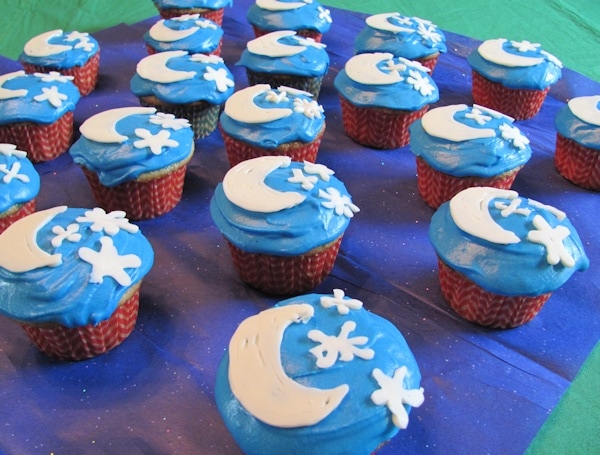 I went to great lengths to make a special sugar-free first birthday cake for my baby, just like I did for my older son. And like his big brother, he wanted very little to do with it. At least it didn't make this one cry!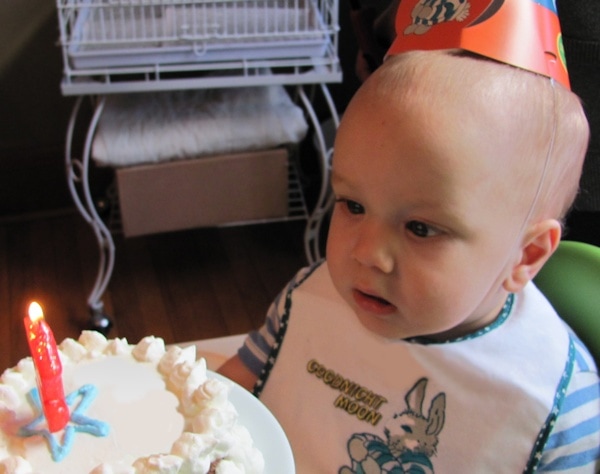 We had a wonderful time at our little party, and I was so pleased that everything came together so well.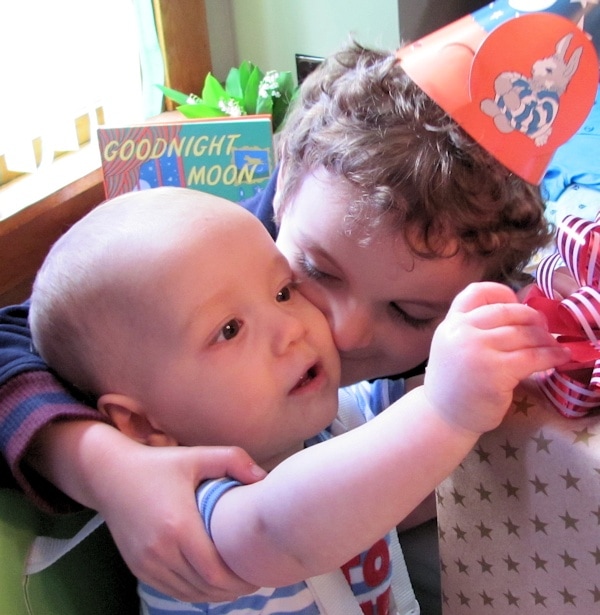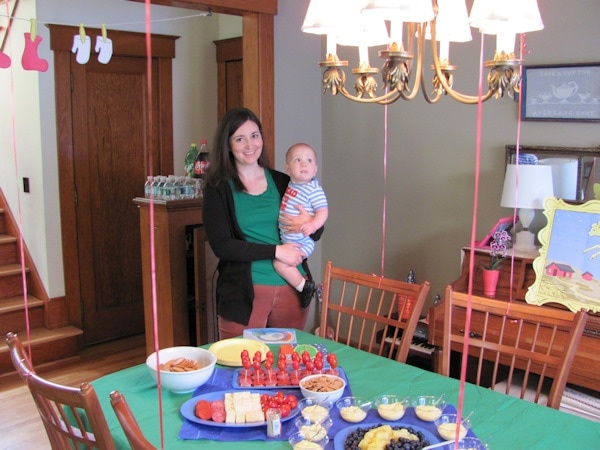 I can't (and won't) spoil my boys with things, so I spoil them with experiences instead. I have just as much fun as they do!
More Budget Party Ideas
Here are some past birthday parties I've planned for my older son:
Sesame Street Birthday Party Theme
Racecar Birthday Party Theme
Dinosaur Birthday Party Theme
Construction Birthday Party Theme
DISCLOSURE: This website is monetized with affiliate links. I earn a small percentage of the sales price when visitors make purchases through affiliate links. Thank you for your support!
Share this post