Good Buys: In the kitchen
| Updated:
Are the kitchen items you started out with on their last legs? Are you trying to figure out which kitchen supplies to include on your wedding registry, or getting ready to equip your first kitchen on your own? Kitchen items are expensive, and making the right choice can be overwhelming. I didn't really know what to look for when my husband and I were shopping for our first kitchen supplies in 2005, and I'm slowly replacing some of the mistakes by investing in better quality that will last us for years.
When it comes to the kitchen, it makes sense to invest in the best quality you can afford, so you can avoid wasting money as you replace lesser quality items over and over again. Here are a few of my favorite items in my kitchen, all of which are durable, high quality, and make my life a little easier.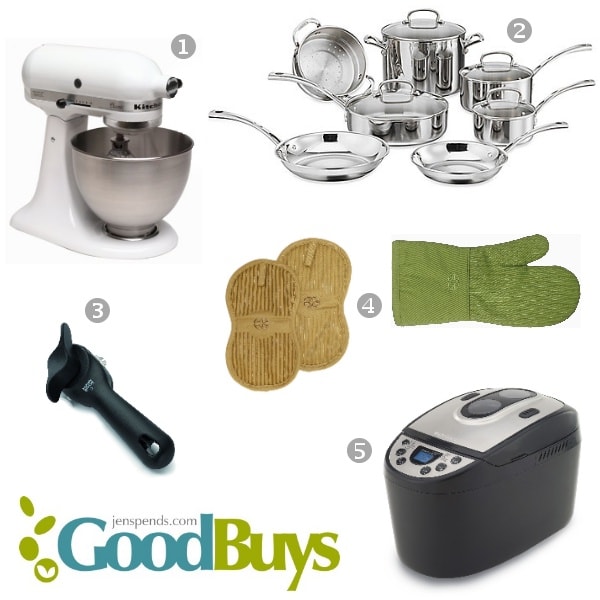 1. KitchenAid Classic Plus Stand Mixer 2. Cuisinart French Classic Cookware Set 3. Kuhn Rikon Safety Can Opener 4. Calphalon Pot Holders 5. West Bend Hi-Rise Bread Machine
1. KitchenAid Classic Plus Stand Mixer
As a kid I used to spend a lot of time watching cooking shows on PBS, and I noticed that all of the chefs seemed to use the same retro-looking mixer. Well before I had my own kitchen or even really knew how to cook, I wanted a KitchenAid mixer of my own. Finally, in 2007, my sister generously gifted one to me as a thank-you for being her maid of honor (yes, she's awesome!).
The KitchenAid is definitely a product that lives up to the "hype". It's handy not only for making sweets like cookies and cakes, but also powers through ground meat to make the best meatballs or meatloaf, and can whip together a batch of pizza dough in no time at all. I use it much more often that I thought I would, partly because it's so convenient compared to digging out a hand mixer and its attachments. Its heavy-duty metal construction is virtually indestructible, and I'm happy that KitchenAid hasn't messed with the classic look over the years.
2. Cuisinart French Classic Cookware Set
My husband and I started out with a non-stick cookware set we bought from Walmart. It wasn't bad overall, but of course after a while the coating started to wear off, despite both of us being careful to use only plastic utensils. It seems that no matter how much you invest in top-quality non-stick, it's not going to last forever. Pots and pans are expensive, and I wanted something that I wouldn't need to replace (ideally, ever). I decided against another non-stick set, both for durability and health reasons, and I researched all kinds of options. I even considered saving up and paying over $1,000 for high quality cookware. But, I discovered I didn't need to do that. Budget-conscious foodies across the internet kept mentioning Cuisinart pans as a great alternative to other popular (and much more expensive) brands, and I was particularly happy to learn that Cuisinart's French Classic collection is still manufactured in France, not China.
I purchased my set from Bed Bath & Beyond, which has a slightly different version than other retailers offer. After signing up to receive their e-mails, I eventually received a 20% off coupon that I could use online (the pans aren't carried in a store near me). The Bed Bath & Beyond set has glass lids (which I prefer) instead of the metal lids at other places. I also liked the selection of pieces, and have used every one of them fairly regularly. We even received a free crepe pan as a bonus gift. The French Classic collection is tri-ply stainless steel, with an aluminum core. Unlike cheaper cookware, the sides and bottoms of the pans contain the three layers of metal, with seamless construction. This ensures even heat distribution and durability.
We have found the pans easy to clean, and I've had great experiences cooking with them. The pans are dishwasher safe, which was a feature I wanted, but I've read that it's best to hand wash them, so that's what we've done so far. The pieces are fairly heavy, but not unwieldy. The metal handles on the pans keep cool, but you will need potholders to handle the pots or the lids.
If you're in the market for new pots and pans, and your budget is tight (heck, even if you have a lot of money to spend), I would definitely recommend Cuisinart French Classic. You can also purchase pieces separately if you prefer not to buy a whole set.
3. Kuhn Rikon Safety Can Opener
I try to avoid countertop clutter, so we don't have an electric can opener. We had been making do for years with a really cheap hand operated can opener that came in one of those big sets of utensils that lots of people get when they're first starting out. It was a chore to open cans, it was a pain to clean it, and one day a sharp can edge "bit" one of us, resulting in a trip to the emergency room. I subconsciously dreaded making recipes that used a canned ingredient because it was such a pain to fight with that can opener. You'd think one of us would have purchased a new one somewhere along the way, but we never seemed to remember.
Finally, a few months ago I had enough and decided to search Amazon for the best can opener money could by. I wanted a safety can opener to avoid any more injuries. The Kuhn Rikon Safety Opener was well-reviewed and looked pretty slick. The instructional video made me wonder if it would be a bit too fiddly for my taste, but I decided to give it a try anyway. I found it very intuitive, and easy to use. I wanted to open every can in the house! It's nicely crafted, made in Switzerland, and easy to clean (dishwasher safe). The blade cuts through the edge of the can for a smooth, safe edge on the can lid. A little clamp tool on the side of the opener helps remove the lid.
Calphalon is well-known for their high quality cookware, so when I needed to buy new pot holders a few years ago, I felt like it was a brand I could trust. The twill potholders are shaped to fold in half in order to grip pans, or they can be laid flat to set a hot dish on. At first glance I thought they looked a bit small, but I've used them for years now and they've worked great. In fact, the smaller size works well because they're less likely to end up in the food when I'm removing a dish from the oven. I also purchased a Calphalon Oven Mitt, which I'm equally happy with.
The potholders and oven mitt are made from good quality twill cotton that is well insulated. Thin lines of silicone on each side provide a non-slip grip. What has impressed me the most, though, is the cleanability. I have thrown these in the wash many times, and they come out looking almost like new. After several years of use there are no scorch marks, and only very small stains that won't wash out. The cheaper products I used never came clean.
5. West Bend Hi-Rise Breadmaker
Last year I was on a "make everything from scratch" kick (thanks, Pinterest), and homemade bread was at the top of my list. Yeast doughs and I have a contentious history, though (I may or may not have once thrown a spatula across the kitchen after a failed pizza), so I decided to cheat and ask for a bread machine for Christmas. I was convinced by the positive reviews for the West Bend Hi-Rise machine, and I liked that it produces a loaf-shaped loaf, not a vertical tube of bread.
There was a bit of a learning curve, and my first two attempts collapsed, but once I figured out what I was doing, I loved to use my bread maker. Not only have I made loaves of bread, but I've made delicious dinner rolls, successful pizza dough and just tonight I made fresh focaccia bread for dinner. The non-stick pan is truly non-stick, and the two paddles don't leave huge gaping holes in the bread. It's easy to clean, too.
By the way, a lot of people assume that making your own bread is a frugal choice. Not necessarily. I can usually get a loaf of bread at the store for less than $2 on sale, and it would take a while to recoup the cost of the bread machine. It can be a much healthier choice, though. Check the ingredients of many storebought loaves and you might be surprised to find high-fructose corn syrup and lots of other ingredients that you'd rather not have in your bread. At home I can choose which types of flour I use, and the other ingredients are usually limited to water or milk, a little bit of sugar, butter or oil, and yeast. The West Bend Hi-Rise is also a popular choice for making homemade gluten-free bread, which can actually save a lot of money over store-bought gluten-free bread. No, I'm not to the point where I'm making our daily sandwich bread, but it's nice having homemade baked goods when I want to.
What are your picks?
Now I have a question for you! I am desperately in need of new kitchen knives. Any recommendations? Do you have any other kitchen items that you love and couldn't live without?
DISCLOSURE: This website is monetized with affiliate links. I earn a small percentage of the sales price when visitors make purchases through affiliate links. Thank you for your support!
Share this post