Good Buys: Christmas 2013 gifts our boys love
| Updated:
Note before: "Good Buys" is a new feature I'm introducing in which I'll share groups of products that my family loves. These will be items that we've purchased with our own money or received as gifts from friends and family, but never sponsored by companies.
One of my favorite aspects of Christmas is watching my children enjoy the gifts that have been so carefully selected for them. My oldest has been so engaged in play, that he hasn't even cared about turning on the TV. Our baby, who is rapidly growing and developing, needed a few toys of his own to explore. Here are some of our favorites from Christmas 2013.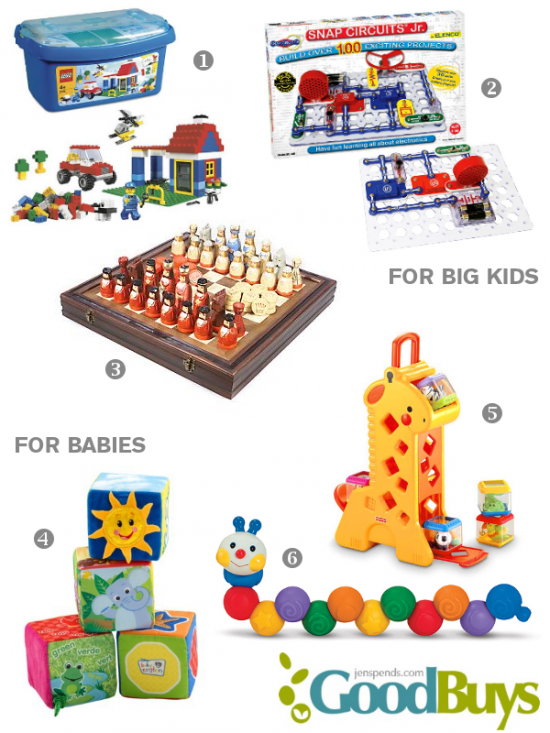 1. Lego Bucket 2. Snap Circuits Jr. 3. Chess/Checkers set 4. Soft Blocks 5. Tumblin' Sounds Giraffe 6. Build an Inchworm
For the big kid
1. Lego Bucket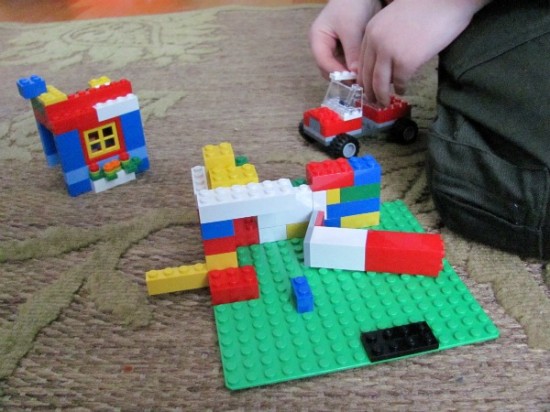 Our oldest is five, and I thought it was high time we introduced him to the world of Lego. He loves building things, but until now has used larger-scale toys like MegaBloks and Lincoln Logs. Lego will help develop his fine motor skills, and he can use his imagination in new ways, like creating his own vehicles. I bought Lego set 6166, which has turned out to be a good starter set for him. There was a larger bucket that I would have preferred, but it was out of stock everywhere when I was shopping. And, anyway, I did the math and discovered that the smaller bucket actually had a lower per-Lego cost.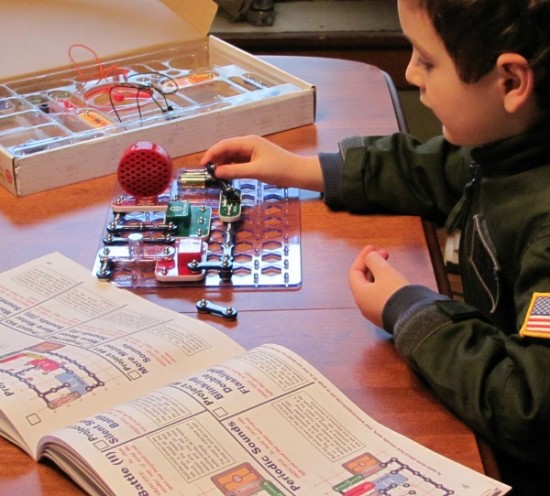 I love this toy so much, I wish I had invented it! I had a hunch that my oldest would enjoy working with circuits, and when I added the idea to one of my Pinterest boards, friends highly recommended it. Snap Circuits Jr. is recommended for ages 8 and up, but depending on the kid I think you can bend the age range a little bit (with adult supervision). I was impressed with the quality of the craftsmanship, and the ingenious design–instead of real wires and pre-placed metal springs on a cardboard base (like I had as a kid), this kit features durable plastic pieces with metal snaps. There are parts like speakers, lights and a motor to create various contraptions. The instruction manual is full of ideas, but kids will love trying to invent their own, too. Add-on kits and advanced sets will provide further gift ideas for years to come.
3. Chess/Checkers set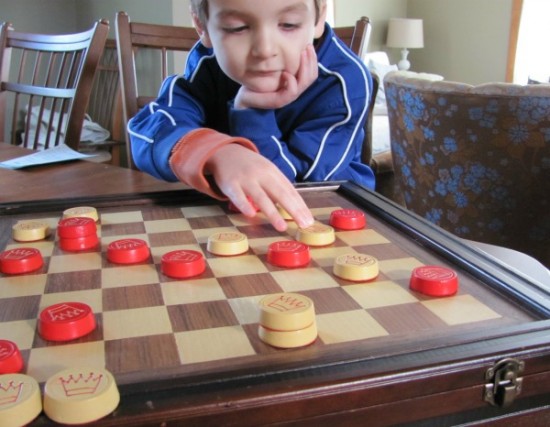 This gift was officially for my husband, but I knew the whole family would enjoy it. Buying used gifts is one way I stretch my gift-giving budget, and I don't feel bad. Besides, some great items can no longer be purchased new at any price. I found this Thomas Pacconi chess and checkers set on shopgoodwill.com and surprisingly won it unchallenged (I found there is usually a bit of competition for chess sets on auction sites). We love the large, colorful hand-carved pieces, which store inside the board. It's nice to enjoy some good old-fashioned fun together.
For the baby
4. Soft Blocks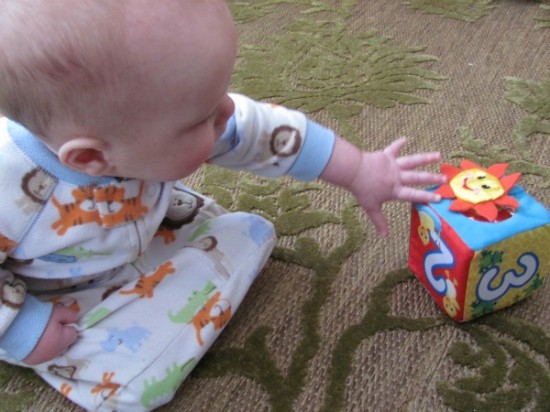 Baby Brother is just learning to sit up independently and trying to crawl. I don't like to leave him with hard toys when I can't watch him closely, because I never know when he's going to lose his balance. Our baby loves looking at the colorful designs on these Baby Einstein soft blocks, and I don't worry about him hurting himself if he were to fall on one.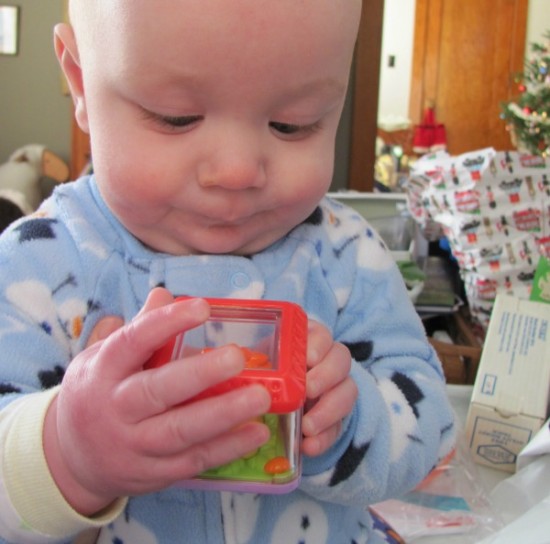 I love Fisher-Price Peek-a-Blocks, and gave quite a few to my oldest son for his first Christmas. This year we expanded the collection a bit for Baby Brother with the Tumblin' Sounds Giraffe toy. The giraffe comes with four blocks featuring zoo animals inside. Drop them into the top of the giraffe, and they hit a noise-making button inside before coming tumbling out. When not in use, the blocks can be stashed inside the giraffe with the door shut, or stacked on the giraffe's back. It's a cute, fun toy that also fits our baby's circus nursery decor.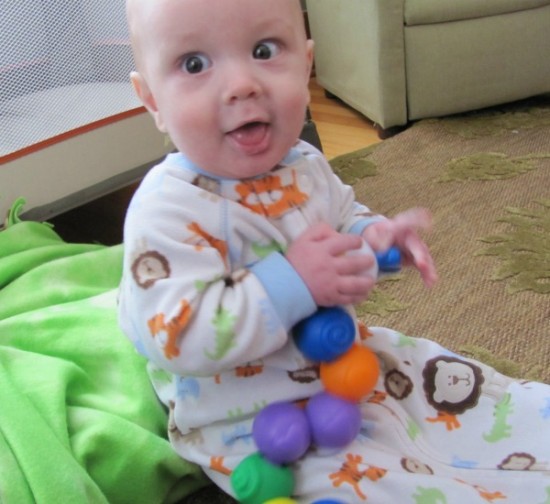 Melissa and Doug has a newer line of baby toys called K's Kids. My brother and sister-in-law gave Baby Brother this cute inchworm from the collection, which he loves. The pieces are rigid plastic, but have a rubberized texture. The links pop together easily, make a little bit of a squeaking noise when they're moved around, and each colorful section features raised shapes. Our teething baby loves to grasp the pieces (perfectly sized for his little hands), and chew on them. As he gets older we can use this toy to teach him colors, shapes, counting and more.
DISCLOSURE: This website is monetized with affiliate links. I earn a small percentage of the sales price when visitors make purchases through affiliate links. Thank you for your support!
Share this post