Good Buys: Favorite Baby Products and How I Saved
| Updated:
Now that my youngest is past the infant stage (sniff, sniff), I thought I'd reflect on some of the baby product choices I made. Shopping for baby products can be so daunting because there is an overwhelming selection to choose from.
I try to strike a good balance between price and quality, and I buy the best baby products that will fit into my budget and deliver the functionality that I need. Knowing how to save on baby products will enable you to stretch your shopping budget while enjoying the benefits of quality design and manufacturing.
Whether you're considering your own baby registry or shopping for baby gifts, I believe you can't go wrong with the baby products on this list. But because everyone's needs will vary, I'll also let you in on my money saving strategies that will enable you to save on the particular items you need.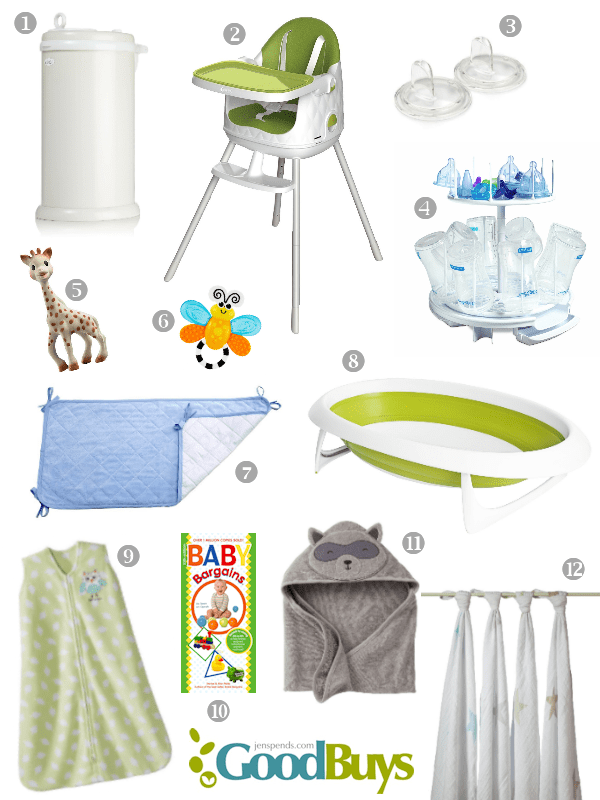 1. Ubbi Steel Diaper Pail 2. Keter Multi-Dine High Chair 3. Avent Soft Sippy Spout 4. The First Years Spinning Drying Rack 5. Sophie Giraffe Teether 6. Sassy Flutterby Teether 7. NoJo Sheet Savers 8. Boon Naked Bathtub 9. Halo Sleep Sacks in Micro Fleece 10. Baby Bargains Book 11. Carter's Hooded Towels 12. Aden + Anais Classic Muslin Swaddle Blankets
Baby Products we love
My first son's diaper pail became the bane of my existence after a while. It was made out of plastic, so it absorbed odors and began to stink up his nursery after a few months no matter how much I cleaned. I hated the odor-locking mechanism that required me to "smush" dirty diapers through a trap door. Nobody wants to squeeze a dirty diaper. And, finally, I couldn't stand buying special bag refills; it was costly and inconvenient.
With all this in mind, I did a lot of research to find the best diaper pail. I wanted one that would lock in odors and wouldn't require special bags. The Ubbi Steel Diaper Pail, while pricey, satisfied all of my wants and needs. I love that it's made of durable metal with a wide variety of colors to choose from. The metal won't absorb odors the way plastic does, and rubber gaskets confine the stink to inside the diaper pail. A small door on top slides open easily to deposit diapers into a standard kitchen garbage bag.
Now, I know a lot of frugal types would say that you can skip the diaper pail altogether and use a regular trash can instead. I don't know if my babies are extra smelly, or if I am over-sensitive, or what, but a good diaper pail designed to contain that particular stink is a must-have in my house. The Ubbi Diaper Pail has worked perfectly in our nursery, and once we're past the diaper stage it will make an attractive small garbage can in the bathroom or elsewhere.
2. Keter Multi-Dine High Chair
The high chair was another item that I replaced out of frustration. The first time around I chose a wooden chair that looked nice in my dining room, but proved a bear to clean. Since then I've learned that cheap wood isn't really a step up from plastic or metal — it knicks easily and looks awful, plus it's more difficult to clean and disinfect. The tray was very large and hard to wash down in the kitchen sink. And fabric cushions in a baby high chair? Just no.
It took me a while to find just the right high chair that was minimalist in appearance, easy to clean, and high quality. I discovered the Keter Multi-Dine, which is very popular in England and elsewhere overseas but hasn't really caught on yet here. It arrives in a rather small box, but is easy to assemble in a matter of minutes. Its clever design provides space for the disassembled legs to stow inside the seat unit, and you can set it on a chair to use as a booster seat. The multi-function aspect is what sold me over other options, including the Ikea Antelop.
It comes with a tray cover that proved fairly useless for now — the baby figured out how to fling it across the room almost immediately. But that's okay — the tray itself is small and easy to clean in either the sink or the dishwasher. I love that there are few crevices for food to stick, and the entire seat is easy to wipe down. It's modern in appearance, but subtle enough that it fits nicely in just about any space.
I'm a big fan of Avent Classic bottles even if they do have a bit of a learning curve; I used Avent bottles for both boys. This time I discovered that Avent makes soft sippy cup spouts to help transition babies to a sippy cup. Best of all, the sippy spouts fit into the Avent Classic nipple ring.
I was able to swap out the baby bottle nipples for the sippy spouts and continue using the bottles as sippy cups rather than buying entirely separate cups to ease the transition from soft bottle nipple to rigid sippy spout. It made the weaning process much more affordable.
Avent has a great website where you can buy replacement parts at an affordable price, and they shipped the sippy spouts free of charge.
4. The First Years Spinning Drying Rack
I have written about this bottle drying rack before, and it's still my favorite one to use. Even if you don't bottle feed, it's great for drying breast pump parts, small toys, sippy cups and other baby miscellany. It's one of the only drying racks I've found that accommodates a large number of the wide Avent bottles I favor.
It's convenient being able to spin the rack to place bottle parts after washing. The stacked design means it doesn't take up too much space, and it doesn't look too offensive on the kitchen counter, either.
While working on my baby's circus theme nursery, I developed an obsession with giraffes. I knew I wanted my son to have this classic toy, but I could never bring myself to spend the money. Finally one day I came across a voucher deal that enabled me to save about 50% on this teether, and I finally bought one.
Sophie the Giraffe is a sweet teething toy made from all natural rubber and manufactured in France by Vulli. Her coloring is done with food grade paint, so you can feel comfortable with your baby gnawing on this giraffe. She does have a squeaker and is very easy to squeeze. Babies love being able to make noise, but it can get old for parents and makes her unsuitable for quiet places.
Sophie the Giraffe was an immediate favorite of our teething baby.
I don't know what it is about this teether, but it's been a favorite of both of my boys. It has a cute, friendly face, bright cheery colors, a variety of textures, and its liquid-filled wings can freeze to soothe sore gums.
My babies have loved to hold it by the handle and shake it, gnaw on it, and sometimes just carry it around.
My younger son was a big-time spitter, and all parents know how frustrating it is to change crib sheets constantly. These sheet savers will save your sanity, too. Made from a soft fleece material, these pads tie to the crib slats and protect the sheet below from spitup, drool or other messes.
I stopped using them once my baby was mobile and rolling around his crib, but during the early months they worked great. It was much easier switching out these sheet savers than replacing entire sheets. I bought four so I would always have a clean one on hand.
We purchased the Euro Bath Kit for our first son, and we absolutely loved that tub. But one thing that frustrated me about it was its size — it was difficult to stow when not in use. I discovered the Boon Naked Bathtub and loved both its look and functionality. For young babies, it can be set up with one end elevated. For older babies, it expands fully into a small tub.
Yes, it is on the small side, but that's what we wanted. At age 1 my son is still using this tub, and it's perfect for a quick dip and some splashing. Once he's older we'll switch to the regular tub. When we're not using the tub, we can hang it from a hook in the bathroom, or even in his closet. Like all Boon baby products I've used, its design and craftsmanship are top-knotch.
9. Halo Sleep Sacks in Micro Fleece
There are many brands making wearable blankets for babies, but not all are created equal. With other brands we've dealt with tears and broken zippers, and lower quality fabric. Halo Sleep Sacks can be pricey, but the quality is excellent.
We packed away the sleep sacks that my older son used, and they were still in perfect condition for the baby to wear during the winter and spring. The fleece is cozy and warm and hasn't pilled up a bit, and the zippers are in perfect working condition.
This is probably the most important item on my list. When I was pregnant with my first baby, my cousin told me about the Baby Bargains book. I bought it immediately, and at first it wasn't what I expected. I thought it would tell me how to get baby stuff cheap, but that's not really what it's about.
The "bargain" aspect isn't so much about scoring deals as it is about knowing what you really need to buy, what you can skip, and which baby products give you the best performance for your money. In other words, this book speaks my language!
The chapters go into depth discussing and rating baby product brands and specific baby products. I learned what to look for in baby furniture, which brands back up their products with great customer service, and more. Each chapter ends with a summary of the recommended products for various budgets — super helpful if you can only spend a little, but want the best baby products you can afford.
It's very important to buy the latest edition of this book, as baby brands come and go and products are constantly changing. I purchased a new copy when I was pregnant with my second baby in order to catch up on what was new.
I love bundling up my babies in hooded towels after they've had a bath; they're functional, but also increase the cute factor by a million. I spent a lot of time searching for soft, absorbent, durable and affordable hooded towels.
Carter's towels are surprisingly inexpensive (especially on sale), but the quality is excellent. They wash wonderfully and stay soft, and they're still big enough for our very large 1 year old.
12. Aden + Anais Classic Muslin Swaddle Blankets
Retailing at around $50 for four blankets, these muslin swaddles are spendy, and I think they are worth every penny. When I was pregnant for my first son, I received dozens of small flannel receiving blankets. Only a handful of them were large enough to work for swaddling, and the rest never really served much of a purpose.
Seeing how effective swaddling was for him, I knew I wanted to have some great blankets that would work for swaddling my second baby. Aden + Anais muslin swaddle blankets completely live up to the hype. They're extremely soft, generously sized, stretchy, breathable and wash beautifully. The nurses at the hospital were so happy I brought these blankets with me, and with their direction I was soon a pro at swaddling the baby myself.
Four blankets didn't seem like enough to me, so I decided to purchase another set from Aden + Anais' lower-end line, A by Aden + Anais (available at Target, Kohls and other major retailers). The lower end blankets were good, but there was a distinct difference in quality — they were not quite as soft as the more expensive blankets. In hindsight, I think I could have managed with just the original set of four.
I also purchased a sleep sack from the A by Aden + Anais line that I would not recommend at all — the zipper was cheap and would come apart at the end. We also had ripping and loose strings. The cheaper swaddling blankets are okay, but if you can, splurge on the classic brand, not the lower-end spinoff.
Now that my son is old enough to sleep with a loose blanket, his swaddling blankets make an excellent light cover.
How to Save Money on Baby Stuff
Baby needs can add up quickly, especially if you want to purchase higher quality baby products. I paid full price for only a few of the lower-priced items above. Here are some of the ways I am able to buy great quality for less.
Consider Store Credit Cards
If you have the discipline to pay off the balance within the month, a store credit card can be an effective way to save money. I decided to sign up for a Kohl's credit card when I realized how much I could save with the 30% cardholder discount that they frequently offer (tip: if you get offered a lower discount in the mail, search around the web for the 30% discount code — it's always out there). Cardholders also frequently enjoy free shipping with no minimum purchase threshold (again, look for codes online).
Sometimes cardholder discounts coincide with Kohl's Cash earning periods. I would buy big-ticket items at a discount, and then later use my Kohl's cash earnings to pay for less expensive items that I also needed. A new Pack-n-Play and Carter's hooded towels were among the baby items that I purchased at Kohl's, and I used Kohl's Cash toward that pricey diaper pail. The baby department in a Kohl's store is small, but online they sell a surprising array of baby products from top brands.
Just a warning: Kohl's is notorious for jacking up "regular" prices to compensate for their sales, and their prices fluctuate. Check around to make sure you're really getting the best deal before you buy.
Amazon Warehouse Deals
Amazon Warehouse Deals is the place to find Amazon's returned items, or products with damaged packaging. Amazon discloses the item's condition, and often the issues are very minor.
I've had great luck purchasing from Amazon Warehouse Deals. I saved a lot of money on the Boon Naked bathtub because the box was slightly damaged, and I also got a great discount on a decorative pillow for my son's nursery. It's definitely worth a look before you buy elsewhere — you might be surprised to find exactly what you're looking for at a price that can't be beat.
Shop Clearance
I frequently check the clearance or sale sections of my favorite websites for deals on items I'm looking to buy. Most of the time discount codes will work on clearance merchandise, so I can score an even better deal. I bought my Aden + Anais muslin blankets for around $17 on clearance. I purchased a $300 stroller for $100 because the color was discontinued. I also found our Halo SleepSacks on clearance.
If I have a specific item in mind, I might Google the product name along with "clearance" or "sale" to find deals on lesser-known websites. While it's rare to find deep discounts on higher-end and in-demand baby products, such deals are out there.
Coupon Codes
I never shop online without looking for a coupon code first. RetailMeNot and Coupon Cabin are two of the sites where I find promo codes. Many retailers offer discounts for first-time customers if you sign up for email. I was able to save 15% off the high chair I purchased by subscribing to an email list.
Buy Multi-Function Products
I'm a big fan of products that are built to adapt to various life stages rather than purchasing separate items for each stage. The Keter Multi-Dine converts into a booster seat and then a child-sized chair. I got more mileage from my Avent bottles by swapping out the nipples for sippy spouts instead of buying separate cups. Our swaddling blankets also make great stroller covers and excellent toddler blankets. Our diaper pail can serve as a regular trash can once we're done using it in the nursery.
Not only am I saving money by finding discounts, but I'm also saving money by not buying additional products as my baby grows.
Get Cash Back
If you shop online a lot, I highly recommend signing up for Ebates. I've been a member since 2010 and have received over $200 back from my purchases, even when I've used coupon codes. I have a browser add-on in Chrome that alerts me when I can get cash back and it's easy to activate. The cash back percentage varies, but Ebates works with most major retailers, for a quick and easy way to save money.
Why quality matters
I go to great lengths to research the best brands and products, and sometimes I'm willing to spend a little more to get them. Why?
– Quality products from trustworthy brands are less likely to be recalled. If they are recalled (everyone makes mistakes), chances are it will be handled well.
– I save money by passing quality items down from one child to the next rather than replacing cheaper items that have broken or worn out.
– Quality baby products can handle wear and tear, and good brands will have great resale value even after they've served my purposes. I can recoup some of the cost by selling items after I'm done, or I can feel good about donating quality baby stuff to charity.
I didn't get everything right the first time around, but I was able to get the new items I purchased for less. I hope these tips and suggestions will help you save money, too.
DISCLOSURE: This website is monetized with affiliate links. I earn a small percentage of the sales price when visitors make purchases through affiliate links. Thank you for your support!
Share this post