Save money with extra large ink cartridges
| Updated: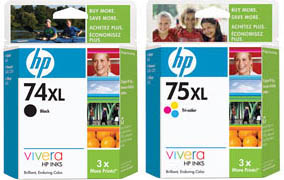 I love my HP C4380 All-in-One, but it seems to eat up ink much more quickly than the trusty old DeskJet that it replaced. Or could it be that I'm simply printing a lot more, especially with the addition of a very photogenic baby to our little family? In any case, I found myself out of ink again yesterday, and I decided to investigate whether there is a more cost effective way to keep my printer going than running to Wal-mart and picking up the usual two cartridges for about $30.00. Yes, there is.
The Vivera ink cartridges I had been buying will print about 170 color pages, but HP also manufactures jumbo sized cartridges that work with my printer and can produce three times as many prints (as many as 520 color pages)! At my local Sam's Club a combo pack (including an XL black and an XL color cartridge) is priced at $62.84. That's a hefty up-front cost for cartridges, but the savings works out to about $36 over the life of the cartridges. The difference is about 18 cents per page with the standard sized cartridges vs. 12 cents per page with the extra large cartridges (the sheet output will be more or less depending on what you typically print, but the extra large size offers a clear advantage).
That's a great deal, but as always, I wanted to make sure it was the best I could do. I found an online business selling it even cheaper, and you don't have to bother with a discount club membership. The extra large combo pack can be purchased online from inktaz.com for $46.99 + $5.00 shipping. That equals a total savings of about $44.00, at a cost of about 10 cents per sheet.
So, to save big bucks and the hassle of frequently replacing cartridges, do a little research and find out if extra large cartridges exist for your HP printer, and then search online to find the best deal.
DISCLOSURE: This website is monetized with affiliate links. I earn a small percentage of the sales price when visitors make purchases through affiliate links. Thank you for your support!
Share this post