Gerber SmartNourish purees are Aedan approved
| Updated:
My sister has been having a hard time with her little guy due to some digestive issues. Even though he is rapidly approaching his first birthday, he still eats a rather basic diet of purees as they determine the cause of his sensitivities. My sister recently asked me for ideas to pack as much nutrition into his diet as possible so he can grow big and strong despite not being able to eat a huge variety of table foods just yet.
The timing was perfect, as I had just received several samples from Gerber's newest baby food line, SmartNourish. Since my son is well beyond purees, I asked baby Aedan's mommy if he would mind being a taste tester. She willingly obliged on his behalf.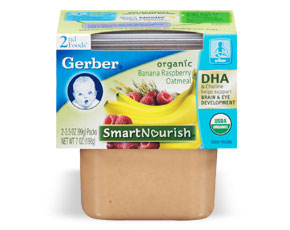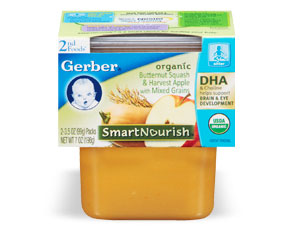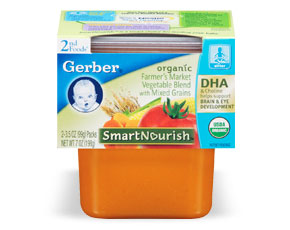 Now, Aedan has a voracious appetite (not limited to that which is edible) when he finds something he likes, but he can be a rather picky eater at times. Lately he has been giving my sister a hard time about eating. We decided to try the Butternut Squash with Harvest Apple and Mixed Grains, not knowing if it would find his way into his tummy or not.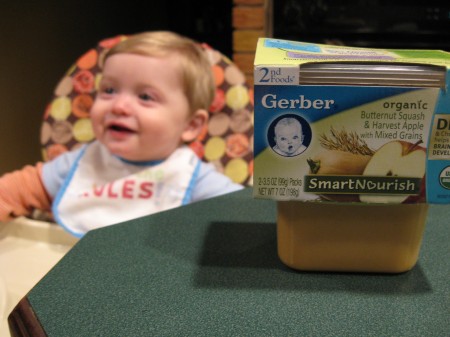 Open up for the airplane!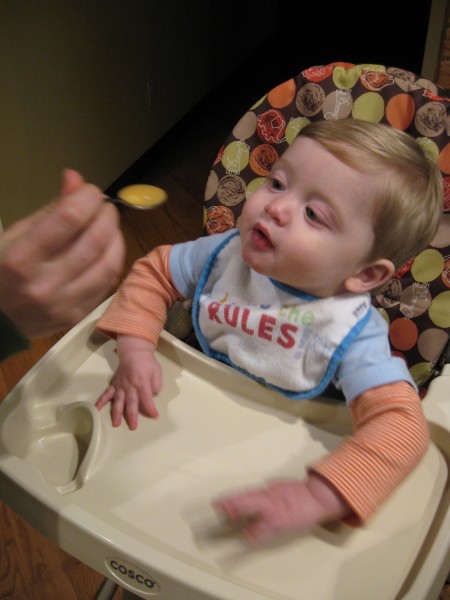 Hmmm…this isn't what I usually eat…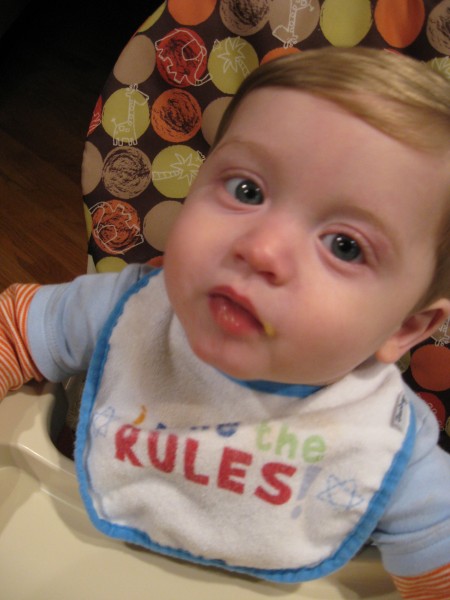 He likes it!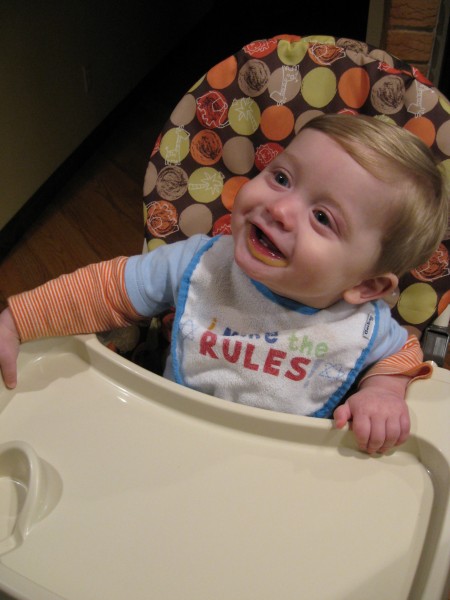 Aedan couldn't get enough of this baby food! He grew very impatient with his mommy if she took too long getting it into his mouth, and we watched this little guy polish off not one, but two tubs of baby food in one sitting.
It's been a long time since I purchased baby food, so I was not aware of the SmartNourish line before I was asked to do this review. I am very concerned with nutrition, especially in the early years when children are rapidly growing and developing. I really like the blend of ingredients in these purees. Each one contains organic fruits and/or veggies and DHA and choline to support brain and eye development. Many of the purees, like those we sampled, also contain whole grains. SmartNourish purees are a great source of important vitamins, and they contain no added "junk" like sugar or food coloring. The ingredient blends are a little out of the ordinary, and are intended to promote healthy eating habits by introducing babies to a variety of flavors. I think it's a great idea!
Although I really enjoyed making most of my son's baby food myself, there were plenty of times when buying packaged baby food was simply more practical or convenient. Gerber was the brand I turned to most often for store-bought baby food, and their SmartNourish line is another great product of theirs. Aedan sure loved sampling this food, and his mommy loved the fact that she could give him something so packed with nutrients that he would actually eat!
DISCLOSURE (what's this?): I was provided with several samples of Gerber SmartNourish purees in order to facilitate this review. I was not otherwise compensated, and the opinions expressed in this review are my own.
DISCLOSURE: This website is monetized with affiliate links. I earn a small percentage of the sales price when visitors make purchases through affiliate links. Thank you for your support!
Share this post