Be frugal and fun with the Frightfully Fun Halloween Handbook from All You
| Updated:
I received a free copy of the book I'm reviewing from Time Home Entertainment, Inc. All opinions are my own.
Growing up, I always enjoyed the fun decorations and treats that came with various holidays throughout the year, and Halloween was one of my favorites. I want to give my boys the same happy memories, but being short on money and time, it can seem like too much to manage. Going to the store to buy lots of ready-made decor seems like a waste, and while I enjoy homemade craft projects, researching ideas takes time that I don't really have these days. So, when I heard that All You had done a lot of the legwork for me in a new book dedicated to budget friendly Halloween ideas, I knew that I wanted to check it out.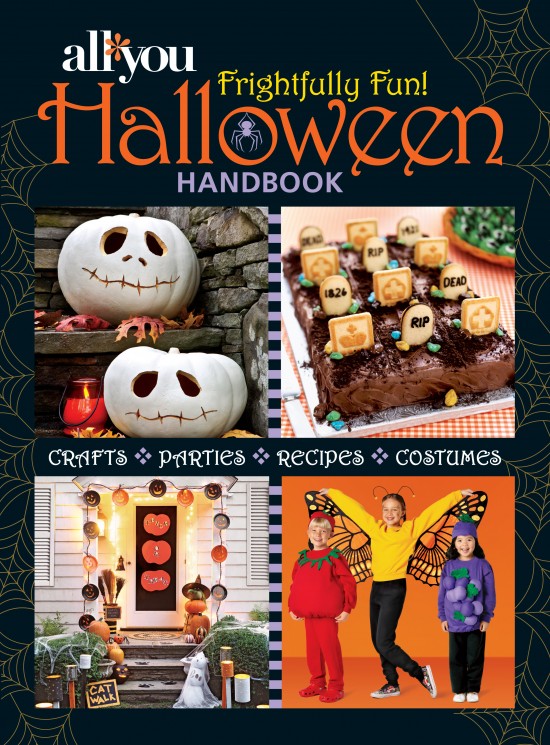 All You is a magazine devoted to helping women "enjoy life for less", and their Frightfully Fun! Halloween Handbook is full of the same kind of low-cost but creative ideas that I've loved in the magazine. The book is 192 pages divided into six chapters that cover decorating pumpkins, outdoor displays, indoor decorations, theme parties, recipes and easy DIY costume ideas.
If you don't have the time to carve pumpkins (or just want to avoid the mess), the book offers several easy ideas for decorating gourds intact. I loved these cute masked pumpkins, for example.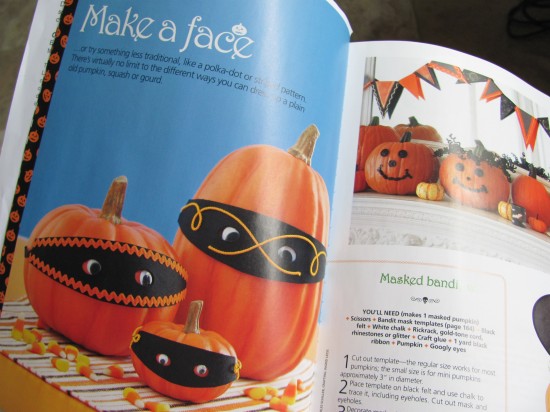 And these sneaky pumpkins hiding in dishes remind me of ninjas. You could find inexpensive dishes to spray paint black at a thrift shop or dollar store.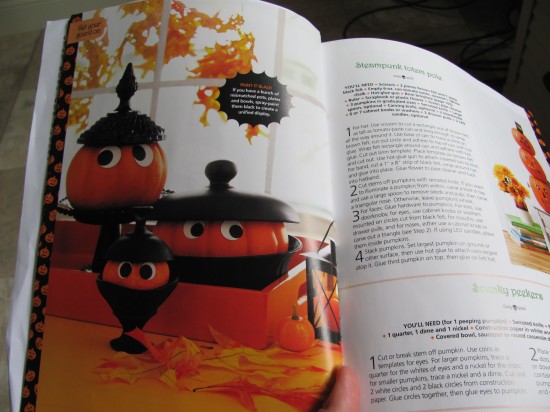 These outdoor decorating ideas are very easy, but look dramatic. I love the furry door with glowing monster eyes.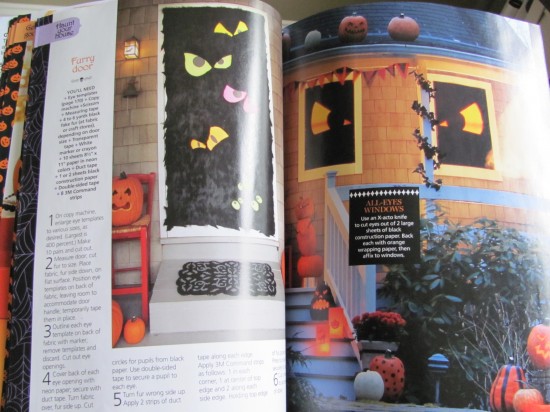 I liked these cute "Mummy Balls" to scatter around the house or place in a bowl on a table…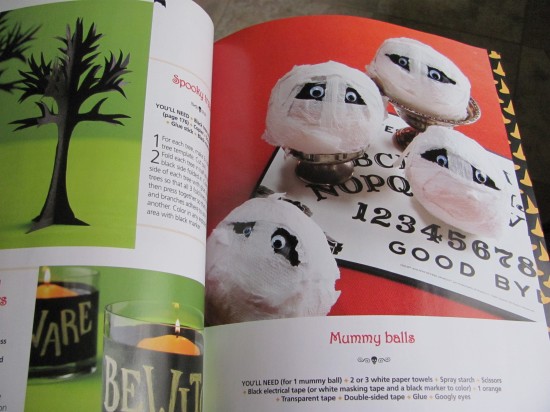 …and these easy ghost lights made from paper cups, googly eyes and a string of white lights.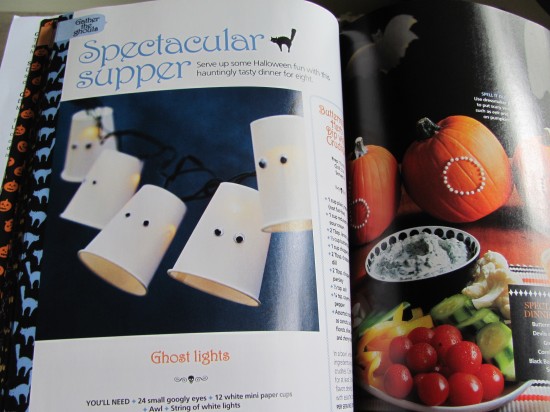 The book includes autumnal crafts that aren't so Halloween-specific and could take you through Thanksgiving, as well as plenty of recipes that would be great throughout the year.
I liked that many of the treat recipes were healthy, like these Polenta Pumpkins.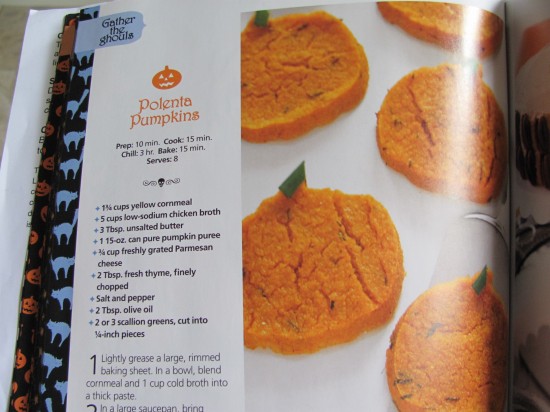 The costume section is loaded with low-cost ideas, many of which start with a simple sweat suit. I particularly liked the family circus costumes–it's always fun having a theme for the whole family.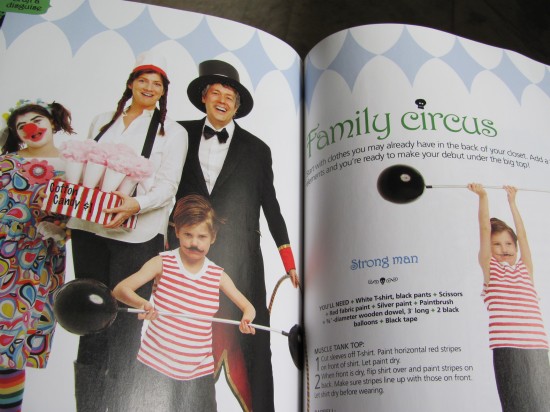 The back of the book has templates to cut out or copy to complete the projects.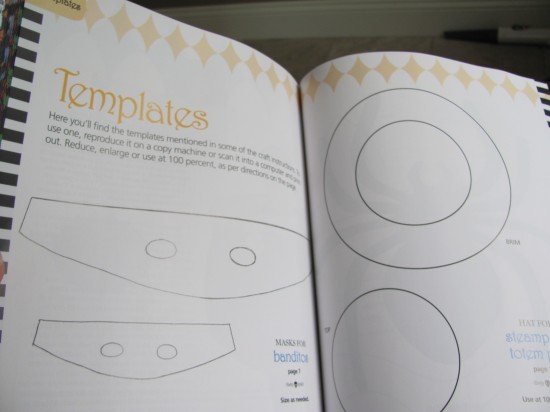 And the pages are color coded on the edges to quickly locate a particular section.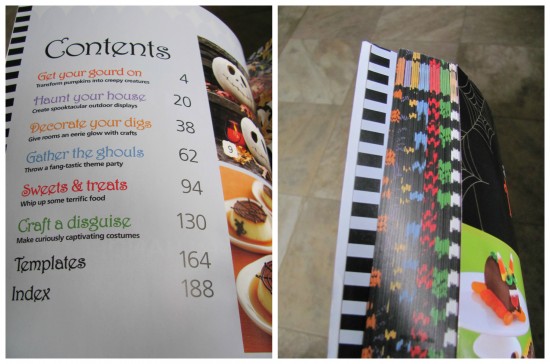 Pinterest is all well and good, but it's still useful having a book to refer to for ideas, especially one that is geared toward the cost-conscious. I'm so happy to have some last minute Halloween ideas that I can easily put together in time for the holiday–I wasn't sure I'd be able to get anything together this year. I think I'm going to surprise Mr. Boy by decorating our front porch while he's at school one of these days.
Buy It
The 192-page book from Time Home Entertainment, Inc. retails for $16.95. Save money online at Amazon.com (it's just $12.99!) or pick up your copy at:
B&N.com
Food Lion
Raley's
Save-Mart
Some Walmart locations
Safeway and their subsidiaries: Vons, Pavilions, Dominick's, Randalls, Tom Thumb and Carrs
ALL YOU magazine is available at Walmart stores nationwide, by subscription and at select chains in the Southeast such as Publix, Target, CVS, Kroger and more. For a full list of ALL YOU retailers, visit their website.
DISCLOSURE: This website is monetized with affiliate links. I earn a small percentage of the sales price when visitors make purchases through affiliate links. Thank you for your support!
Share this post