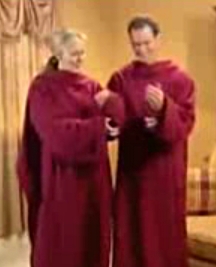 Even though I stay home full time with my son, I still look forward to Fridays! Friday means the weekend is here, and I will have more time to spend with my husband (and of course a little bit of extra help around the house). So to celebrate, I'm introducing a new feature: the Friday Funny. It will be some shopping-related picture, video or product that makes me laugh.
My husband, who is English, wasn't familiar with infomercials prior to moving to the states. He and I both get a chuckle out of most of them. Our most recent favorite is Snuggies! The idea isn't a bad one, but the product looks delightfully dorky on all the actors. It reminds me of something you might see utopian societies wearing in a sci-fi movie.
DISCLOSURE: This website is monetized with affiliate links. I earn a small percentage of the sales price when visitors make purchases through affiliate links. Thank you for your support!
Share this post