Friday Funny: Are you ready to be a mother?
| Updated:
I saw this funny "test" on Facebook and thought I'd share it here–I'm sure I'm not the only mom who can relate all too well (I especially loved the part about the bean bag)! This is apparently adapted from a book written by Colin Falconer in 1992. Are you ready to be a mother? Let's find out…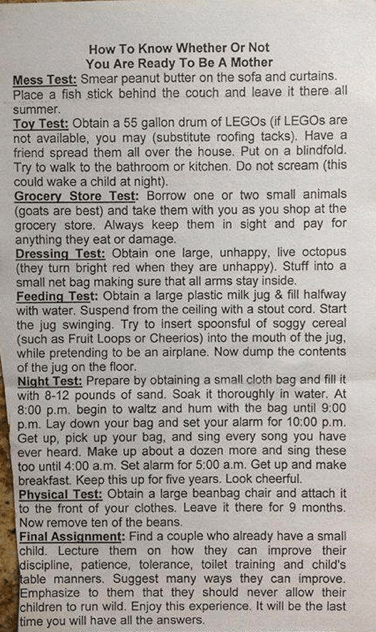 If you're pondering parenthood yourself, let me tell you something: I don't think anyone ever feels 100% ready to be a parent. Parenthood is a leap of faith and full of twists, turns and surprises. Some days I'm sure I want several more babies, other days I'm certain I would have been better off as a hermit. But, overall, it's so rewarding. Having a good sense of humor helps!
DISCLOSURE: This website is monetized with affiliate links. I earn a small percentage of the sales price when visitors make purchases through affiliate links. Thank you for your support!
Share this post