Friday Funny: Amazon Delivery Drones
| Updated:
You might have heard recently that Amazon is looking into the possibility of using delivery drones to send orders to homes. Sounds kind of fun, but it's easy to think of a number of ways it could go wrong. This one hadn't occurred to me, though: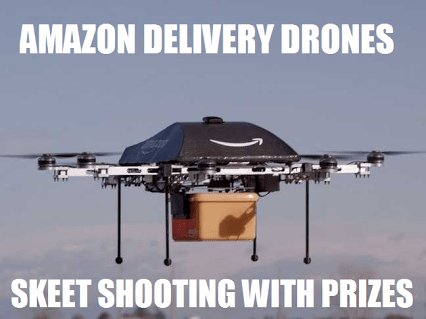 Doesn't it look like a flying barbecue grill? Thanks to my uncle for sending this in an email — I laughed.
Friday
Not

Funny

Speaking of Amazon, apparently there is talk about significantly hiking the annual cost of Amazon Prime membership by as much as $20-40! Not cool, Amazon. But I guess those drones aren't cheap, especially if they "go missing" on a regular basis.
DISCLOSURE: This website is monetized with affiliate links. I earn a small percentage of the sales price when visitors make purchases through affiliate links. Thank you for your support!
Share this post