Freedom from Want
| Updated:
In 1943, Norman Rockwell created a series of oil paintings called Four Freedoms, inspired by Franklin D. Roosevelt's 1941 State of the Union address outlining four universal human rights that all countries must protect.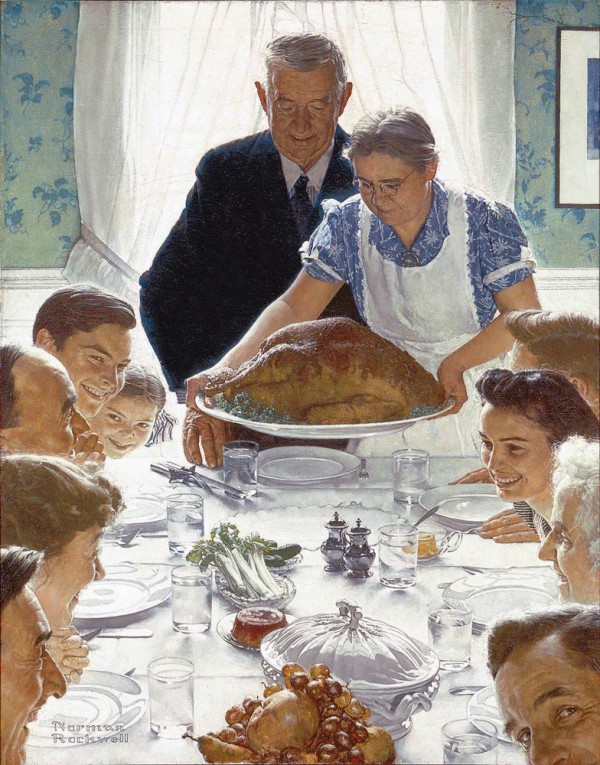 Freedom from Want depicts a family sitting down to a traditional Thanksgiving meal. In that moment, the family wants for nothing. They look happy and healthy, seated around a beautifully appointed table in a cheerful room, waiting excitedly for a humongous turkey to be served. It's a scene that many of us can relate to.
This wholesome picture was actually controversial in war-torn Europe, where families were rationing food and dodging bombs; they couldn't imagine the kind of freedom that Rockwell depicted. To be sure, there are still people in our own country who want for the most basic of needs.
The picture is beautifully executed, but it's the title which is so poignant to me.
So many of us are fortunate to have the luxury of sitting down with family and friends to enjoy a nice meal and some time together. We have all the things we really need, yet so many of us want more.
Earlier this evening, the night before Thanksgiving, I had to make a trip to Walmart to buy a vegetable peeler. I was assigned two apple pies for Thanksgiving, and my peeler had disappeared.
When I arrived at the store, I found that the closest entrance seemed to be blocked off with yellow tape. I grumbled to myself, thinking something was wrong with the entrance and I would need to walk across to the other one. Then, I saw another shopper come out of the store and wind his way through the corral, and I realized Walmart was preparing.
Inside, plastic-wrapped stacks of "deals", not to be sold until Thanksgiving, lined the aisles. I saw cheap (in both senses of the word) pots and pans, cheap furniture, cheap clothes and cheap toys. I saw workers cleaning the floor where displays had been pushed away to make more room near the cash registers. This year, shoppers will burst through Walmart's doors at 6:00 p.m. on Thanksgiving Day.
When Roosevelt and Rockwell used the term want, they didn't mean Beats by Dre, Xboxes, iPads, clothes emblazoned with brand names, and whatever hot toy is this year's fad (I wonder where last year's bargain Furbies are now?). But the family who spends time together on Thanksgiving enjoys two freedoms: the freedom from wanting what they need, and the freedom from "needing" what they want.
Freedom is not lining up on Thanksgiving Day to be driven like frenzied cattle into a crowded store to load up on junk that we want.
Freedom is not being forced, either by an employer or by circumstances, to work a retail job on a holiday because consumers and corporate bosses want.
Freedom is not working long hours for little pay in a factory in China making frivolous things that consumers want.
Why are people who have what they need, and more, making themselves slaves of want, and dragging others down with them?
In 1943, Norman Rockwell believed that Freedom from Want was epitomized by having food to eat, a home to gather in, clothes to wear and time to spend with loved ones.
Why, in 2014, is that not enough for just one day out of the whole year?
DISCLOSURE: This website is monetized with affiliate links. I earn a small percentage of the sales price when visitors make purchases through affiliate links. Thank you for your support!
Share this post