The Force is with us at Mom's Salon
| Updated:
Disclosure: So happy to share this blog post I created as a Suave Kids partner. The Disney, Frozen and Star Wars trademarks are used by Unilever pursuant to a license agreement with The Walt Disney Company. All rights reserved.
Home haircuts didn't start out as a frugal idea so much as an effort to avoid a traumatizing experience for both my toddler and the hairdresser. Now, seven years later, it's become a routine that I can perform reasonably well (it helps that curls hide a lot of mistakes).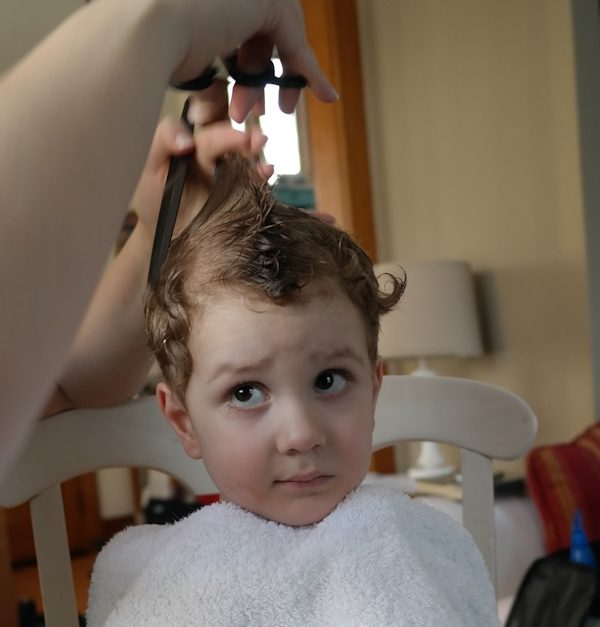 Today both of my boys were pampered with fresh haircuts and some new Star Wars themed bath products that we are testing for Suave Kids.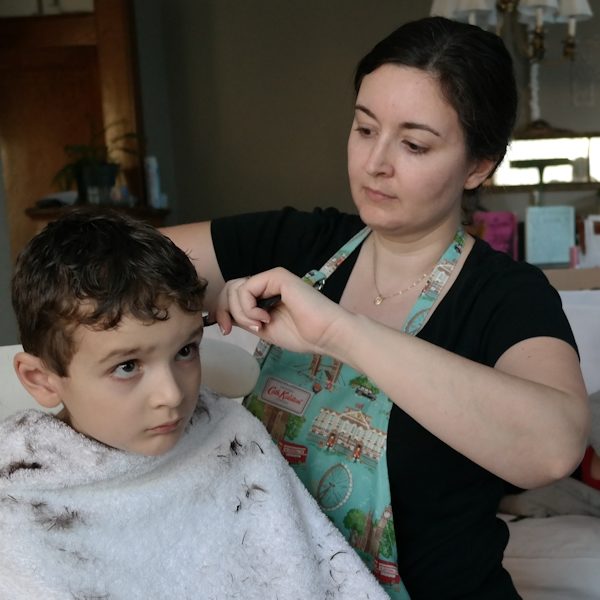 We do showers or baths right after haircuts to wash away the little clippings that would otherwise get everywhere and feel itchy.
When my sons were younger, we were happy to use baby wash for their hair and bodies, but as they and their hair grew, I knew I wanted a product with conditioner to take care of their gorgeous curls.
We have reached for Suave products many times in the past, so I was happy to try out some of their latest offerings from their Star Wars Collection for kids.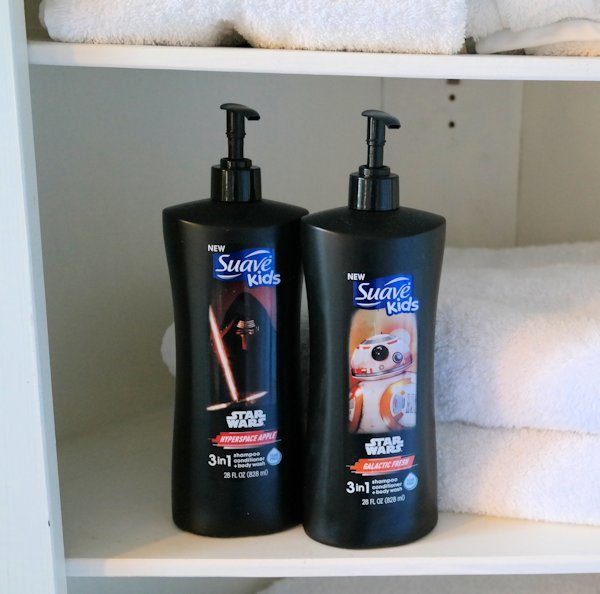 With two kids, we go through smaller bottles of product quickly, so I always opt for larger containers when I can find them. Pump bottles are even better–they dispense the right amount of product, and there are no slippery bottles clunking around in the shower.
These 3-in-1 shampoo, conditioner and body washes come in 28 fl. oz. containers.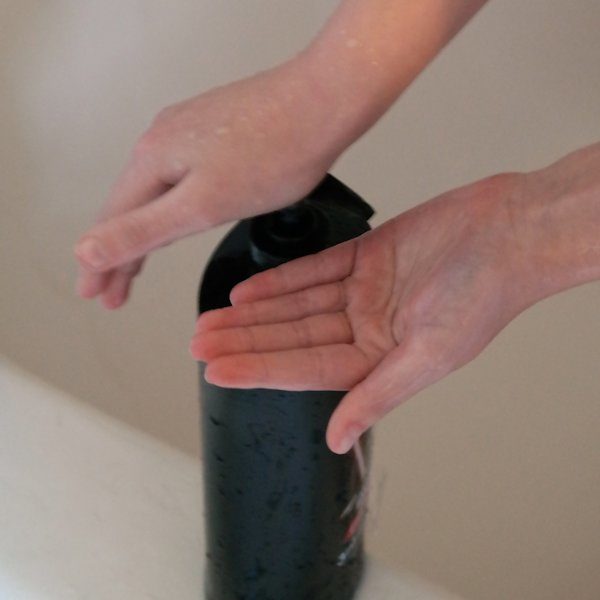 For his shower, D selected the Interspace Apple 3-in-1 Shampoo, Conditioner and Body Wash featuring the Dark Side villain Kylo Ren on the label.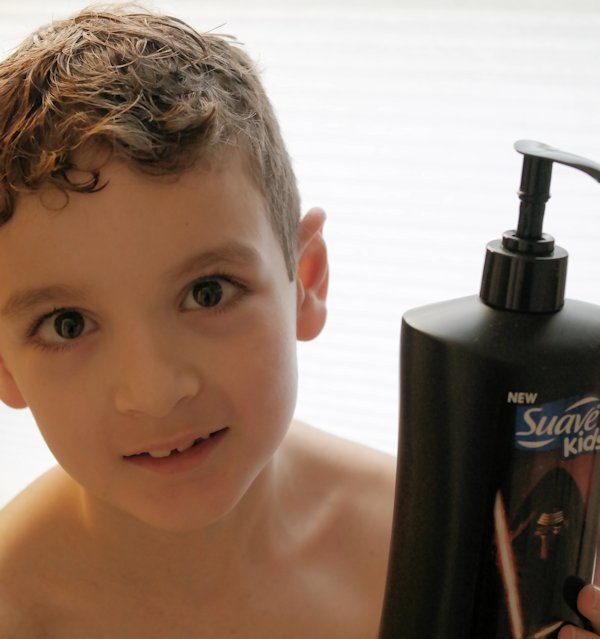 The fresh apple scent was pleasant, and would appeal to both boys and Star Wars loving girls. It didn't seem to leave a lingering fruity scent in his hair.
D, at 8, is still a little bit apprehensive about showers (the noise, the water in the face), and not great at lathering up his hair. Having all of the steps combined into one product really makes things quicker and easier for him. The wash left his hair feeling soft, not "squeaky clean" (which is a good thing).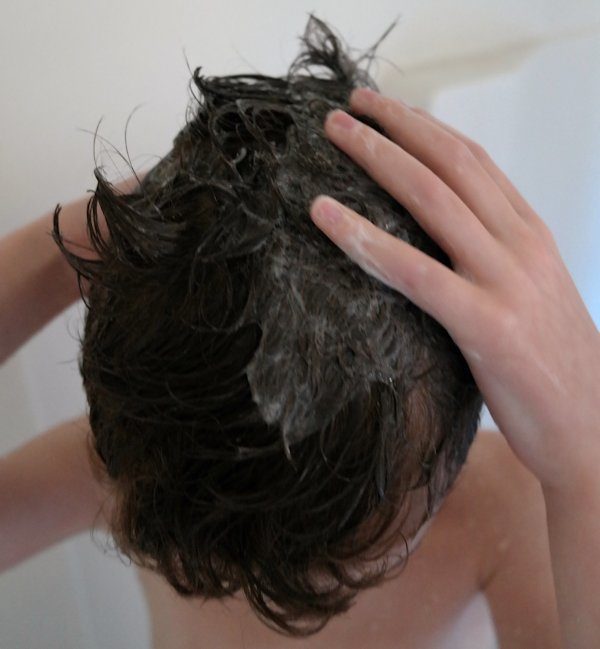 D's curls tend to have a mind of their own, especially after wearing hats or when he wakes up on the morning. Hair gel helps to keep him looking neat. He tried out Suave Kids Styling Gel in Tropical Storm on his towel-dried hair.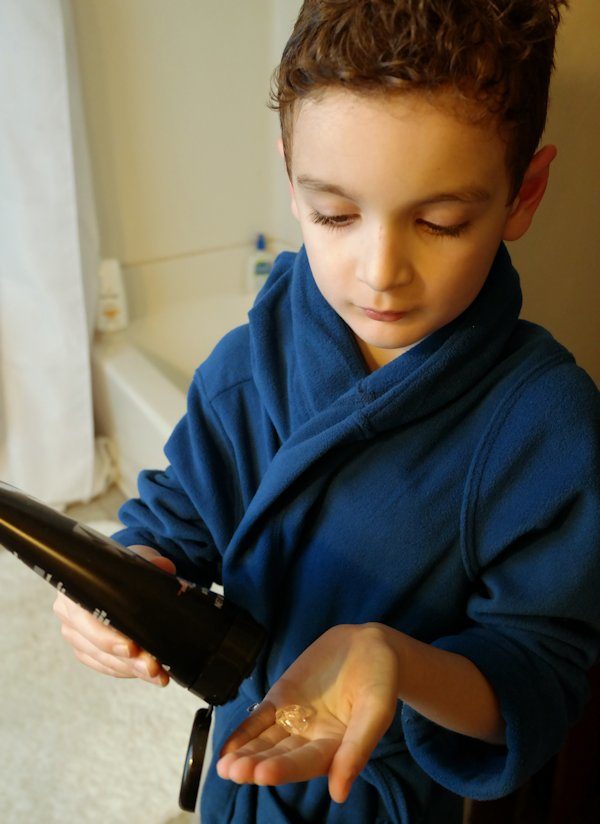 The styling gel comes in a generously-sized 7 oz. tube, with a nickel-sized amount being recommended for each use.
It isn't sticky and goopy like other products we've used; In fact, I'd describe the consistency as similar to aloe. It is easy to spread through the hair and does not dry crunchy or make the hair look shellacked.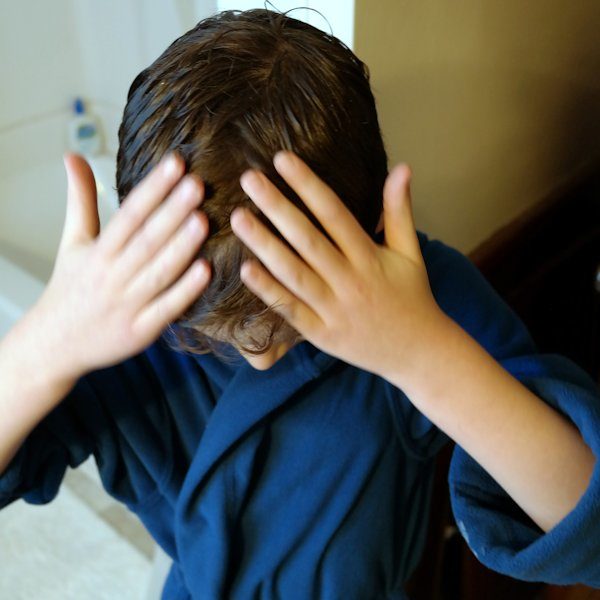 It also doesn't have an overpowering, lingering scent, so it combines just fine with other products. I like that the formula is alcohol free, which makes it more kid, and curl, friendly. Suave Kids gel is a perfect introduction to styling products for kids who are learning to style their own hair.
Isn't he handsome?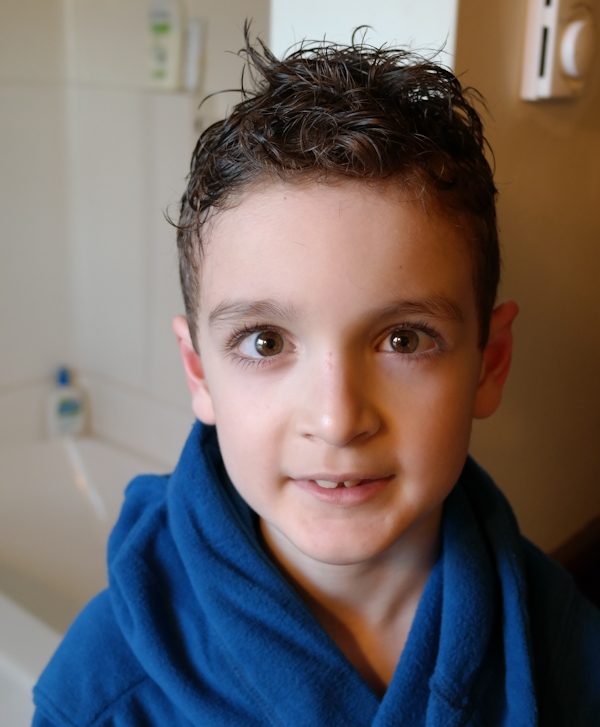 E has no idea what Star Wars is, but he loves robots, so he selected the Galactic Fresh wash with BB-8 on the label. At 3 1/2, he is fine with showers, but still enjoys a good bath now and then. We pumped some of the product into the tub to make bubbles.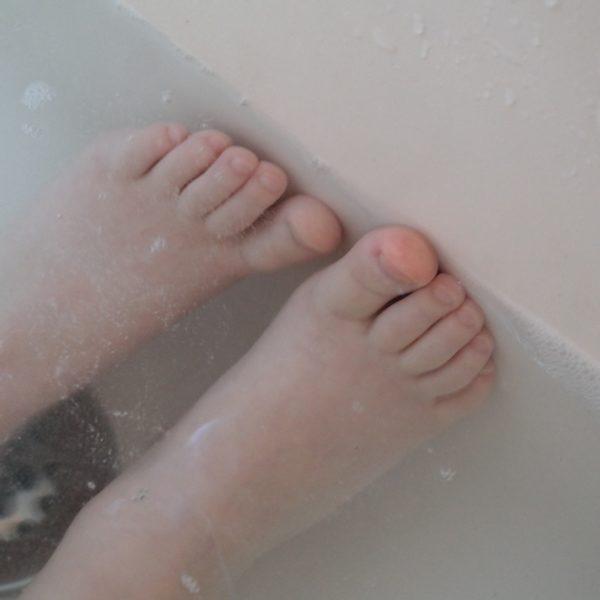 He has a few bath tub toys, like a boat and some trains, but his favorite "toys" to play with are empty shampoo bottles and the plastic pitcher that we use to rinse his hair. He will spend quite some time filling the bottles and emptying them into the pitcher. You can see that one of his "toys" is an empty Suave Kids bottle.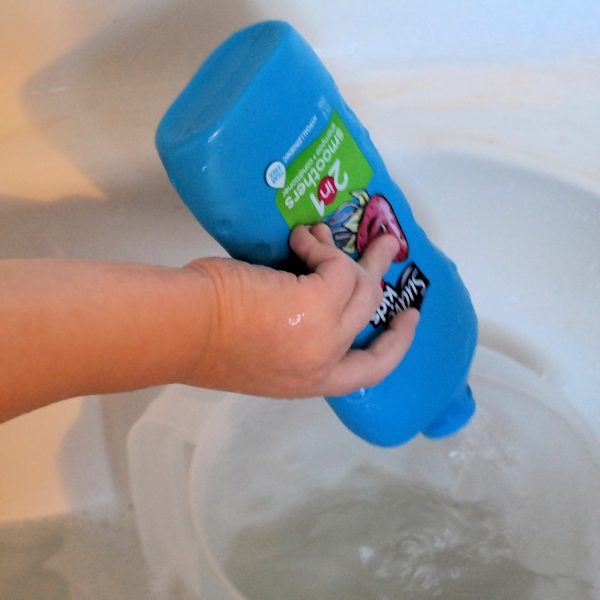 We used the 3-in-1 Shampoo, Conditioner, and Body Wash to clean his hair and his body. The formula is tear-free (and ophthalmologist tested), so I didn't worry about him diving into the bubbles, and he didn't get upset when it was time to rinse.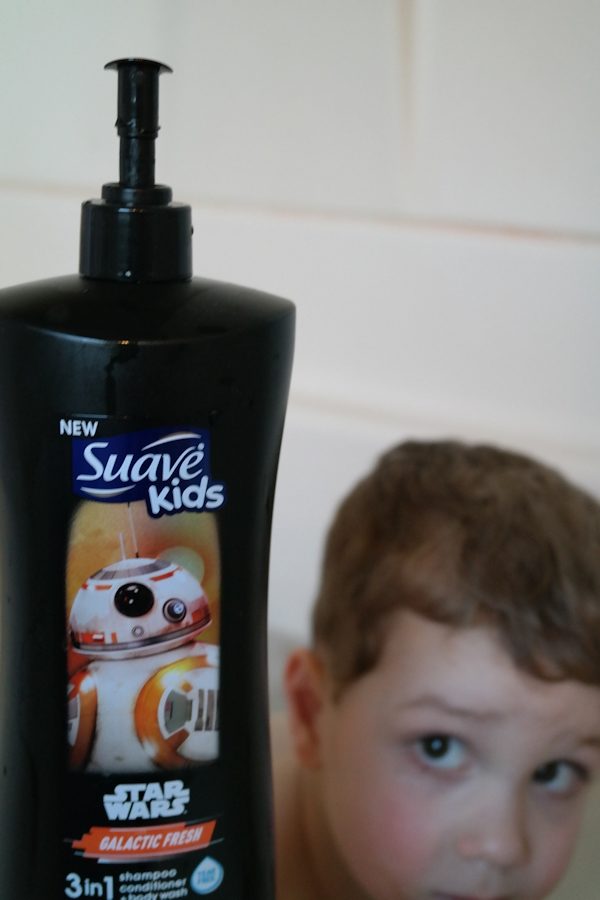 The product left his hair soft and glossy, and his skin felt so soft.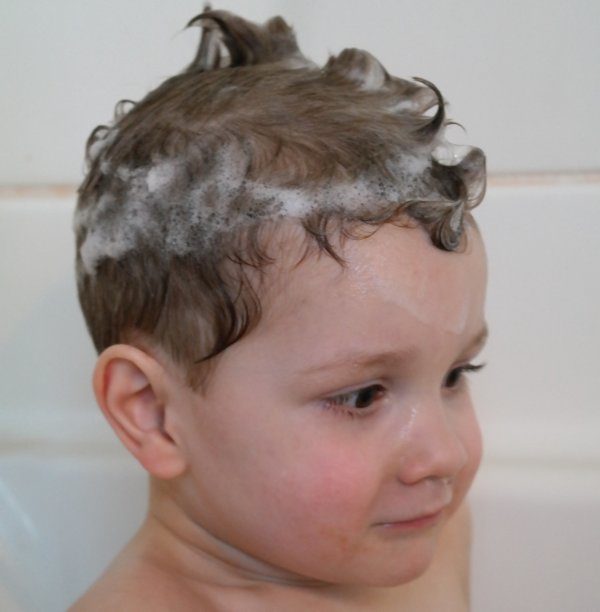 I have to say, I love and prefer the Galactic Fresh scent! It definitely is a more masculine fragrance, but it's subtle enough to work on young kids. I think it's perfect for my little men.
The scent seems to linger a bit more than the Interspace Apple, which is fine by me. I kept sneaking whiffs of his golden curls hours later.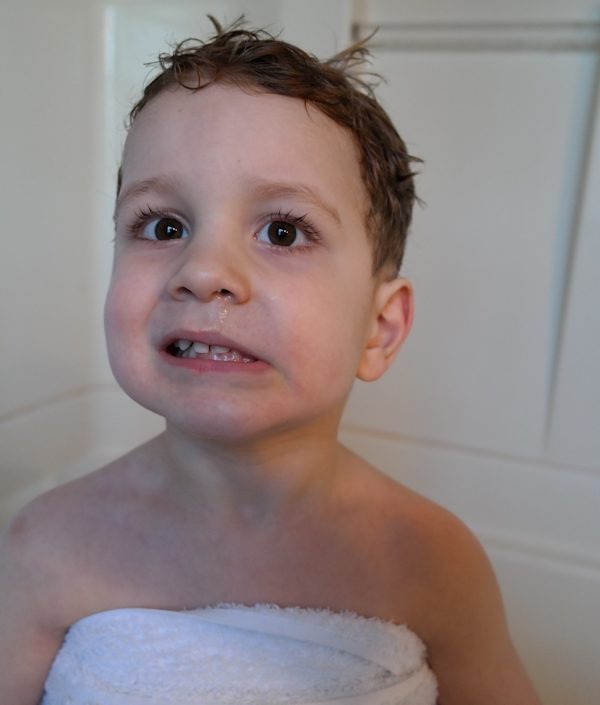 Suave products have been great money-savers for decades. I remember my mom using Suave shampoo and conditioner (which she called "cream rinse") when I was a little girl. My aunt, a hairdresser, approved of Suave.
As a mom who cares about design, I like that the Suave Kids Star Wars Collection packaging is on the subtle side and doesn't scream "kids!" while sitting on the side of the tub. Bigger kids will feel like they have a more grown-up product just for them.
I've been completely satisfied with other Suave Kids products I've used, and the Star Wars line is no exception. If you have boys, I especially recommend the BB-8 "Galactic Fresh" 3-in-1. Star Wars fans may be tempted to buy it for the label, but inside is a quality product to match.
DISCLOSURE: This website is monetized with affiliate links. I earn a small percentage of the sales price when visitors make purchases through affiliate links. Thank you for your support!
Share this post