Fed Up with Frenzy book review
| Updated:
Like many parents, I often look back on my own childhood for guidance and inspiration as I learn to raise a child of my own. I am the oldest of five children raised by a stay-at-home mom and a dad who provided for the family. We never had very much in the material sense, but I never really felt deprived. We lived on a rural road in a house my dad built himself. I spent hours with my brothers and sister playing outside in the fields. I marveled at the variety of plant, animal and insect life. We built forts and played baseball, capture the flag and hide and seek. My dad even mowed a winding "nature trail" in the tall grass behind our house, which we enjoyed for years. I attribute my determination, creativity and frugality, among other great things I have learned, to my upbringing.
Now there is an entire movement dedicated to cultivating the type of lifestyle that I enjoyed as a child. In her book, Fed Up with Frenzy: Slow Parenting in a Fast-Moving World, Susan Sachs Lipman introduces us to the Slow Movement and provides a generous sampling of ideas and activities that will serve as a good starting point for parents who are tired of the frenetic pace of today's world, but don't really know how to change.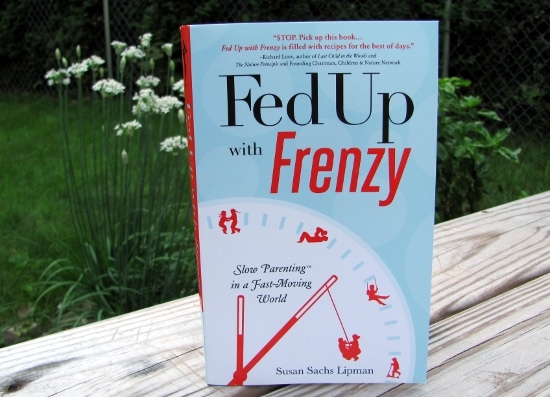 The book begins with a beautifully written foreword by the author's 16-year-old daughter. It's touching and a smart choice because it serves as a very convincing testimonial to her family's slow lifestyle–such a well-spoken and appreciative teenager must have parents who have done something right. Continuing on to the introduction, we learn how the author recognized that her life had become too frenzied, and how small changes (like walking her daughter to school rather than dropping her off in the car) made a world of difference for her family, and her community.
Susan Lipman writes:
When well-meaning parents experience their days as a race against time, much is actually lost. Many of us want more connection and meaning in our families' lives, but we remain too busy to even think about achieving those things.
Although I enjoyed a slow lifestyle growing up and absolutely want the same for my son, I can relate to those words. After experiencing the very busy and fast-paced years spent in college and the corporate world, slowing down as a mom did not come naturally. I knew the kind of lifestyle I wanted my family to enjoy, but I wasn't sure how to go about providing it, especially in the world we live in today.
The book is refreshing because it puts words to some of the ideals I have held in my heart but didn't know how to express. Susan Lipman's can-do spirit really shines through, and she makes it clear that Slow Parenting is possible no matter what your situation (stay-at-home parent or working parent, home schooler or public schooler), as long as you use the time you have wisely.
The eleven chapters provide activities and ideas to help parents and kids start living and enjoying the slow life. In "Slow Activities" we learn how to make a shoe-box TV or create a secret code. "Slow Games" covers classics like Dominoes, Pick up Sticks, and the hand-clapping rhymes I loved to do on the school bus. In fact, many of the ideas are things I enjoyed as a kid, but I had completely forgotten about them and it had never occurred to me to enjoy them with my son. Fed Up with Frenzy has reminded me that fun doesn't always have to come from the toy store, nor does it need to be complicated or revolutionary.
Other chapters delve into cooking (or just fun experimenting) in the kitchen, enjoying crafts like soap-making, and exploring the outdoors. Not only was I excited to try many of the activities mentioned in the book, but I felt inspired to strike out on my own and find other slow activities that my family could enjoy together, or even a few that would be relaxing to enjoy on my own.
I feel like the slowness of my family's lifestyle is absolutely pivotal to my son's health and emotional well-being. There are many things we have gotten right, like eating meals every day as a family, very little TV, and stories before naptime and bedtime. But there are also plenty of ways in which I want to improve–namely, spending less time at the computer and more time on fun activities with my son. I decided against sending him to preschool so that I can spend the next year maximizing the amount of quality time I have with him before I send him out into the world. This book will help me make the most of this year, and the years to come.
Fed Up with Frenzy is a quick, easy and empowering read that will help your family slow down and enjoy the little moments in life that are so important.
Win it
Does your family need help slowing down? I have one copy of Fed Up with Frenzy to give away!
Use the Rafflecopter form below to enter (this may take some extra time to appear). If you are viewing this via email or an RSS reader, please click to my website to see the Rafflecopter form and enter. The contest will end on Thursday, August 30, 2012 at 12:01 a.m. ET.
DISCLOSURE: This website is monetized with affiliate links. I earn a small percentage of the sales price when visitors make purchases through affiliate links. Thank you for your support!
Share this post