Easy cleaning with the Haan SI40 Agile Steam Mop
| Updated:
Ringo dog has been a part of our household for several months now, and thankfully the worst of his puppy messes are only a memory. It was quite the experience housebreaking a puppy while contending with wet snow and muddy paws on top of the normal training accidents. I am simultaneously a self-professed bad housekeeper and something of a germophobe, which makes things interesting; the mess kind of stressed me out. I wanted to make sure that my floors not only looked clean, but that they were also sanitized, and I certainly didn't have time for the old bucket and mop!
The first night with our puppy at home, I headed out to the store to purchase refill supplies for my old standby Swiffer. Knowing I would have many puppy messes to clean up, I bought the largest box of pads (which would last less than a month), and a double package of anti-bacterial cleaner, setting me back more than $20. I sprayed the floor, let it sit a while to disinfect, wiped it clean, and then let it sit some more to completely dry before letting the puppy back into the kitchen to sleep for the night. After all that work, I hadn't predicted that the unfamiliar smell of the cleaning solution would freak him out, making for a late night of coaxing him to sleep. I decided it was time to buy a steam mop like I had been considering for months.
Why a floor steam cleaner?
When it comes to cleaning, I like to keep things natural insofar as possible for a variety of reasons. Noxious fumes irritate my finnicky sinuses, and can even induce migraines. Strong odors could literally kill the two pet parakeets we have in our house, so we need to be careful what we use near them. I don't want to worry about my young son or pets inhaling toxic fumes, or worse, ingesting poisonous cleaning supplies. Steam mops disinfect and clean with nothing more than water, heating it up to a temperature that kills all kinds of germs and can tackle sticky messes. Added bonus: they're environmentally friendly since you won't be tossing cleaning pads into the trash, flushing chemicals down the sink or throwing out packaging. They're also a very frugal choice; although the upfront cost is a bit more than other solutions, the machine washable cleaning pads and water-only operation mean you won't be forking out for pricey refill supplies. The convenience of steam mops makes cleaning easier and saves a lot of time, too.
I was all prepared to purchase the purple steam mop that everybody has heard of, but some last-minute reading of product reviews had me seriously questioning whether I would be getting my money's worth. Reviewers disliked the cumbersome pumping action required to generate steam, and there were many reports of the product failing to work altogether after not very long. Average reviews were in the three-star range. Checking to see what my alternatives were, I discovered HAAN, a brand that has been around for a few years, but that I had never heard of.
Why HAAN?
The HAAN Corporation was founded by Korean Romi Haan as a young housewife and mom (how cool is that?) who wanted an easier way to keep her floors clean and sanitized. HAAN takes pride in their company name being "synonymous with serious engineering, quality materials and stringent manufacturing standards", all of which are very important to me, too. HAAN products have been wildly popular in Korea for a long time, and were introduced to the United States in 2007.
Researching HAAN products further, I was impressed by the overwhelmingly positive reviews their products garnered on websites like Amazon.com. Many consumers had owned their steam mops for years and were still happy. I decided to contact the company, and was thrilled when they agreed to sponsor a review item for me to test out. I selected the HAAN Agile Steam Mop with Swivel Head. Easy maneuverability was important to me so that I could reach narrow spaces in my bathroom, and I was confident that this would fit the bill.
What's in the box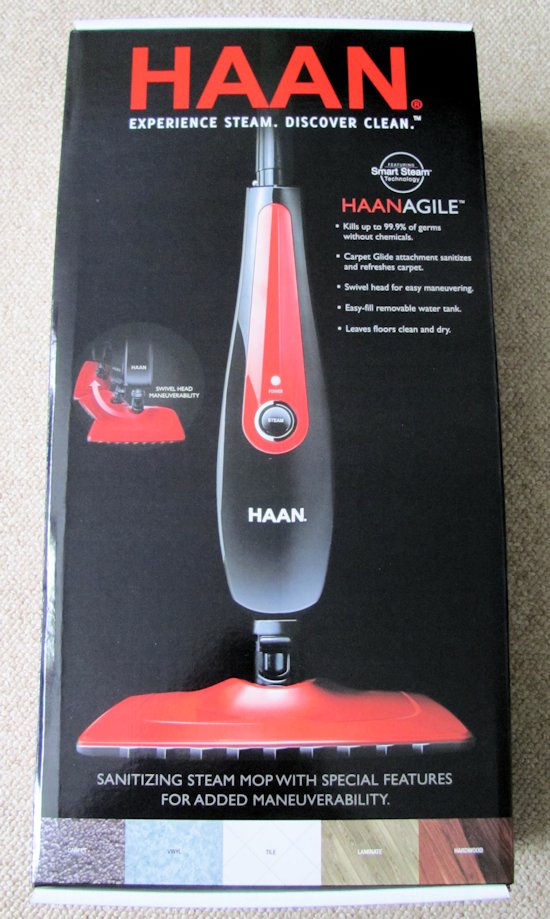 The steam mop arrived nicely packaged. The box contained a high quality metal pole and comfortable plastic handle, the mop unit, a protective heat pad to set the mop on when it's hot and not in use, two machine-washable microfiber cleaning pads, and a year's supply of packets of de-scaling powder to help keep the mop in prime condition. It also includes a carpet attachment which allows the mop to glide over and disinfect carpeted areas or rugs, a feature I was excited about. The mop unit itself was attractive in appearance (not crucial, but certainly a plus), made from glossy high-quality plastic in red and black.
Assembly, which involved nothing more than snapping together the pole and handle and attaching to the unit, was very easy. I was impressed that the mop can fully support itself and stand unassisted in the middle of a room. The cord wraps around a cord holder when not in use, so it's very easy to stow in a closet or tall cabinet.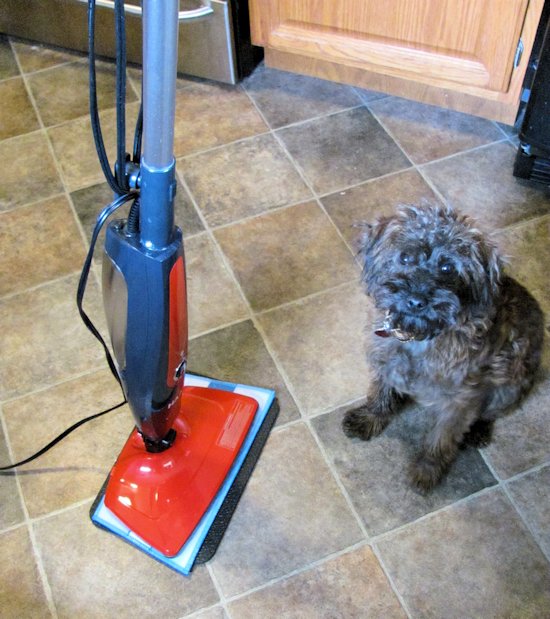 Using the mop
Although it's fine to use regular tap water in this steam mop, I opted to purchase some distilled water to avoid buildup and hopefully prolong the mop's life. As far as cleaning supplies go, distilled water is a negligible cost. The clear water tank is easy to fill and then snaps into place on the back of the machine. Once you've filled up, plug the unit in, then place on the protective floor mat. Press the button to turn on, and allow about 20 seconds for the unit to heat up. As it's heating, you'll hear a clicking noise which becomes increasingly rapid and then stops. Once the mop is ready to go, you place it on a microfiber pad, which stays in place with velcro. You can see the mop emitting steam–make sure you and others in the household steer clear, as it is very hot.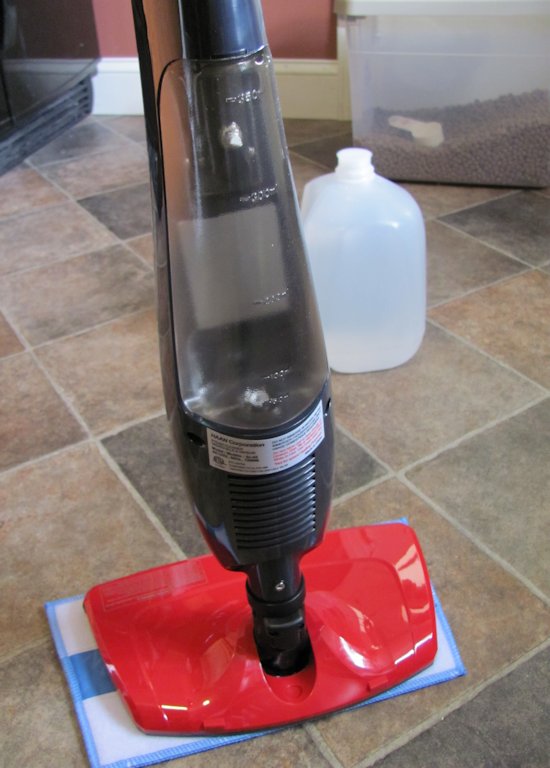 I first used my mop on puppy territory–the vinyl kitchen floor. Although the mop didn't glide effortlessly, it was not difficult to push. I liked that it left the floor slightly damp, but not wet, so I could see where I had cleaned. The dark colors in my flooring disguise dirt well, but I noticed that it did appear brighter and cleaner with a few passes of the steam mop. I was thrilled that I was able to remove a spot of sticky unidentified "gunk" that nothing else had been able to touch.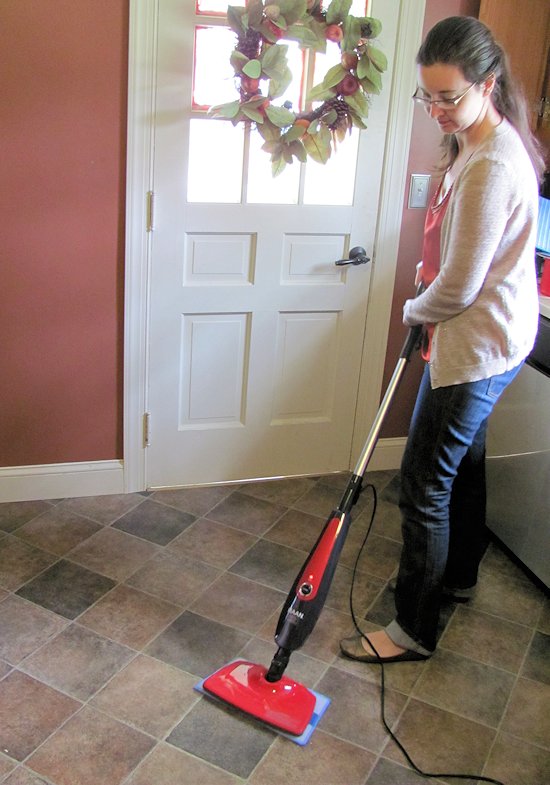 The cord is nice and long (19.5 feet, to be exact) so you can navigate around entire rooms without a problem. The almost 12 oz. capacity tank will allow for around 25 minutes of runtime. However, each cleaning pad will be usable for approximately 10 minutes–once soaked, the mop becomes difficult to push. In my small kitchen 10 minutes was sufficient time to clean the whole floor. Just look at the before and after shots of the cleaning pad to see how much grime it picked up: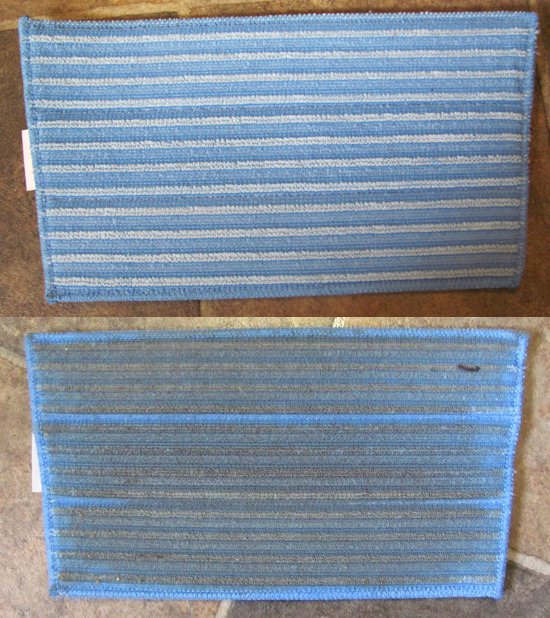 Without refilling the tank, I was able to use the other cleaning pad and tackle the bathroom, where I could really put the pivoting mop head to the test. I was able to reach just about everywhere I wanted to clean–all except the very back of the toilet. The pivoting mechanism is built to last. When you're mopping, it is very easy to turn the mop head as you push against walls or cabinets, and then it snaps back into place. The mop was much easier to push over the bathroom floor. It's also vinyl, but I think the texture made a difference. Once again I noticed how the floor brightened. I did notice that the microfiber pads didn't quite reach into the deeper "grout" lines on my faux tile bathroom floor, so I plan to order some microfiber "noodle" steam mop pads from HAAN in the future–I'm sure they'll do the trick.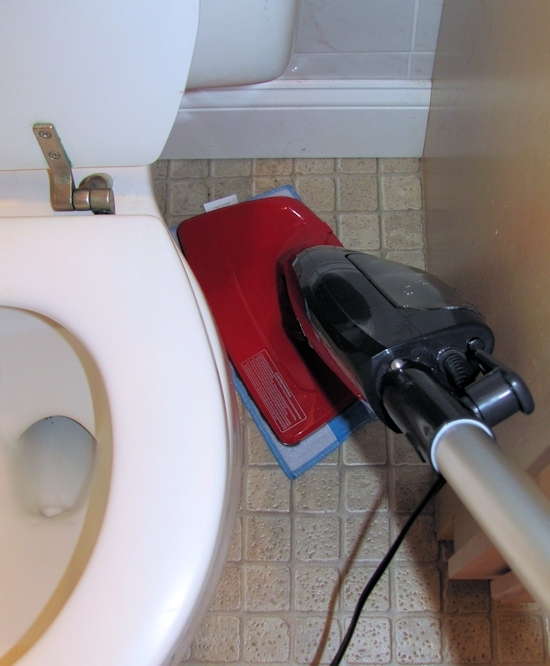 Although I don't have pictures, I also used the HAAN Agile to steam clean the area rug in my dining room. Yes, I have a rug under my table with a young child in the house. It's kind of asking for trouble, but I love the look, and it protects the wood floor. Though we vacuum regularly, I shudder to think what kind of germs lurk where food and drink have spilled. The carpet attachment was easy to use and the mop glided right over the rug. The fibers were left slightly damp, but dried quickly. I will also use it on our berber rug in the living room where Ringo pup likes to leave his slobbery toys and treats, and in my son's bedroom. The ability to disinfect carpeted surfaces is one of my favorite features.
Bottom Line
The HAAN SI40 steam mop is a worthwhile investment that will save you money on cleaning supplies and your precious time. The high-temperature steam can kill 99.9% of harmful germs on floor surfaces, all while operating with just water and a little electricity. It's environmentally friendly and will prevent you from relying on harmful chemicals in places where your children and pets roam. I found the mop to be simple to use, convenient, and high quality–I expect it to make my cleaning routine easier for years to come.
Visit the HAAN website to view all of the great products they have to offer. You may also follow HAAN on Twitter or Facebook, where you might find them posting a giveaway occasionally.
DISCLOSURE: This website is monetized with affiliate links. I earn a small percentage of the sales price when visitors make purchases through affiliate links. Thank you for your support!
Share this post