Easter, without the kitsch or the stress
| Updated:
There are many different schools of thought about holidays, gift-giving and commercialism. As for me, I love a good excuse to give gifts!  Since I don't have the resources (or necessarily the desire) to spoil Mr. Boy with new presents all year long, Easter is one of the occasions that I use to give him some fun new things and let him indulge in some sweet treats. By paying close attention to his interests and avoiding gimicky Easter-specific gifts, I can ensure that his new stuff will be a hit well past the holiday, and I don't have to spend a lot.
Here is what the Easter Bunny has in store for Mr. Boy this year: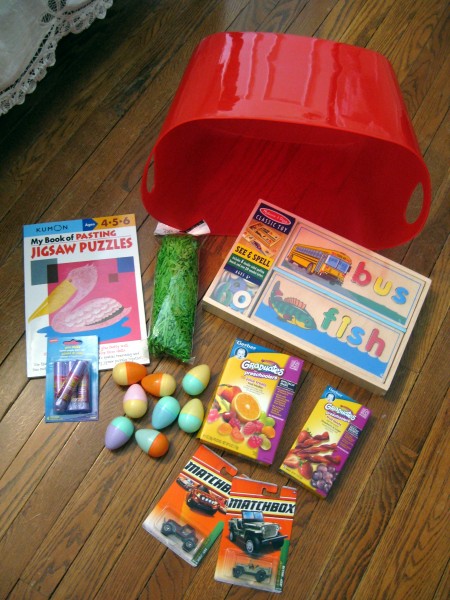 Melissa and Doug See & Spell puzzle set – Mr. Boy has been fascinated with letters for quite some time, and he also loves puzzles. I was happy to discover this toy, which will combine two of his interests and hopefully take his learning to the next level–reading! It comes with a total of 16 word puzzles
Kumon "My Book of Pasting Jigsaw Puzzles" – Although intended for a slightly older age group, Mr. Boy is very adept at jigsaw puzzles, so I know he'll love it. The book has a variety of pictures divided into shapes for parents to cut out. Kids can apply paste to the pieces and then correctly assemble the pieces to create a picture (template pages in the book give them some hints to get started). It will be fun working through this book together.
Glue sticks – I bought these to use with his new workbook and for other crafts. Mr. Boy hasn't had any experience with glue yet, so this should be fun for him.
Matchbox cars – We add to his collection little by little. This time I picked up two different Jeeps for 87 cents each at Target
Gerber Graduates Fruit Twists and Juice Treats – we call these snacks "candy", but they're much healthier. I open up the boxes and place the individually wrapped packages in the Easter basket.
I am also slipping in some cute little foil-wrapped chocolate Easter bunnies.
Frugal Tips
– Think outside the box…or basket. Easter baskets range from super cheap to way overpriced. Even if I can get a bargain on an Easter basket, they're not something I like to buy every year. I live in an under 1,000 s.f. house and I am very particular about my decor–I don't want extra stuff cluttering up my home. I look beyond the Easter aisle for a sturdy container that will be useful beyond the holiday. It might be a nice basket, a fabric tote, a canvas basket, or a plastic shower caddy. This year I bought a plastic beverage container that I will repurpose to hold toys after Easter. A quality container will last year after year and won't clash with your decor.
– Don't waste money on pre-packaged Easter baskets. You pay a premium for scads of unhealthy candy and cheaply made toys. Sure, the overall presentation is impressive, but there isn't much substance after you clear away the cellophane, bows and plastic grass. You're better off picking your own quality items individually when they're on sale.
– Skip the plastic Easter grass. First of all, it's annoying because it sticks to everything. And I think it looks kind of cheesy. I like to use paper Easter grass, and I reuse it a few different times. In the past I have even made my own by cutting strips of green construction paper. If you have a paper shredder, you can shred colorful construction paper or even the Sunday comics to quickly and easily fill up your baskets. It's a little messier, but fun!
– Save those plastic eggs. Plastic easter eggs can be used again and again. Just wash them out with dish soap and fill them up with more surprises. If you participate in a local Easter egg hunt that lets your kids keep what they find, you might not even have to pay for them. This year I plan to use Easter eggs for a scavenger hunt that will lead to Mr. Boy's basket.
– Plan ahead. You can find deep discounts on Easter themed toys, decorations and decor right after the holiday. And not all of it screams "EASTER!". I picked up a cute bunny chair for my son's nursery on clearance, and I've found plenty of adorable Beatrix Potter-themed items at various stores this year. I picked up a $44 three-piece suit with tie during a winter clearance sale for about $8–with the pastel purple shirt, it will be perfect for Mr. Boy's Easter outfit. Take advantage of sales and coupons throughout the year to buy little surprises to tuck into Easter baskets well before the holiday arrives.
– Make it a tradition. It's fun to believe in the Easter Bunny, but it doesn't have to be any less magical if you recycle the same baskets or eggs year after year. Let your kids join in by placing their baskets out the night before, then have fun the next day discovering what he has filled them with and where they are hidden!
Do you have any fun and frugal Easter traditions? Please share!
DISCLOSURE: This website is monetized with affiliate links. I earn a small percentage of the sales price when visitors make purchases through affiliate links. Thank you for your support!
Share this post