Dr. Brown's bottle brush doesn't hold up
| Updated: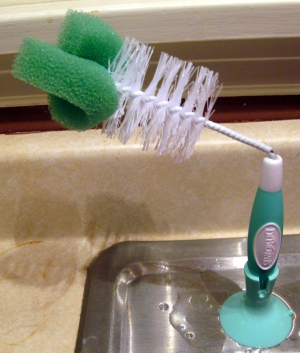 Even though I don't use Dr. Brown's bottles, I was a big fan of their bottle brush for a while. I handwash my baby's bottles because I want to ensure that they're spotless…and it's a great way to unwind! The features I love about the Dr. Brown's brush include a sponge at one end (crucial for thoroughly cleaning a bottle – a brush alone won't cut it), a nipple cleaner on the other end, and a neat little suction-cup base to store the brush when not in use. I was happy as a clam with my first Dr. Brown's brush, but the sponge was beginning to look a bit dirty after a while, so I decided to update it. It was all downhill from there. Every Dr. Brown's brush I have purchased since then has snapped off at the top of the plastic handle, rendering it useless. And all of the brushes have started out feeling "weak" at that point, right out of the package. I have had the same problem with a cheapo brush from Wal-mart, but at over $4.00 a pop, I expected better quality from Dr. Brown's. I could probably return them, but running out to Babies R Us is a bit of a hassle – it's the only store that sells them near me, and it's 20+ miles away.
I've kept trying this brush because I really liked my first one, but now I'm on the lookout for the alternative. I definitely need the sponge part, and I need a nipple cleaner. Nipple brushes are alright, but most of the bottle brushes I have seen that include them store them in the dark, damp handle where they can get nice and moldy.
I think my next purchase will be the First Years Double Scrubber Brush. It's highly rated, and it looks like the handle will hold up. The only thing I don't like is the nipple brush, which folds into the handle (although it is open to air). Some reviewers have had problems with the wire part of the nipple brush rusting. There is also no way to store the brush, but that's only a minor inconvenience.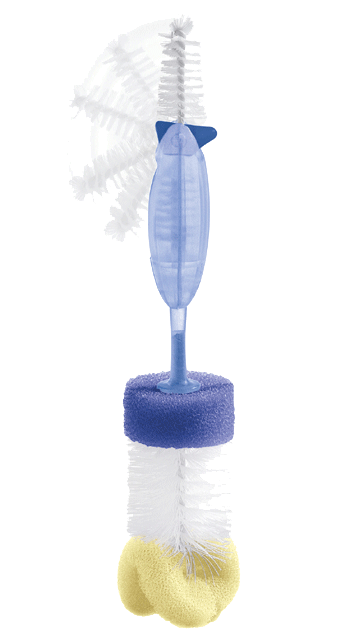 I suppose it's silly to be obsessed with a bottle brush, but it's a crucial little tool for me. It frustrates me when companies can't seem to get a simple piece of equipment right!
DISCLOSURE: This website is monetized with affiliate links. I earn a small percentage of the sales price when visitors make purchases through affiliate links. Thank you for your support!
Share this post