Do not waste money on battery operated candles at Walmart
| Updated:
NOTE: This was written several years ago. Current products in stores may be just fine.
I wanted to put a candle in one of my windows to add some holiday cheer to my house. The particular window doesn't have an outlet nearby, but I knew I could buy a battery operated light. At Walmart I found Holiday Time Battery Operated Candle Lamps that sold for $3.98 per pair. I only needed one and didn't really want to spend $4, but I decided it was a small price to pay to make my son happy (we don't have Christmas lights like everyone else in the neighborhood).
I got home and opened the box, inserted two new batteries in a candle as directed, twisted the bulb into place and…nothing. I tried other batteries. Nothing. I tried other bulbs. Nothing. I tried the other candle lamp. Nothing. I logged onto the Walmart website and discovered that the product is rated 1 1/2 stars and basically nobody can get these candles to work right out of the box.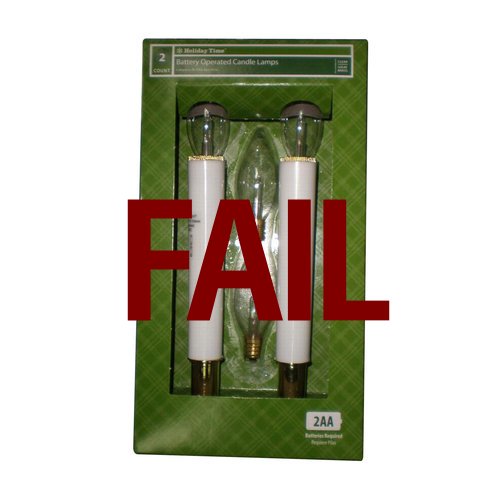 Thank goodness for customer reviews. Unfortunately I didn't read them before I went to the store, but I learned that I could hack my candle to get it to work. Turns out the problem is that a washer at the base of the candle was made too thick to allow the battery to actually make contact with the metal part, hence no conduction at all. Removing the washer and placing it underneath instead did the trick. I'm glad it worked, but I shouldn't have had to disassemble my brand new product in order to fix it.
Between the overwhelmingly negative product reviews on their website and the fact that lots of people must be returning these horrendous things to their stores, it's absolutely unconscionable that Walmart is continuing to stock these on their shelves, let alone at the price I paid! Bah, humbug!
DISCLOSURE: This website is monetized with affiliate links. I earn a small percentage of the sales price when visitors make purchases through affiliate links. Thank you for your support!
Share this post