Desperate Dinner: Mexican Lasagna
| Updated:
Mondays are always pretty crazy around here, and today was no exception. We are running low on groceries, and I wasn't able to get to the store to buy anything for dinner. I spotted a can of black beans in the cupboard and brainstormed a meal based on other ingredients I had on hand. I call it a "Desperate Dinner" because I had to work with what I had and it wasn't something I planned. I decided to post it because it actually turned out well, and I would consider making it on purpose again. Trust me, I've made other Desperate Dinners that weren't as successful. Hopefully I will get my meal-planning act together so I won't need to wing it very often, but I'll share any other experimental successes that may arise out of my desperation–this could be fun!
Mexican Lasagna

Ingredients

1 box Barilla no-boil lasagne noodles
1 can Black Beans, drained and rinsed
1 cup Salsa
1/2 cup Frozen Corn
1 teaspoon Ground Cumin
1/2 teaspoon Chili Powder
6 oz. Cheddar or Monterey Jack cheese, shredded (I had a little bit of both in the fridge)
1 egg
1/4 cup Sour Cream (I used light)
dash Cayenne Pepper
freshly ground Black Pepper

Preheat the oven to 375. Place the black beans in a mixing bowl and mash slightly. Mix in 1/2 cup salsa, the frozen corn, the ground cumin and the chili powder. Set aside about 1/4 cup shredded cheese. In a separate bowl, mix together the remaining cheese, sour cream, egg, a dash of cayenne pepper and black pepper to taste. Spread a quarter cup of salsa over the bottom of a 9-inch square baking dish. Lay out two lasagna noodles over the salsa. Spread half of the cheese mixture over the noodles. Place two more noodles over the top of the cheese mixture and cover with half of the bean mixture. Repeat with two more layers to use the remaining filling, covering the last layer with lasagna noodles. Spread the remaining salsa over the top and sprinkle with the remaining cheese. Cover with aluminum foil and bake at 375 for 30 minutes. After 30 minutes, remove the foil and bake for 20 additional minutes.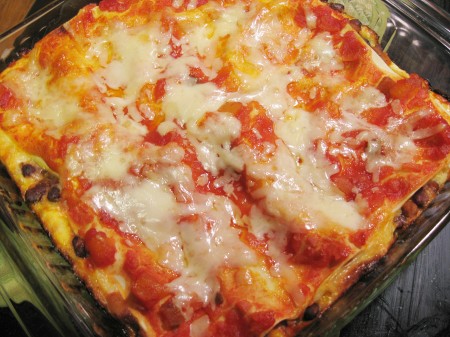 I know that Mexican Lasagna is typically made with tortillas, but the pasta worked really well (I would imagine it's healthier, too). It was very tasty–we all enjoyed this meal!
Do you have a "Desperate Dinner" to share? I think it's so fun reading the creative meal ideas that people come up with when circumstances are less than ideal. My husband seems to have a particular knack for putting random ingredients together. If you have an inventive recipe to share, feel free to email it to me for posting.
DISCLOSURE: This website is monetized with affiliate links. I earn a small percentage of the sales price when visitors make purchases through affiliate links. Thank you for your support!
Share this post