Delectable gifts from Shari's Berries
| Updated:
For years I've heard radio commercials for Shari's Berries describing big, juicy hand-dipped strawberries delivered straight to your door. I always wondered if they could possibly be as good as all the hype suggested. I am extremely picky when it comes to fruit, and I won't eat strawberries that are bruised or mushy. I've also been disappointed by berries that looked great in the grocery store, but were either sour or virtually tasteless. Chocolate-dipped strawberries can look great on the outside, but they're not always nice when you bite into them. Could a company that sends strawberries via a parcel service really deliver a fresh, appetizing product that even I would enjoy?
I decided to do a bit of research and found that Shari's Berries are made in Pennsylvania from berries grown in California. Workers who are as picky as I am inspect all the berries and choose only the best for hand dipping and decorating. The berries are carefully packaged and shipped overnight with ice packs to ensure freshness. I decided to order a full dozen Gourmet Fancy Dipped Berries accompanied by three mini cheesecakes.
The website was easy to navigate, and I was surprised by the vast selection of treats. There are many combinations to choose from, with most including a half or full dozen of dipped strawberries. If strawberries aren't your style, you can also choose from cookies, cake pops, or even some savory treats. Once I had made my selection, I was able to choose a specific delivery date. If you want to send Shari's Berries as a gift, it is best to let the recipient know that they should expect a delivery that day so the berries don't sit out too long. I was provided with a tracking number so I could see where my berries were every step of the way until they were out on the truck for delivery.
Packages usually arrive at my house in the late afternoon, and this shipment was no exception. I was a little anxious about receiving the berries later in the day because I wasn't sure how they would hold up on the truck on a rather warm fall day. Finally, they arrived on my doorstep after 4 in this humorous box: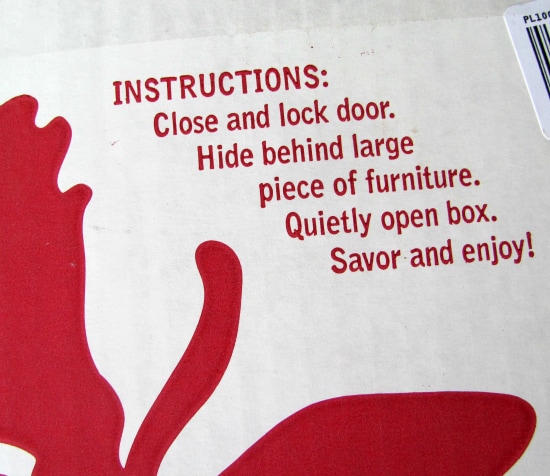 Inside were two ice packs, and I was surprised that one of them was still partially frozen. The ice packs are reusable, so I popped them in my freezer for future use.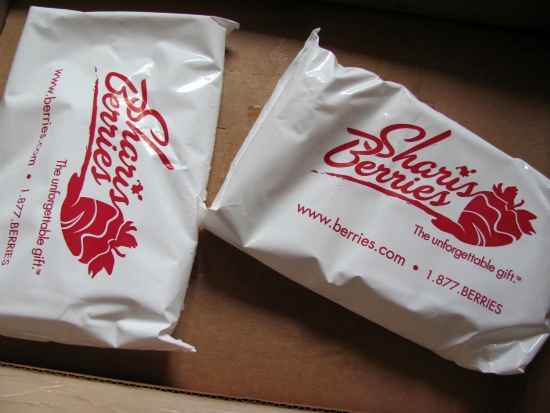 I could smell the scent of strawberries as soon as I lifted off the ice pack layer to reveal the two boxes below. Yum! The packaging is very classy. The strawberries came in the larger box wrapped with a bow, and the cheesecakes were in a smaller box. If you send as a gift, they will include a little card with your personal message.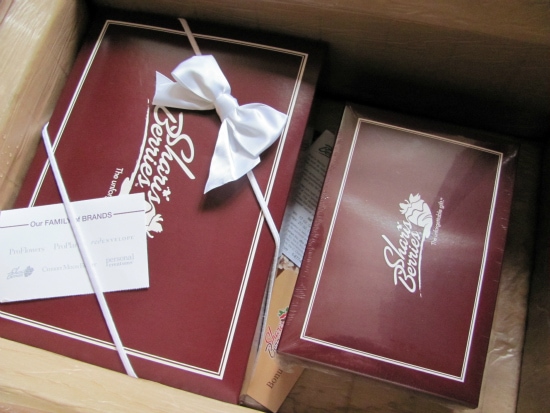 The strawberries are well cushioned in their box and each rests in its own compartment lined with a special moisture-absorbing pad should any juice leak out. None of my strawberries seemed to be leaking much juice, but there was condensation on the berries. I assume this was because I received them later in the day. They were still nice and cold, though. The cheesecakes looked very appetizing and arrived completely intact.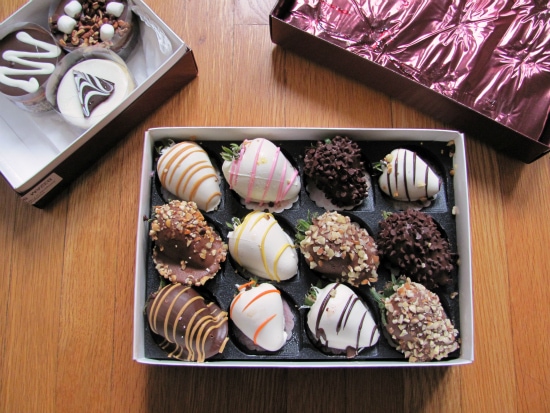 I was very surprised by the size of the berries–some were the size of the palm of my hand!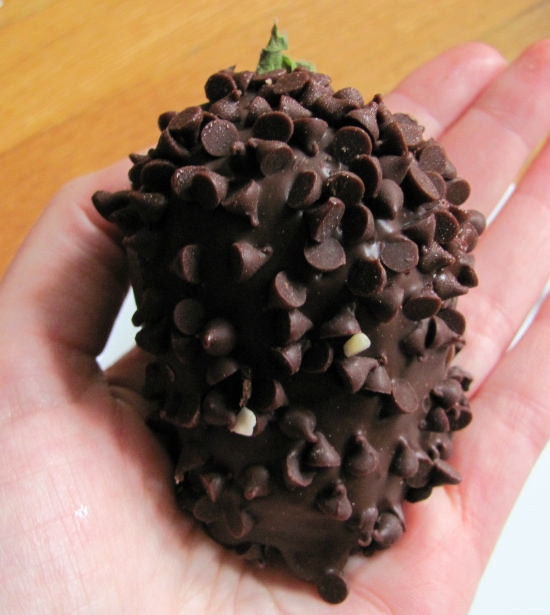 I decided to cut one in half to see just how fresh the strawberry looked before biting into it–I didn't want any mushy surprises. The strawberry inside was incredibly fresh, firm, and delicious.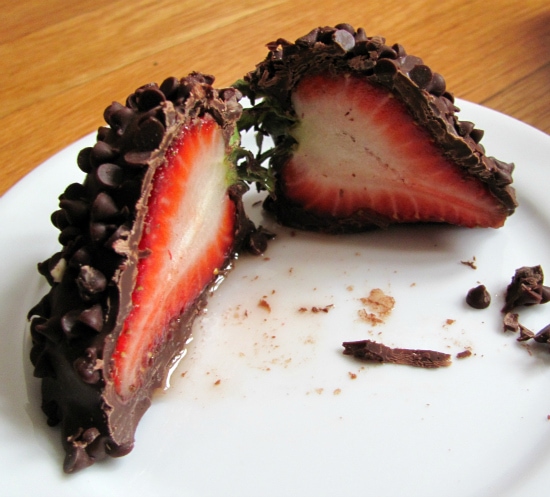 I was able to share the berries with my mom, sister and husband and they were all impressed with the quality and taste. I didn't care as much for the white yogurt-dipped berries (just my personal preference), but I loved all of the chocolate dipped berries, especially the peanut butter and chocolate, and the nut covered berry which was like biting into an ice cream sundae. My husband and I also greatly enjoyed the cheesecakes (Rocky Road was my favorite).
I will admit that at first it was difficult to wrap my head around the pricing, but I have little experience ordering edible gifts. Some quick research revealed that the pricing is on par with similar companies, but with a great established reputation and a streamlined shipping process to boot. While I was browsing the website I found some great sale prices and there are also berries.com promotion codes that can reduce the cost even more. In fact, my shipment included a promotion code for berries.com and coupon codes for their various sister sites as well. So, don't be scared away by the prices–I think there really is something for any budget, and even if you just order a half-dozen berries your recipient will love the gift. In my opinion the quality is worth the cost, and the portion sizes are generous.
I found that Shari's Berries definitely lives up to the hype. The berries were large, fresh and delicious, and the cheesecakes were an indulgent treat. The careful packaging and easy ordering process were also a major plus. Goodies from berries.com are a great gift for the person who has everything, or as a tasty addition to a holiday dessert table.
DISCLOSURE: This website is monetized with affiliate links. I earn a small percentage of the sales price when visitors make purchases through affiliate links. Thank you for your support!
Share this post