I am always on the lookout for easy recipes that taste wonderful. My friend Amy at Frugal Mama, who already helped me tackle homemade pizza, made my mouth water again with a picture of a pasta dish that she recently posted. I followed her directions for the sauce, and improvised a bit with the other ingredients to create this Creamy Pasta with Sausage and Peas dish. I'm generally not a fan of white pasta sauces (especially when they turn out gloopy or grainy), but this was truly delicious and very simple–I'm sure it will appear at the dinner table many times in the future!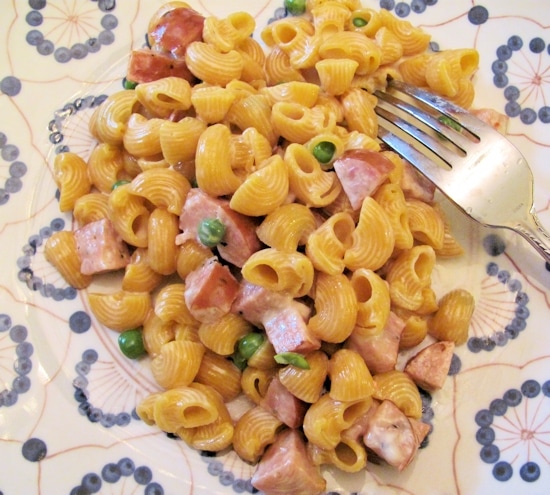 I boiled about half a pound of pasta in water with 1 teaspoon of salt. I had Barilla Piccolini Carrot and Squash "Mini Pipe" pasta in my stockpile, which worked out really well–the sauce settled into the ridges and holes nicely. I cubed up a package of Johnsonville Italian style chicken sausage (which I bought super-cheap on sale), and heated it in a large saute pan on medium. I poured a cup of heavy cream over the sausage, added a cup of grated parmesan, and three tablespoons of butter. Finally, I added a cup of frozen peas. I stirred the mixture until the parmesan melted. I drained the pasta, then returned it to the pot, poured the sauce over the top, and tossed.
The texture was smooth, the taste was divine, and after a busy day I was relieved to be able to put a homemade meal on the table within a few minutes. You can't beat that! You can find Amy's Alfredo recipe along with two other super easy pasta sauce recipes on her website.
DISCLOSURE: This website is monetized with affiliate links. I earn a small percentage of the sales price when visitors make purchases through affiliate links. Thank you for your support!
Share this post